KARAKTERISTIK BUDIDAYA TANAMAN PALA (Myristica fragran Houtt) POLA DUSUNG DI KECAMATAN LEIHITU DAN LEIHITU BARAT KABUPATEN MALUKU TENGAH
Anna Y. Wattimena

Program Studi Agroekoteknologi Fakultas Pertanian Universitas Pattimura

Marlita H. Makaruku

Program Studi Agroekoteknologi Fakultas Pertanian Universitas Pattimura
Keywords:
Nutmeg plant, cultivation, dusung
Abstract
ABSTRAK
Tanaman pala oleh masyarakat Maluku umumnya dikelola secara turun temurun, dikenal dengan pola tanam yang disebut dusung. Dusung memiliki beberapa manfaat yaitu sebagai sumber pendapatan petani, memiliki stabilitas ekologis yang relatif tinggi dan pengelolaannya untuk memelihara dan meningkatkan keunggulan tanaman didalamnya. Permasalahan yang dihadapi petani dalam menurunnya produktivitas tanaman pala di desa Liliboi, desa Hila dan Desa Morela disebabkan oleh faktor budidaya dan produksi tanaman.Tujuan penelitian ini adalah mendapatkan informasi tingkat budidaya tanaman pala yang dibudidayakan dengan pola dusung dan mendiskripsikan karakteristik dusung untuk budidaya dan produksi tanaman pala. Metode yang digunakan adalah metode survei dengan purposive sampling, sampel diambil secara acak (random sampling) dari setiap petani. Hasil analisis menunjukan karakteristik dusung mencakup Topografi Desa Hila, Morela, Liliboi sangat sesuai untuk budidaya tanaman. Pengambilan keputusan dalam pemilihan tanaman pelindung untuk tanaman pala berdasarkan pengetahuan ekologis petani yang berkembang secara turun temurun yang didasarkan atas kesesuaian kondisi biofisik menunjang, mudah memelihara, keanekaragaman hasil, mudah pemasaran dan menambah ekonomi keluarga.
ABSTRACT
The purpose of this study was to obtain information on the level of cultivation of nutmeg plants cultivated with the dusung pattern and describe the characteristics of the dusung for the cultivation and production of nutmeg crops. The method used is a survey method with purposive sampling samples were taken randomly (random sampling) from each farmer. The date taken is the primary date (hamlet topography, land ownership, area, number of trees, spacing, plant age, cropping pattern, and other plantation crops that serve as protection for nutmeg crops). Secondary data (general condition of the location), climate data (average climate for the last 5 years), data on area and nutmeg production, altitude (asl) The results of the analysis show that the characteristics of the hamlet include the topography of Hila, Morela, and Liliboi villages which are very suitable for plant cultivation. The conclusion of the research is that the characteristics of nutmeg farming in the dusung pattern in Hila village, Morela, and Liliboi are very diverse in terms of area, the number of trees, plant spacing, and plant age. The topography of Hila Village, Morela, Liliboi is very suitable for nutmeg cultivation and the state of farming carried out by farmers is a polycultural pattern known as dusun" in Maluku. Decision-making in the selection of protective plants for nutmeg plants is based on the ecological knowledge of farmers that has developed from generation to generation based on the suitability of supporting biophysical conditions, easy maintenance, diversity of results, easy marketing, and increasing the family economy.
Downloads
Download data is not yet available.
References
Assogbadjo, A. E., Kakaï, R. G., Vodouhê, F. G., Djagoun, C. A. M. S., Codjia, J. T. C.,
& Sinsin, B. (2012). Biodiversity andsocioeconomic factors supporting farmers'choice of wild edible trees in the agroforestry systems of Benin (West Africa). Forest Policy and Economics, 14(1), 41-49.

Aworh, O. C. (2015). Promoting food security and enhancing Nigeria's small farmers' income through value-added processing of lesserknown and under-utilized indigenous fruits and vegetables. Food Research International, 76, 986-991.

Badan Pusat Statistik Kabupaten Maluku Tengah 2021 Kabupaten Maluku Tengah Dalam Angka Tahun 2021

Badan Pusat Statistik Maluku 2018 Maluku Dalam Angka Tahun 2018

[Ditjenbun-RI] Kementerian Pertanian Direktorat Jenderal Perkebunan. 2018. Statistik Perkebunan Indonesia.Tree Croop Estate Statistics Of Indonesia https://ditjenbun.pertanian.go.id/?publikasi=buku-publikasi-statistik-2018-2020 . diakses 3/20/2022.9:57 PM

Fauziyah E, Priambodo, D. P., & Sanudin, S. (2015). Prospek Pengembangan Pala (Myristica fragran Houtt) di Hutan Rakyat. Jurnal Ilmu Kehutanan, 9(1), 32-39.

Hafif, B., Mawardi, R., & Utomo, J. S. (2017). Analisis Karakteristik Lahan Dan Mutu Biji Pala (Myristica fragrans Houtt) Daerah Lampung/Analysis of Land Characteristics and Nutmeg (Myristica fragrans Houtt) Seed Quality of Lampung. Jurnal Penelitian Tanaman Industri, 23(2), 63-71.

Kusumo, I., & Septiadi, D. (2016). Tipe Iklim Oldeman 2011-2100 Berdasarkan Skenario RCP 4.5 dan RCP 8.5 di Wilayah Sumatera Selatan. Jurnal Meteorologi Klimatologi dan Geofisika, 3(3), 26-36.

[Kementan-RI] Kementerian Pertanian Republik Indonesia. 2014. Statistik pertanian. Jakarta [ID]: Kementan

Legoh, W.L., Kojoh, D.,& Runtanuwu, S.( 2017,January). Kajian Budidaya Tanaman Pala (Myristica fragrans Houtt) di kabupaten Kepulauan Sangihe.In Cocos (Vol. 1, No.3).

Norgrove, L., & Hauser, S. (2016). Biophysical criteria used by farmers for fallow selection in
West and Central Africa. Ecological Indicators, 61, 141-147.

Nyagumbo, I., Mkuhlani, S., Mupangwa, W., & Rodriguez, D. (2017). Planting date and yield
benefits from conservation agriculture practices across Southern Africa. Agricultural Systems, 150, 21-33

Onarely A, Riry J & Wattimena,A.Y, 2016. Studi Komunitas Gulma di Areal Pertanaman Pala (Myristica fragran Houtt) pada Stadium Tanaman Belum Menghasilkan dan Tanaman Menghasilkan di Desa Rutong Kecamatan Leitimur Selatan Kota Ambon. Jurnal Budidaya Pertanian. Vol. 12 (2); 80-88.

Palijama W, Riry,J & Wattimena, A.Y, 2012. Komunitas Gulma Pada Pertanaman Pala (Myristica fragran H) Belum Menghasilkan dan Sudan Menghasilkan di Desa Hutumuri Kota Ambon. Jurnal Agrologia, Vol 1, No 2. Hal. 134-142


Parliansyah, R., Riniarti, M., & Duryat, D. (2019). Kajian Produksi Tanaman Pala Di Hkm Rangai Sejahtera Kph
Rajabasa. Gorontalo Journal Of Forestry Research, 2(2), 120-129.

Rehatta, H., Wattimena, A. Y., & Tupamahu, F. (2016). Kajian Produktivitas Tanaman Pala (Myristica sp.) di Kecamatan Kairatu Barat Kabupaten Seram Bagian Barat. Jurnal Budidaya Pertanian, 12(1), 51-54.

Road Map Sistem Inovasi Daerah SIDA Tahun 2018-2022. TIM Walang Inovasi Maluku Tengah. www.siwangi.web.id masohi, 2018. Hal.123.diakses 4/9/ 2022. 2:30 PM

Umasangaji, A, Patty,J. A & Rumakamar, A.A 2012. Kerusakan Tanaman Akibat Serangan Hama Penggerek Batang (Batocera hercules). Jurnal Agrologia Vol.1,No 2,Hal 163-169

Wattimena, A. Y. (2017). Analisis Korelasi Variabel Jumlah Buah Yang Mempengaruhi Produktivitas Tanaman
Pala (Myristica sp.) Pada Dua Kabupaten Di Provinsi Maluku Jurnal Agroekoteknologi dan Agribisnis,1(2) 1-8.

Wattimena A Y, Makaruku M H, Kembauw E and Mahulette A S 2021, Nutmeg Cultivation Intensity (Myristica fragrans Houtt) in Banda District IOP Conference Series: Earth and Environmental Science Vol 883 (IOP Publishing) p 12046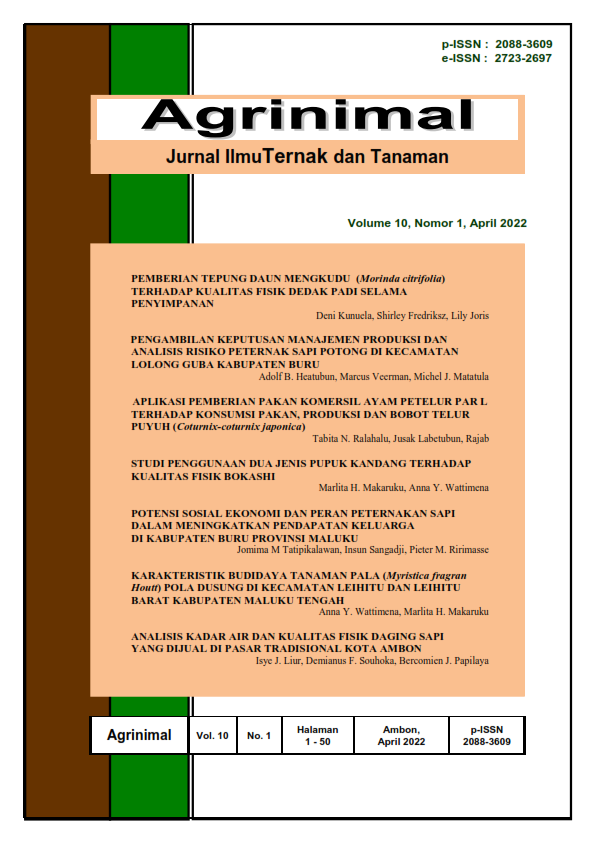 How to Cite
Wattimena, A., & Makaruku, M. (2022). KARAKTERISTIK BUDIDAYA TANAMAN PALA (Myristica fragran Houtt) POLA DUSUNG DI KECAMATAN LEIHITU DAN LEIHITU BARAT KABUPATEN MALUKU TENGAH. Agrinimal Jurnal Ilmu Ternak Dan Tanaman, 10(1), 38-44. https://doi.org/10.30598/ajitt.2022.10.1.38-44