ANALISIS KADAR AIR DAN KUALITAS FISIK DAGING SAPI YANG DIJUAL DI PASAR TRADISIONAL KOTA AMBON
Isye Jean Liur

Universitas Pattimura

Demianus F. Souhoka

Jurusan Peternakan Fakultas Pertanian Universitas Pattimura

Bercomien J. Papilaya

Jurusan Peternakan Fakultas Pertanian Universitas Pattimura
Keywords:
Physical quality, meat, beef, traditional market
Abstract
ABSTRAK
Kebutuhan daging masyarakat Indonesia meningkat setiap tahun sesuai kenaikan jumlah penduduk, sehingga kebutuhan protein hewani juga ikut meningkat. Daging sapi diharapkan mempunyai kualitas yang layak untuk dikonsumsi. Daging yang memiliki kualitas bagus tentunya akan memberikan produk olahan yang bagus dan akan mempermudah selama proses pengolahan. Daging yang beredar dimasyarakat seringkali tidak terjamin kualitasnya. Oleh sebab itu diperlukan uji fisik sebelum daging dikonsumsi. Pengujian sifat fisik daging di pasar tradisional sangat diperlukan karena belum adanya penelitian sebelumnya mengenai kualitas fisik daging sapi di pasar tradisional Kota Ambon. Diharapkan dari Penelitian ini akan mendapatkan informasi yang dapat dibagikan kepada masyarakat tentang kualitas fisik daging sapi yang ada di pasar tradisional Kota Ambon. Sampel yang digunakan adalah daging sapi segar sebanyak 1 kg yang diambil dari 6 penjual daging sapi segar di pasar tradisional Kota Ambon. Pengujian kualitas daging sapi segar meliputi analisa Kadar Air, pH, Cooking loss dan Water Holding Capacity (WHC). Metode penelitian yang digunakan adalah percobaan dengan Rancangan Acak Lengkap (RAL). Hasil Penelitian menunjukkan Nilai Kadar Air, pH, Cooking Loss dan Water Holding Capacity (WHC) berada pada kisaran normal dengan Nilai Kadar air dan pH menunjukkan perbedaan yang tidak berbeda nyata (P>0,05) sedangkan Cooking Loss dan Water Holding Capacity (WHC) menunjukkan perbedaan yang sangat nyata (P<0,01).
ABSTRACT
The need for meat in Indonesia increases every year according to the increase in population, so the need for animal protein also increases. Beef is expected to have decent quality for consumption. Meat that has good quality will certainly provide good processed products and will make it easier during the processing process. Meat circulating in the community is often not guaranteed quality. Therefore, a physical test is needed before the meat is consumed. Testing the physical properties of meat in traditional markets is very necessary because there has been no previous research on the physical quality of beef in traditional markets in Ambon City. It is hoped that this research will provide information that can be shared with the public about the physical quality of beef in the Ambon City traditional market. The sample used was 1 kg of fresh beef taken from 6 fresh beef sellers in the Ambon City traditional market. Testing the quality of fresh beef includes an analysis of water content, pH, cooking loss, and water holding capacity (WHC). The research method used was an experiment with a completely randomized design (CRD). The results showed that the value of water content, pH, Cooking Loss, and Water Holding Capacity (WHC) were in the normal range with the value of water content and pH showing no significant difference (P>0.05) while Cooking Loss and Water Holding Capacity (WHC) ) showed a very significant difference (P<0.01).
Downloads
Download data is not yet available.
References
Abustam, E. 2012. Ilmu Daging. Masagena Press. Makassar. ISBN 978-602-9023- 37-4.
Agustina KK, Cahya IMRD, Widyantara GM, Swacita IBN, Dharmayudha AAGO, Rudyanto MD. 2017. Nilai Gizi dan Kualitas Fisik Daging Sapi Bali Berdasarkan Jenis Kelamin dan Umur. Buletin Veteriner Udayana. 9(2): 156-163.

Albrecht, A., Hebel, M., Heinemann, C., Herbert, U., Miskel, D., Saremi, B., & Kreyenschmidt, J. (2019). Assessment Of Meat Quality And Shelf Life From Broilers Fed With Different Sources And Concentrations Of Methionine. Journal of Food Quality, 6182580, 10 p.

Aaslyng MD, Jensen H, Karlsson AH. 2018. The Gender Background of Texture Attributes of Pork Loin. Meat Sci 136: 79-84.

Besung INK, Wulandari NMDA, Swacita IBN. 2013. Pengaruh Rempah-Rempah Dan Lama Penyimpanan Daging Babi Terhadap Angka Lempeng Total Bakteri. Bul Vet Udayana 6(1): 29-34

Choi E. J., Park H. W., Chung Y. B., Park S. H., Kim J. S., and Chun H. H. 2017. Effect Of Tempering Methods On Quality Changes Of Pork Loin Frozen By Cryogenic Immersion. Meat Science, 124, 69–76.

Dinas Perindustrian dan Perdagangan Kota Ambon dalam Data Statistik Sektoral Kota Ambon. 2021. Dinas Komunikasi, Informatika dan Persandian Kota Ambon.

Fabre R, Dalzotto G, Perlo F, Bonato P, Teira G and Tisocco O. 2018. Cooking Method Effect On Warner-Bratzler Shear Force Of Different Beef Muscles. Meat Sci 138: 10-14.

Fidalgo L. G., Simoes, M. M. Q., Casal S., Lopes-da-Silva J. A., Carta A. M. S., Delgadillo I., and Saraiva, J. A. 2020. Physicochemical Parameters, Lipids Stability, And Volatiles Profile Of Vacuum-Packaged Fresh Atlantic Salmon (Salmo Salar) Loins Preserved By Hyperbaric Storage At 10 Degrees C. Food Research International, 127, 108740, 10 p.

Gunawan L. 2013. Analisa Perbandingan Kualitas Fisik Daging Sapi Impor dan Daging Sapi Lokal. Jurnal Hospitality dan Manajemen Jasa 1(1) :146-166.

Haileslassie W., Mariam Gebrehiwot, Endale Balcha, Yohanes Hagos and Kidane W. 2018. Determination Of Ph And Water Holding Capacity Of Beef From Selected Butcher Shops of Mekelle, Ethiopia. Journal of veterinary Medicine and Animal Health. Vol. 10(6), pp. 159-164.

Haqa AN, Septinova D, Santosa PE, 2015. Kualitas Fisik Daging Sapi Dari Pasar Tradisional di Bandar Lampung. Jurnal Ilmiah Peternakan Terpadu. 3(3): 98-103.

He, H.-J., Wu, D., & Sun, D.-W. (2014). Rapid And Non-Destructive Determination of Drip Loss And Ph Distribution In Farmed Atlantic Salmon (Salmo Salar) Fillets Using Visible And Near-Infrared (Vis–NIR) Hyperspectral Imaging. Food Chemistry, 156, 394–401.

Hughes J.M., Oiseth S.K., Purslow P.P., Warner R.D., 2014. A Structural Approach to Under-Standing The Interactions Between Colour, Water-Holding Capacity And Tenderness. Meat Science 98, 520-532.

Jengel E.N., Sondakh E.H.B., Ratulangi F.S., dan Palar C.K.M. 2016. Pengaruh Lama Perendaman Menggunakan Cuka Saguer Terhadap Peningkatan Kualitas Fisik Daging Entok (Chairina Moschata). Jurnal Zootek, 36(1): 105-112.

Jezek F., Josef K., Blanka M., Katerina B., Jiri B. 2019. Cooking of meat: effect on texture, cooking loss and microbiological quality – a review. ACTA VET. BRNO, 88: 487–496.

Kapper C., Walukonis C. J., Scheffler T. L., Scheffler J. M., Don C., Morgan M. T and Gerrard, D. E. 2014. Moisture Absorption Early Postmortem Predicts Ultimate Drip Loss in Fresh Pork. Meat Science, 96, 971–976.

Kuntoro B, Maheswari RR, Nuraini H. 2013. Mutu fisik dan mikrobiologi daging sapi asal rumah potong hewan (RPH) Kota Pekanbaru. Jurnal Peternakan 10(1): 1-8.

Li S, Ma R, Pan J, Lin X, Dong Y, Yu C 2019: Combined Effects of Aging and Low Temperature, Long Time Heating on Pork Toughness. Meat Sci, 150: 33-39.

Li X., Wei X., Wang H., Zhang C and Mehmood W. 2018. Relationship Between Protein Denaturation And Water Holding Capacity Of Pork During Postmortem Ageing. Food Biophysics, 13, 18–24.

Liu J., Arner A., Puolanne E., Ertbjerg P., 2016. On The Water-Holding Of Myofibrils: Effect Ofsarcoplasmic Protein Denaturation. Meat Science 119, 32-40.

Methayasa JD, Suada IK, Agustina KK. 2015. Daya Ikat Air, Ph, Warna, Bau Dan Tekstur Daging Sapi Bali dan Daging Wagyu. Ind Med Veterinus 4(1): 16-24.

Prasetyo,H. Masdiana Ch Padaga , Manik Eirry Sawitri. 2013. Kajian Kualitas Fisiko Kimia Daging Sapi Di Pasar Kota Malang. Jurnal Ilmu dan Teknologi Hasil Ternak, 8(2) Hal 1- 8.

Priyanto R, Fuah AM, Aditia EL, Baihaqi M, Ismail M. 2015. Peningkatan Produksi Dan Kualitas Daging Sapi Lokal Melalui Penggemukan Berbasis Serealia Pada Taraf Energi Yang Berbeda. Jurnal Ilmu Pertanian Indonesia 20(2): 108-114.

Purslow P. P., Oiseth S., Hughes J., and Warner R. D. 2016. The Structural Basis of Cooking Loss In Beef: Variations With Temperature And Ageing. Food Research International, 89(Part 1), 739–748.

Rasyad NVB, Rosyidi D, Widati AS. 2012. Pengaruh Lama Pemanggangan Dalam Microwave Terhadap Kualitas Fisik Steak Daging Ayam. Jurnal Ilmu dan Teknologi Hasil Ternak 7(1): 6-11.

SETJEN KEMENTAN. 2021. Outlook Komoditas Daging Sapi. http://epublikasi.setjen.pertanian.go.id/epublikasi/outlook/2020/Outlook%20Daging%20Sapi%202020/files/assets/basic-html/page4.html. Diakses pada 19 Maret 2022.

Soeparno. 2015. Ilmu dan Teknologi Daging. Cetakan Edisi ke-2. Penerbit Gajah Mada University, Press. Yogyakarta

Souza C.M., Boler D.D., Clark D.L., Kutzler L.W., Holmer S.F., Summerfield J.W.,Cannon J.E., Smit N.R., Mckeith F.K., Killefer J., 2011. The Effects Of High Pressureprocessing on Pork Quality, Palatability, and Further Processed Products. Meat Science 87,419-427.

Souza C.M., Boler D.D., Clark D.L., Kutzler L.W., Holmer S.F., Summerfield J.W.,Cannon J.E., Smit N.R., Mckeith F.K., Killefer J., 2012. Varying The Temperature Of Theliquid Used For High-Pressure Processing Of Prerigor Pork: Effects On Fresh Pork Quality, Myofibrillar Protein Solubility, And Frankfurter Textural Properties. Journal of Food Science 77,S54-S61.

Subagyo WC, Suwiti NK, Suarsana IN. 2015. Karakteristik Protein Daging Sapi Bali Dan Wagyu Setelah Direbus. Bul Vet Udayana 7(1): 17-25.

Warner, R.D., Kerr, M., Kim, Y.H.B., Geesink, G., 2014. Pre-rigor Carcass Stretching Counteractsthe Negative Effects Of High Rigor Temperature On Tenderness And Water-Holding Capacity Usinglamb Muscles as a Model. Animal Production Science 54, 494-503.

Warner R.D. 2017. Chapter 14 . The Eating Quality of Meat-IV Water Holding Capacity and Juiciness (eighth ed.), 9780081006948, Woodhead Publishing Limited, pp. 419-459.

Yanti, H., Hidayati, dan Elfawati. 2008. Kualitas Daging Sapi Dengan Kemasan Plastik PE (Polyethylen) Dan Plastik PP (Polypropylen) Di Pasar Arengka Kota Pekanbaru. Jurnal Peternakan Vol 5 No 1.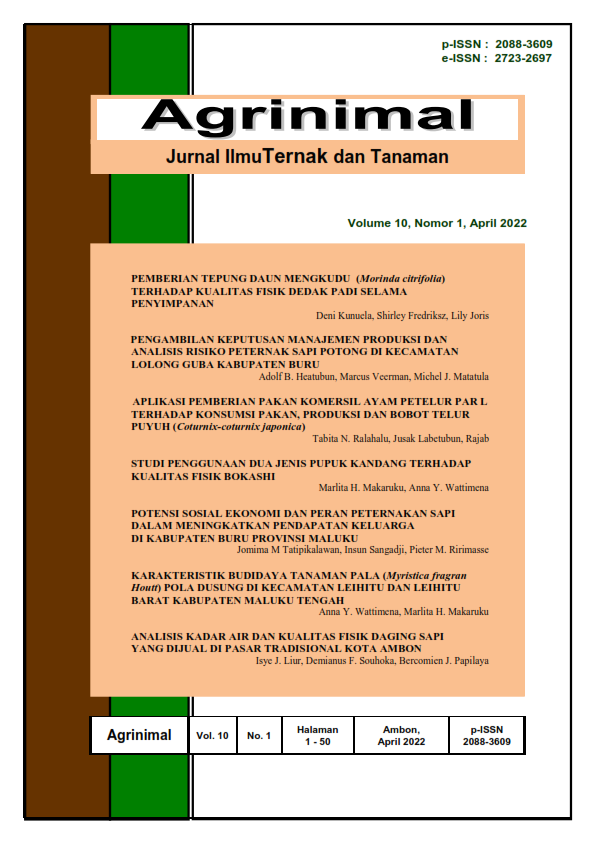 How to Cite
Liur, I., Souhoka, D., & Papilaya, B. (2022). ANALISIS KADAR AIR DAN KUALITAS FISIK DAGING SAPI YANG DIJUAL DI PASAR TRADISIONAL KOTA AMBON. Agrinimal Jurnal Ilmu Ternak Dan Tanaman, 10(1), 45-50. https://doi.org/10.30598/ajitt.2022.10.1.45-50