PEMETAAN AWAL SUPPLY CHAIN MANAGEMENT (SCM) IKAN DI PULAU AMBON
D. Tumanan

Universitas Pattimura

Kevin M. Runteh

Universitas Pattimura

D.B Paillin

Universitas Pattimura
Keywords:
supply chain management, Distribusi, Vertical Marketing System, Metode Point Rating
Abstract
Industri perikanan dan kelautan di Maluku berkembang cukup pesat. Peran provinsi Maluku memiliki peran penting dan strategis bagi kegiatan perikanan laut nasional, sehingga persaingan perusahaan yang bergerak dalam bidang perikanan di Maluku pun meningkat. Hasil penelitian menunjukkan, pada umumnya untuk proses sistem supply chain ikan di Kota Ambon, yang berperan sebagai supplyer utama untuk pasokkan ikan yaitu para nelayan pesisir pantai di sekitar wilayah Maluku. Sistem distribusi pemasaran dari masing-masing perusahaan ikan bersifat Vertical Marketing System. Tingkat presentase konsumsi ikan lebih tinggi terdapat pada Kec. Sirimau 42%, dengan total konsumsi 9.294.000 kg/tahun.  Kec. Nusaniwe (27%), Kec. Teluk Ambon (12%), Kec. T.A. Baguala (16%), dan Kec. Leitimur Selatan 3%. Berdasarkan pemetaan awal supply chain management ikan, juga terdapat usulan lokasi cold storage yang terpilih dengan menggunakan metode Point Rating, yaitu berada di sekitar kawasan Kec. Teluk Ambon dengan nilai terbesar yaitu 3,5. setelah dilakukan perhitungan terhadap faktor tangibel dan intangibel maka diperoleh nilai terbesar yaitu 3,5. Aksesibilitas perusahaan masih tergolong cukup baik. Avaibilitas atau ketersediaan bahan baku untuk seluruh perusahaan masih menjadi permasalahan, yang disebabkan oleh pengaruh faktor iklim, musiman ikan  dan lainnya. Ditinjau dari segi cost untuk harga beli perusahan terhadap harga beli dan harga jual perusahaan untuk wilayah Kota Ambon tidak mengalami kesenjangan harga yang begitu besar. Sedangkan untuk pemasaran regional dan export memiliki kesenjangan harga dari masing- masing perusahaan.
Downloads
Download data is not yet available.
References
Hayati E.N, 2014, Supply Chain Management (SCM) dan Logistic Management. Jurnal Dinamika Teknik Vol 8 No 1 h.25 – 34 ISSN: 1412-3339.
Hugos, Michael, 2003, Essential of Supply Chain Management, John Wiley & Sons, Inc., Hoboken, New Jersey.
Indrajit, Richardus E., dan Djokopranoto, Richardus, 2002, Konsep Manajemen Supply Chain, PT. Gramedia Widiasarana Indonesia, Jakarta.
Kotler, Philip dan Keller, Kevin Lane. 2007. Manajemen pemasaran (Edisi 12 jilid 2). Benyamin Molan (penerjemah). Marketing Management. PT. Indeks: Jakarta
Nikijuluw V. P. H., 2002. Rezim Pengelolaan Sumberdaya Perikanan. PT. Pustaka Cidesindo, Jakarta
Nomura M. and Yamazaki T., 1977. Fishing Techniques (1). Japan International Cooperation Agency. Tokyo.
Nomura M., 1981. Fishing Techniques (2). Japan International Cooperation Agency. Tokyo.
Paillin D. B, dan Natalia. Kajian Pemetaan Awal Supply Chain Management PT. Semen Gresik Group, Jurnal Arika.
Paillin D. B, dan Dasfordate, 2012. Penentuan Alternatif Lokasi Gudang Akhir Rumput Laut Dengan Metode Center Of Gravity Dan Point Rating. Jurnal Arika, Vol. 06, No. 2 ISSN: 1978-1105.
Shinta A., 2011. Manajemen Pemasaran, Universitas Brawijaya Press (UB Press), Malang.
Stock, Lambert, 2001, Strategic Logistics Management, McGraw-Hill Companies, Inc., Americas, New York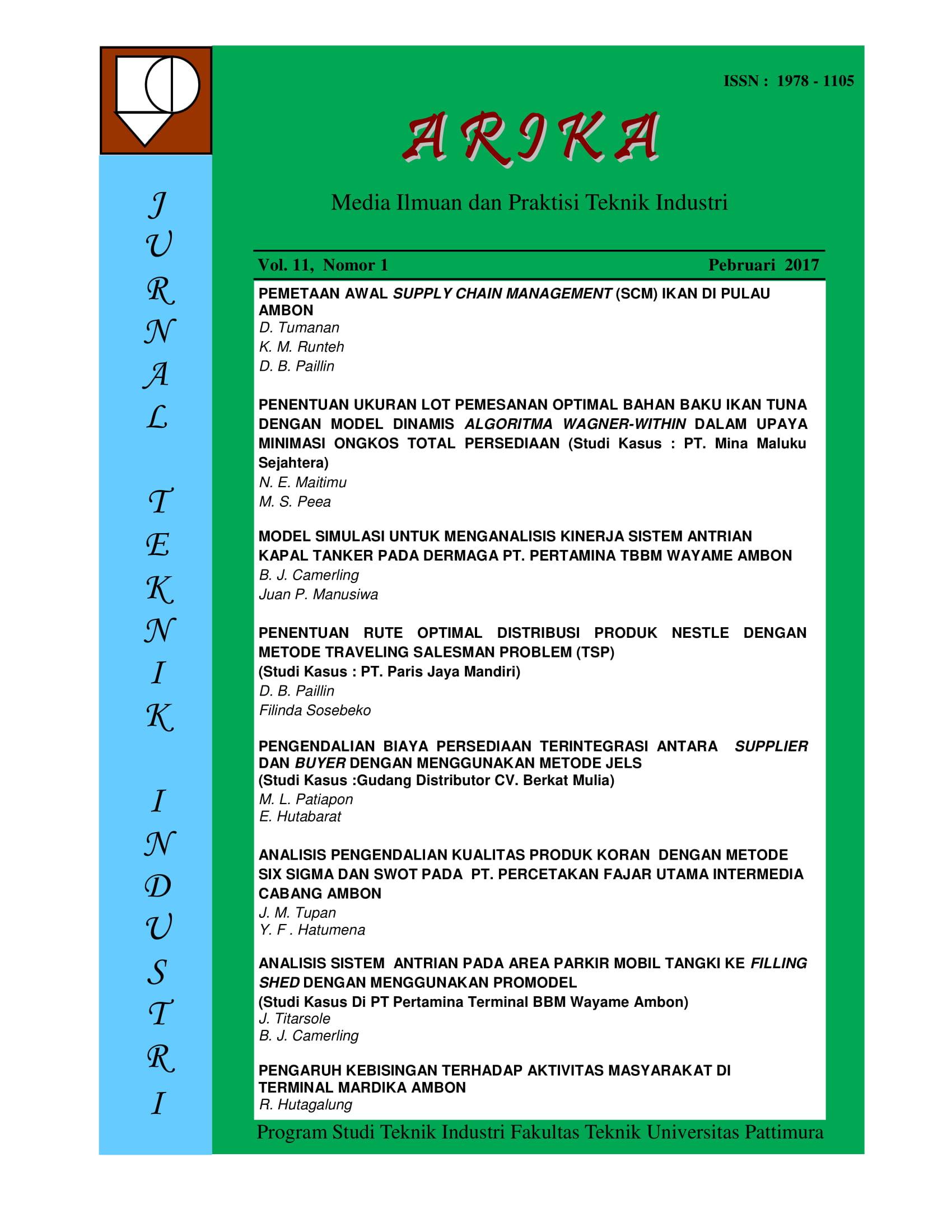 How to Cite
Tumanan, D., Runteh, K. M., & Paillin, D. (2017). PEMETAAN AWAL SUPPLY CHAIN MANAGEMENT (SCM) IKAN DI PULAU AMBON. ARIKA, 11(1), 1-10. https://doi.org/10.30598/arika.2017.11.1.01

This work is licensed under a Creative Commons Attribution-ShareAlike 4.0 International License
An author who publishes in the ARIKA Jurnal agrees to the following terms:
The author retains the copyright and grants ARIKA journal the right of first publication of the work simultaneously licensed under the Creative Commons Attribution-ShareAlike 4.0 License that allows others to share the work with an acknowledgment of the work's authorship and initial publication in this journal.
The author is able to enter into separate, additional contractual arrangements for the non-exclusive distribution of the journal's published version of the work (e.g., post it to an institutional repository or publish it in a book) with the acknowledgment of its initial publication in this journal.
The author is permitted and encouraged to post his/her work online (e.g., in institutional repositories or on their website) prior to and during the submission process, as it can lead to productive exchanges, as well as earlier and greater citation of the published work (See The Effect of Open Access).