Analisis Keandalan Produk Dengan Pola Penggunaan Intermittent
Farida D Sitania

Universitas Pattimura
Keywords:
Reliability, patterns of intermittent usage
Abstract
Reliability is probability that a product will perform a required function without any failures on certain operating conditions and at a certain time period. Most of the research on product reliability assumes that the product operates with a continuous pattern. In fact, in some situations the product usage patterns are intermittent. Examples of products with non-continuous usage patterns are an elevator, electric starter on a motorcycle, emergency generators, and others.
Downloads
Download data is not yet available.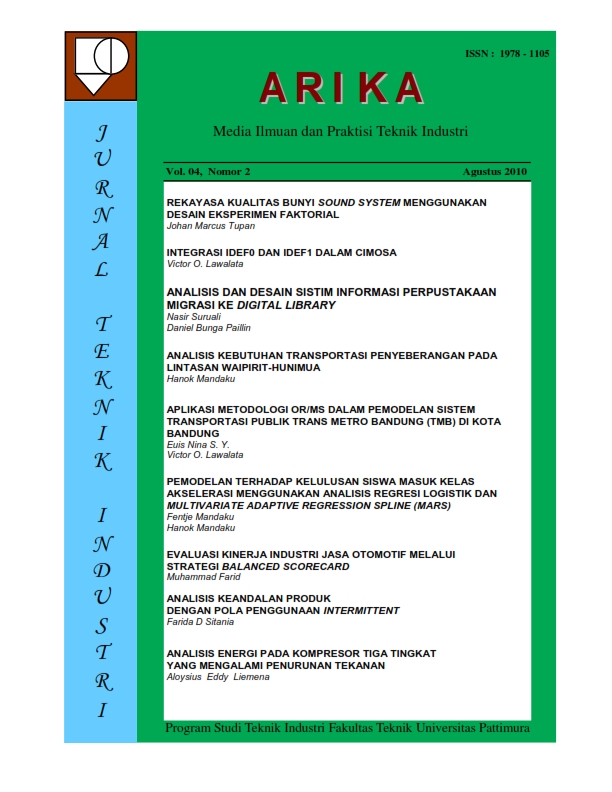 Copyright (c) 2018 Arika
This work is licensed under a Creative Commons Attribution 4.0 International License.
Seluruh materi yang terdapat dalam situs ini dilindungi oleh undang-undang. Dilarang mengutip sebagian atau seluruh isi situs web ini untuk keperluan komersil tanpa persetujuan dewan penyunting jurnal ARIKA.
Apabila anda menemukan satu atau beberapa artikel yang terdapat dalam Jurnal ARIKA yang melanggar atau berpotensi melanggar hak cipta yang anda miliki, silahkan laporkan kepada kami, melalui email pada Principle Contact.
Aspek legal formal terhadap akses setiap informasi dan artikel yang tercantum dalam situs jurnal ini mengacu pada ketentuan lisensi Creative Commons Attribution-ShareAlike (CC BY-SA).
Semua Informasi yang terdapat di Jurnal ARIKA bersifat akademik. Jurnal ARIKA tidak bertanggung jawab terhadap kerugian yang terjadi karana penyalahgunaan informasi dari situs ini.