PERANCANGAN PRODUK, PENENTUAN KAPASITAS PRODUKSI DAN BIAYA PADA PRODUK INDUSTRI KREATIF LIMBAH DENGAN MENGGUNAKAN METODE QUALITY FUNCTION DEPLOYMENT (QFD)
Iwan Satriyo Nugroho

Universitas Islam Nusantara, Indonesia

Adjie Baskara

Universitas Islam Nusantara, Indonesia
Keywords:
Perancangan, Sistem Kerja, Kapasitas Produksi, Produk
Abstract
ABSTRAK
Pentingnya penelitian adalah perancangan produk, sistem kerja dan kapasitas produksi bagi Usaha Mikro Kecil Menengah (UMKM) bagi masyarkat desa yang masyarakatnya menjadi korban pemutusan hubungan kerja (PHK) sebagai dampak pandemi Covid -19. Dengan analisa potensi desa Cikahuripan, Kecamatan Cimanggung, Kabupaten Sumedang, Provinsi Jawa Barat berupa pemanfaatan limbah Kayu Mahoni yang banyak terbuang dari usaha furniture disekitar desa. Kayu Mahoni sendiri adalah kayu yang banyak tumbuh secara melimpah di lereng Gunung Geulis. Produk yang dikembangkan adalah industri kreatif Gelas berbahan limbah Kayu Mahoni. Tujuan penelitian adalah membantu merancang dan mengembangkan UMKM dari sisi perancangan produk, penentuan kapasitas produksi dan biaya. Metode yang digunakan dalam penelitian adalah metode kuantitatif deskriptif . Hasil penelitian adalah hasil perancangan produk, kapasitas produksi dan aspek biaya sehingga masyarakat tinggal menjalankan dan memasarkan produk industri kreatif Gelas berbahan limbah Kayu Mahoni. Kesimpulan utama dengan keilmuan Teknik Industri mampu merancang, menghitung dan menjalankan usaha berdasarakan perancnagan produk, sistem kerja dan kapasitas produksi yang optimal. Penelitian ini merupakan bagian dari hasil studi banding Desa Cikahuripan yang merupakan bagian penelitian MBKM dari DITJEN DIKTIRISTEK KEMENDIKBUD.
Kata Kunci : Perancangan, Sistem Kerja, Kapasitas Produksi,  Produk
ABSTRACT (Times New Roman, 11 pt, align center, bold, italic)
The importance of research is the design of products, work systems and production capacity for Micro, Small and Medium Enterprises (MSMEs) for village communities whose communities are victims of layoffs (PHK) as a result of the Covid-19 pandemic. By analyzing the potential of Cikahuripan village, Cimanggung sub-district, Sumedang regency, West Java province, it is in the form of utilizing Mahogany wood waste which is wasted from the furniture business around the village. Mahogany wood itself is a wood that grows abundantly on the slopes of Mount Geulis. The product being developed is a glass creative industry made from Mahogany wood waste. The research objective is to help design and develop SMEs in terms of product design, determination of production capacity and costs. The method used in this research is descriptive quantitative method. The results of the research are the results of product design, production capacity and cost aspects so that people only need to run and market the product of the glass creative industry made from Mahogany wood waste. The main conclusion is that Industrial Engineering is able to design, calculate and run a business based on product design, work systems and optimal production capacity.This research is part of the results of a comparative study in Cikahuripan Village which is part of the MBKM research from the DITJEN DIKTIRISTEK KEMENDIKBUD.
Keywords): Design, Work System, Production Capacity, Product
Downloads
Download data is not yet available.
References
Damanhuri, E., Padmi, T. (2017). Pengelolaan sampah terpadu. Jakarta: ITB Press
Jaelani, E. (2012, May). Perancangan dan pengembangan produk dengan quality function deployment. Jurnal sains manajemen dan akuntansi, 4(1), 1-19. Retrieved September 23, 2021, from http://jsma.stan-im.ac.id/pdf/vol4/1/5
Nofirza., Supardi. (2012). Pendekatan QFD dalam perancangan alat angkut cangkang buah sawit yang ergonomis. Riau: UIN Sultan Syarif Kasim.
Nugroho, Iwan Satriyo, Darwin Nahwan, Noneng Nurhayani, Mahyuddin Rahim, Adjie Bagaskara (2020). Desain Produk dan Stasiun Kerja Industri Kreatif Gelas Limbah kayu dengan Metode QFD. Jurnal Media Nusantara ISSN: 19786824, http://ojs.uninus.ac.id/index.php/MediaNusantara/issue/view/130, hal 17-28
Raharjaputra., Hendra, S. (2011). Buku panduan praktis manajemen keuangan dan akuntansi untuk eksekutif perusahaan. Balikpapan: Jakarta Salemba Empat.
Sari, M., Darmawan, E., Muchtar, M. (2020). Pengukuran waktu baku dan analisis beban kerja pada proses felling dan packing produk lulur mandi di PT. Gloria Origata Cosmetics. Jakarta: Universitas Pancasila
Suharto. (2011). Limbah kimia dalam pencemaran udara dan air. Yogyakarta: Andi.
Yamit, Z. (2011). Manajemen produksi dan operasi. Yogyakarta: Ekonisia.
Sugiyono. (2010). Metode penelitian Pendidikan: pendekatan kuantitatif, kualitatif, dan R&D. Bandung: CV.Alfa Beta.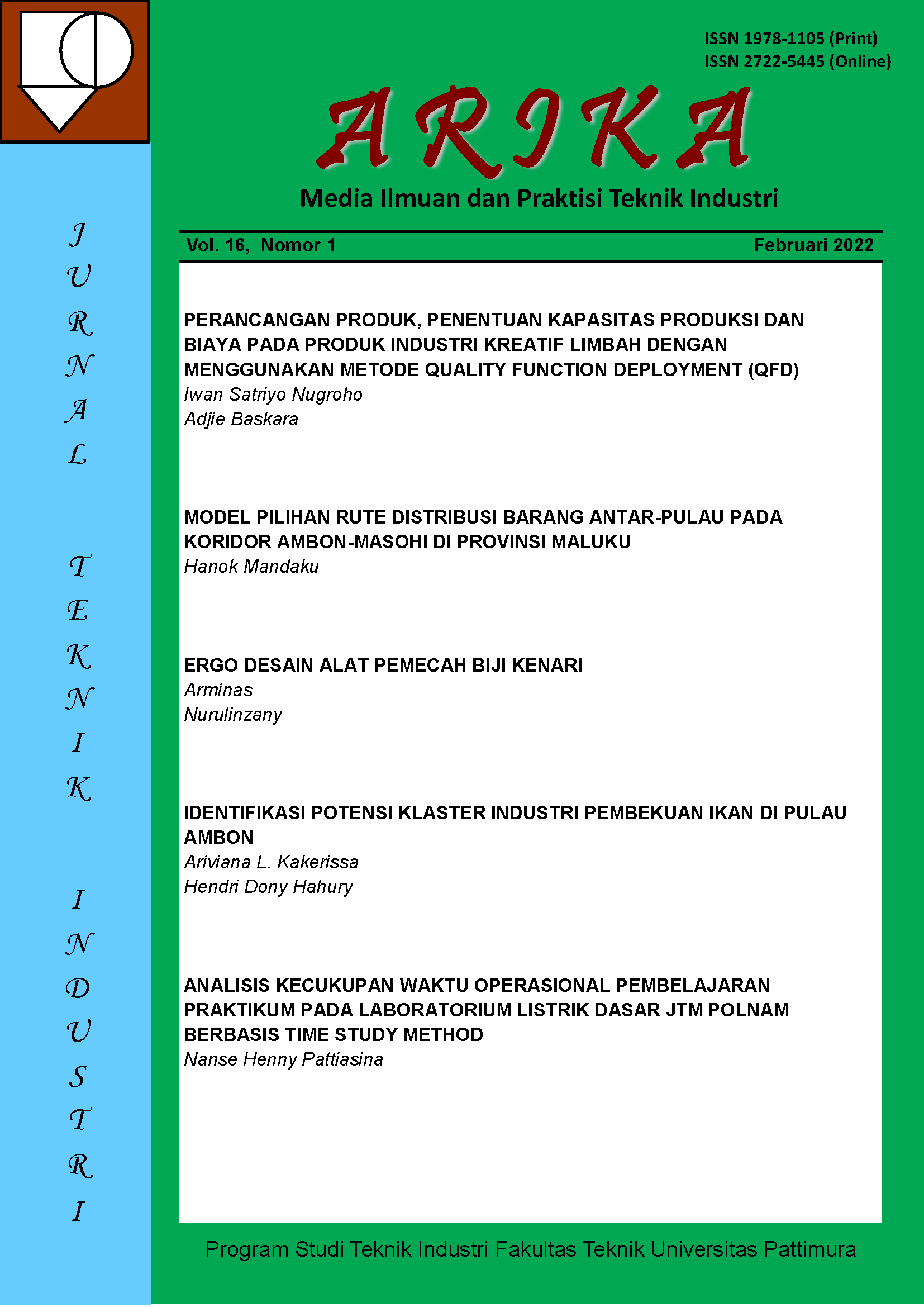 How to Cite
Nugroho, I., & Baskara, A. (2022). PERANCANGAN PRODUK, PENENTUAN KAPASITAS PRODUKSI DAN BIAYA PADA PRODUK INDUSTRI KREATIF LIMBAH DENGAN MENGGUNAKAN METODE QUALITY FUNCTION DEPLOYMENT (QFD). ARIKA, 16(1), 1-12. https://doi.org/10.30598/arika.2022.16.1.1
Copyright (c) 2022 Iwan Satriyo Nugroho
This work is licensed under a Creative Commons Attribution-ShareAlike 4.0 International License.

This work is licensed under a Creative Commons Attribution-ShareAlike 4.0 International License
An author who publishes in the ARIKA Jurnal agrees to the following terms:
The author retains the copyright and grants ARIKA journal the right of first publication of the work simultaneously licensed under the Creative Commons Attribution-ShareAlike 4.0 License that allows others to share the work with an acknowledgment of the work's authorship and initial publication in this journal.
The author is able to enter into separate, additional contractual arrangements for the non-exclusive distribution of the journal's published version of the work (e.g., post it to an institutional repository or publish it in a book) with the acknowledgment of its initial publication in this journal.
The author is permitted and encouraged to post his/her work online (e.g., in institutional repositories or on their website) prior to and during the submission process, as it can lead to productive exchanges, as well as earlier and greater citation of the published work (See The Effect of Open Access).