jmp Pelarangan Mantan Terpidana Korupsi Menjadi Calon Kepala Daerah Agar Menimbulkan Efek Jera
Jetty Martje Patty

Universitas Pattimura

Luchy Edmon Teterissa

Universitas Pattimura
Keywords:
Korupsi, Efek Jera, Narapidana
Abstract
ABSTRAK
Pemilu adalah proses pergantian kekuasaan secara damai, salah satunya adalah memilih legislator. Pelarangan mantan terpidana untuk menjadi calon legislator menimbulkan polemik dengan gugatan ke Mahkamah Agung karena dikeluarkannya Peraturan Komisi Pemilihan Umum Nomor 20 Tahun 2018 tentang Pencalonan Anggota DPR RI, DPRD Provinsi dan DPRD Kabupaten atau Kota. Disatu sisi ada pendapat pelarangan melanggar hak asasi manusia, tidak sesuai dengan hierarki peraturan perundang-undangan namun yang berpendapat bahwa hal ini dapat menimbulkan efek jera baik secara general preventie dan specialle preventive. Korupsi merusak bangsa untuk itu demi kepentingan bangsa, maka pelarangan terhadap mantan terpidana korupsi harus dilakukan. Menurut penulis Peraturan Komisi Pemilihan Umum harus juga dikeluarkan untuk calon Gubernur, Bupati dan Walikota namun pasti akan digugat ke Mahkamah Agung, untuk itu Undang-undang Nomor 10 Tahun 2016 harus direvisi dan hakim Pegadilan Tindak Pidana Korupsi harus menjatuhkan pidana pencabutan hak menjadi pejabat Negara, legislator, dan kepala daerah minimal 10 tahun agar menimbulkan efek jera.
Kata Kunci : Korupsi, Efek Jera, Narapidana
Downloads
Download data is not yet available.
References
dkk, B. (2012). Komperasi Mekanisme Penyelesaian Sengketa Pemilu di Beberapa Negara Penganut Paham Demokrasi. Jurnal Konstitusi , 538.
Erwin Ubwarin, Yonna B. Salamor. (2017). Mekanisme Pengembalian Kerugian Negara oleh Terpidana yang Meninggal Dunia Pasca Putusan Mahkamah Konstitusi Nomor 25/PUU-XIV/2016. Jurnal Muara Ilmu Sosial, Humaniora, dan Seni , 51-57. https://doi.org/10.24912/jmishumsen.v1i1.334
Fahmi, K. (2011). Pemilihan Umum dan Kedaulatan Rakyat. Jakarta: PT Raja Grafindo Persada.
Hadjon, P. M. (2005). Pengantar Hukum Administrasi Indonesia-Indonesia-Introduction to the Indonesia Administrative Law. Yogyakarta: Gajah Mada University Press, Cetakan Kesembilan.
Prodjodikoro, W. (1981). Asas-Asas Hukum Pidana. Jakarta: Rajawali Press.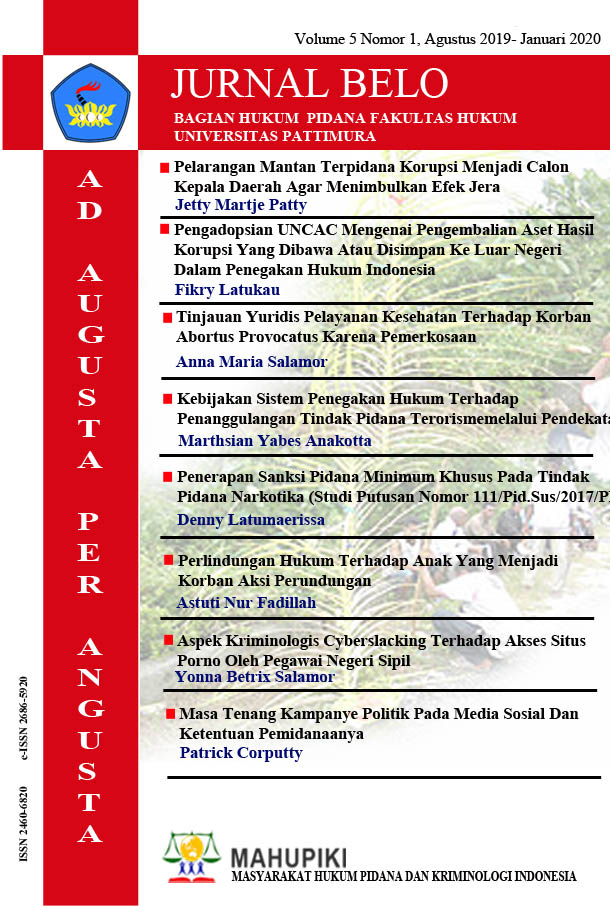 How to Cite
Patty, J., & Teterissa, L. (2019). jmp Pelarangan Mantan Terpidana Korupsi Menjadi Calon Kepala Daerah Agar Menimbulkan Efek Jera. JURNAL BELO, 5(1), 1-9. https://doi.org/10.30598/belovol5issue1page1-9
Copyright (c) 2019 Jetty Martje Patty
This work is licensed under a Creative Commons Attribution-NonCommercial 4.0 International License.
Copyright:
Authors who publish their manuscripts in this Journal agree to the following conditions:
1. The copyright in each article belongs to the author, as well as the right to patent.
2. Authors are able to enter into separate, additional contractual arrangements for the non-exclusive distribution of the journal's published version of the work (e.g., post it to an institutional repository or publish it in a book), with an acknowledgment of its initial publication in this journal.
3. Authors are permitted and encouraged to post their work online (e.g., in institutional repositories or on their website) prior to and during the submission process, as it can lead to productive exchanges, as well as earlier and greater citation of published work.
4. Authors have the right to self-archiving of the article (Author Self-Archiving Policy)
License :
JURNAL BELO is disseminated based on the Creative Commons Attribution-NonCommercial 4.0 International license terms. This license allows anyone to copy and redistribute this material in any form or format, compose, modify, and make derivatives of this material for any purpose. You cannot use this material for commercial purposes. You must specify an appropriate name, include a link to the license, and certify that any changes have been made. You can do this in a way that is appropriate, but does not imply that the licensor supports you or your use.

This work is licensed under a Creative Commons Attribution-NonCommercial 4.0 International License.