Pengadopsian UNCAC Mengenai Pengembalian Aset Hasil Korupsi Yang Dibawa Atau Disimpan Ke Luar Negeri Dalam Penegakan Hukum Indonesia
Fikry Latukau

Universitas Padjadjaran
Keywords:
korupsi pengembalian asset, penegakan hukum Indonesia
Abstract
Korupsi merupakan permasalahan universal yang dihadapi oleh seluruh negara dan masalah pelik yang sulit untuk diberantas, hal ini tidak lain karena masalah korupsi bukan hanya berkaitan dengan permasalahan ekonomi semata, melainkan juga terkait dengan permasalahan politik, kekuasaan dan penegakkan hukum. salah satunya dalam penegakkan hukum tindak pidana korupsi yang hasil dari korupsinya dibawa ke luar negeri, pengembalian aset hasil korupsi ini sangat  penting mengingat mengembalikan hasil dari korupsi  adalah tujuan utama dalam meberantas tindak pidana korupsi tersebut. Penulisan ini menggunakan metode penelitian hukum normatif, karena penulis tidak melakukan studi lapangan.
Downloads
Download data is not yet available.
References
Erwin Ubwarin, Yonna B. Salamor. (2017). Mekanisme Pengembalian Kerugian Negara oleh Terpidana yang Meninggal Dunia Pasca Putusan Mahkamah Konstitusi Nomor 25/PUU-XIV/2016. Jurnal Muara Ilmu Sosial, Humaniora, dan Seni , 51-57. https://doi.org/10.24912/jmishumsen.v1i1.334
Frikasari, F. (2005). Kejahatan Bisnis Dalam Perpektif Hukum Pidana Indonesia. Jurnal Ilmu Hukum Litigasi .
Jaya, N. S. (2010). Bahan Kuliah Sistem Peradilan Pidana (Criminal Justice Sytem). Semarang: Universitas Diponegoro (UNDIP).
Kaligis, O. C. (2006). Korupsi Sebagai Tindak Pidana Kriminal Yang Harus Diberantas; Karakter Dan Praktek Hukum di Indonesia. JURNAL Equality .
Soedarto. (1977). Hukum dan Hukum Pidana. Bandung.
Sumaryanto, A. D. (2005). Rancangan Model Penyidikan Tindak Pidana Korupsi di Indonesia. Supermasi Hukum , 12.
Susanto, I. (2015). Kejahatan Korporasi. Semarang: BP UNDIP.
Yopi Gunawan, K. (2015). Tindak Pidana Korupsi Kajian Terdahapan Harmonisasi Antara Hukum Nasional dan The United Nations Convention Againt Covention (UNCAC). Bandung: PT Radika Adiatam.
http://kanalhukum.id/kanalis/tinjauan-konsep-pengembalian-aset-asset-recovery-hasil-tindak-pidana-dalam-ruu-perampasan-aset/46. Diakses pada kamis 16 Mei 2019, pukul 04:20 WIB.
https://ugm.ac.id/id/berita/410masih.sulitnya.mengembalikan.aset.koruptor.di.luar.negeri. Diakses pada kamis 16 agustus 2019, Pukul 05:15 WIB.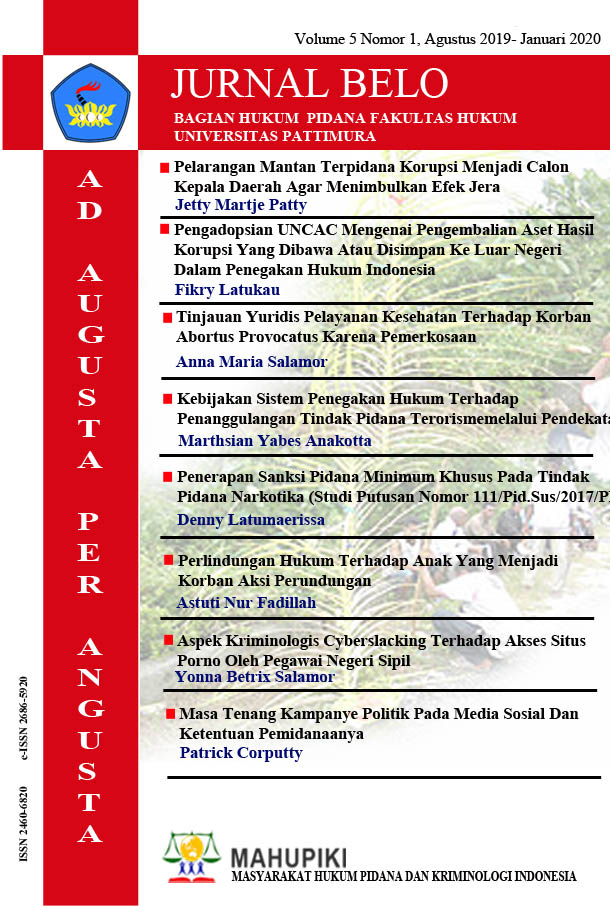 How to Cite
Latukau, F. (2019). Pengadopsian UNCAC Mengenai Pengembalian Aset Hasil Korupsi Yang Dibawa Atau Disimpan Ke Luar Negeri Dalam Penegakan Hukum Indonesia. JURNAL BELO, 5(1), 10-31. https://doi.org/10.30598/belovol5issue1page10-31
Copyright (c) 2019 Fikry Latukau
This work is licensed under a Creative Commons Attribution-NonCommercial 4.0 International License.
Copyright:
Authors who publish their manuscripts in this Journal agree to the following conditions:
1. The copyright in each article belongs to the author, as well as the right to patent.
2. Authors are able to enter into separate, additional contractual arrangements for the non-exclusive distribution of the journal's published version of the work (e.g., post it to an institutional repository or publish it in a book), with an acknowledgment of its initial publication in this journal.
3. Authors are permitted and encouraged to post their work online (e.g., in institutional repositories or on their website) prior to and during the submission process, as it can lead to productive exchanges, as well as earlier and greater citation of published work.
4. Authors have the right to self-archiving of the article (Author Self-Archiving Policy)
License :
JURNAL BELO is disseminated based on the Creative Commons Attribution-NonCommercial 4.0 International license terms. This license allows anyone to copy and redistribute this material in any form or format, compose, modify, and make derivatives of this material for any purpose. You cannot use this material for commercial purposes. You must specify an appropriate name, include a link to the license, and certify that any changes have been made. You can do this in a way that is appropriate, but does not imply that the licensor supports you or your use.

This work is licensed under a Creative Commons Attribution-NonCommercial 4.0 International License.