Kebijakan Sistem Penegakan Hukum Terhadap Penanggulangan Tindak Pidana Terorisme Melalui Pendekatan Integral
Marthsian Y Anakotta

Universitas Diponogoro
Keywords:
Penegakan Hukum, Penanggulangan Terorisme, Pendekatan Integral
Abstract
Penagakan hukum adalah sebuah upaya yang dilakukan oleh pemerintah dengan menggerakan sistem penegakan hukum. Terorisme sebagai kejahatan luar biasa ditanggulangi oleh Indonesia menggunakan berbagai pendekatan, baik soft approach maupun hard approach. Penggunaan pendekatan keras terlihat dalam upaya penegakan hukum yang dilakukan oleh Kepolisian Negara Republik Indonesia sebagai leading sector pemberantasan terorisme di Indonesia. Dalam sistem penegakan hukum sendiri terdapat sub-sistem yang terdiri dari struktur, substansi dan kultur. Tulisan ini ingin mellihat bagaimana kemudian kebijakan sistem penegakan hukum terhadap penaggulangan tindak pidana terorisme melalui pendekatan intergral, dimana dengan menggunakan pendekatan integral tersebut maka seluruh komponen sub-sistem harus mengambil perannya masing-masing. Salah satu yang menjadi perhatian adalah peran Fakultas Hukum sebagai lembaga pendidikan tinggi yang menjadi tempat membangun kultur hukum itu sendiri. Kultur hukum yang dimaksud yaitu melalui peneilitian-penelitian yang menghasilkan kajian-kajian hukum terbaru dalam rangka penanggulangan tindak pidana terorisme. Hasil penelitian itu kemudian dapat menjadi sumber atau bahan hukum yang dapat dipergunakan dalam proses penegakan hukum tindak pidana terorisme di Indonesia.
Downloads
Download data is not yet available.
References
Ali, M. (2012). Hukum Pidana Terorisme Teori dan Praktek. Jakarta: Gramata.
Arief, B. N. (2010). Bahan Bacaan Politik Hukum Pidana. Semarang: Pasca Sarjana Universitas Pattimura.
Arief, B. N. (2010). Beberapa Aspek Pengembagan Ilmu Hukum Pidana (Menyongsong Generasi Baru Hukum Pidana). Semarang: Universitas Diponegoro.
Arief, B. N. (2011). Bunga Rampai Kebijakan Hukum-Perkembagan Penyusunan Konsep KUHP Baru. Jakarta: Prananda Media Group.
Arief, B. N. (2015). Ilmu Hukum Pidana Integralistik (Pemikiran Integratif dalam Hukum Pidana). Demak: Pustaka Magiter Ilmu Hukum.
Friedman, L. M. (1984). American Law. London: W.W. Norton & Company.
Hoefnagels, G. (1969). The Other Side of Criminologi.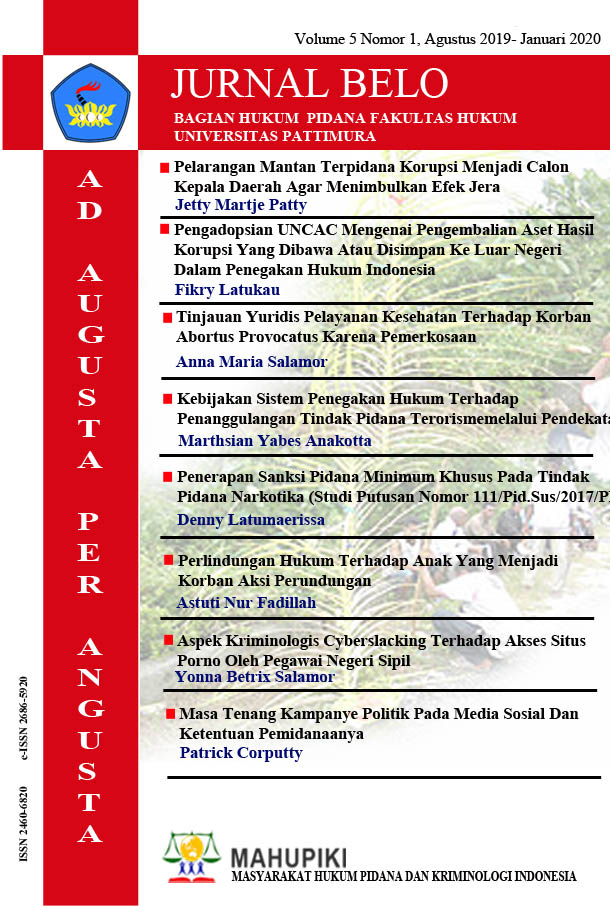 How to Cite
Anakotta, M. (2019). Kebijakan Sistem Penegakan Hukum Terhadap Penanggulangan Tindak Pidana Terorisme Melalui Pendekatan Integral. JURNAL BELO, 5(1), 46-66. https://doi.org/10.30598/belovol5issue1page46-66
Copyright (c) 2019 Marthsian Y Anakotta
This work is licensed under a Creative Commons Attribution-NonCommercial 4.0 International License.
Copyright:
Authors who publish their manuscripts in this Journal agree to the following conditions:
1. The copyright in each article belongs to the author, as well as the right to patent.
2. Authors are able to enter into separate, additional contractual arrangements for the non-exclusive distribution of the journal's published version of the work (e.g., post it to an institutional repository or publish it in a book), with an acknowledgment of its initial publication in this journal.
3. Authors are permitted and encouraged to post their work online (e.g., in institutional repositories or on their website) prior to and during the submission process, as it can lead to productive exchanges, as well as earlier and greater citation of published work.
4. Authors have the right to self-archiving of the article (Author Self-Archiving Policy)
License :
JURNAL BELO is disseminated based on the Creative Commons Attribution-NonCommercial 4.0 International license terms. This license allows anyone to copy and redistribute this material in any form or format, compose, modify, and make derivatives of this material for any purpose. You cannot use this material for commercial purposes. You must specify an appropriate name, include a link to the license, and certify that any changes have been made. You can do this in a way that is appropriate, but does not imply that the licensor supports you or your use.

This work is licensed under a Creative Commons Attribution-NonCommercial 4.0 International License.