Penerapan Sanksi Pidana Minimum Khusus Pada Tindak Pidana Narkotika (Studi Putusan Nomor 111/Pid.Sus/2017/PN Sag)
Denny Latumaerissa

Universitas Pattimura
Keywords:
Sanksi, Narkotika, Pidana
Abstract
Narkotika Golongan I untuk kepentingan pelayanan kesehatan merupakan perbuatan yang dilarang  dan memiliki konsekuensi yuridis apabila dilanggar yang tertuang didalam pasal 111 – 116 UU Narkotika, dan sanksi pidana minimum khusus didalam masing-masing pasal tersebut bervariasi yaitu 3-6 tahun. Pidana Minimum Khusus adalah sanksi pidana paling singkat yang dapat dijatuhkan oleh hakim terhadap terdakwa yang diatur oleh Undang-Undang khusus (Undang-Undang di luar KUHP).Dalam Putusan Pengadilan Nomor 111/ Pid.Sus/PN Sag, terjadi pertentangan antara keadilan dan kepastian hukum. Dari segi kepastian hukum, penerapan sanksi pidana yang dijatuhkan hakim tidak sesuai dengan pidana minimum khusus yang diatur didalam rumusan pasal 116 ayat (1). Dari segi keadilan, penggunaan Narkotika Golongan I dalam hal ini ganja pada perkara ini tidak dilakukan untuk keuntungan diri si terdakwa, maupun untuk di edarkan tetapi untuk pengobatan istrinya (kepentingan kemanusiaan). Sehingga hakim putusan hakim adalah putusan yang progresif dengan menerobos pidana minimum khusus yang tertera pada pasal 116 ayat (1).
Downloads
Download data is not yet available.
References
Ali, M. (2013). Membumikan Hukum Progresif. Yogyakarta: Aswaja Pressindo.
Harahap, M. Y. (2012). Pembahasan Permasalahan dan Penerapan KUHAP. Jakarta: Sinar Grafika.
Mardani. (2008). Penyalahgunaan Narkoba : Dalam Perspektif Hukum Islam dan Hukum Pidana . Jakarta: PT Raja Grafindo.
Nasional, B. N. (2017). Pencegahan Penyalagunaan Narkoba Bagi Masyarakat. Jakarta: Badan Narkotika Nasional.
Sasangka, H. (2003). Narkotika dan Psikotropika Dalam Hukum Pidana. Bandung: PT. Mandar Maju.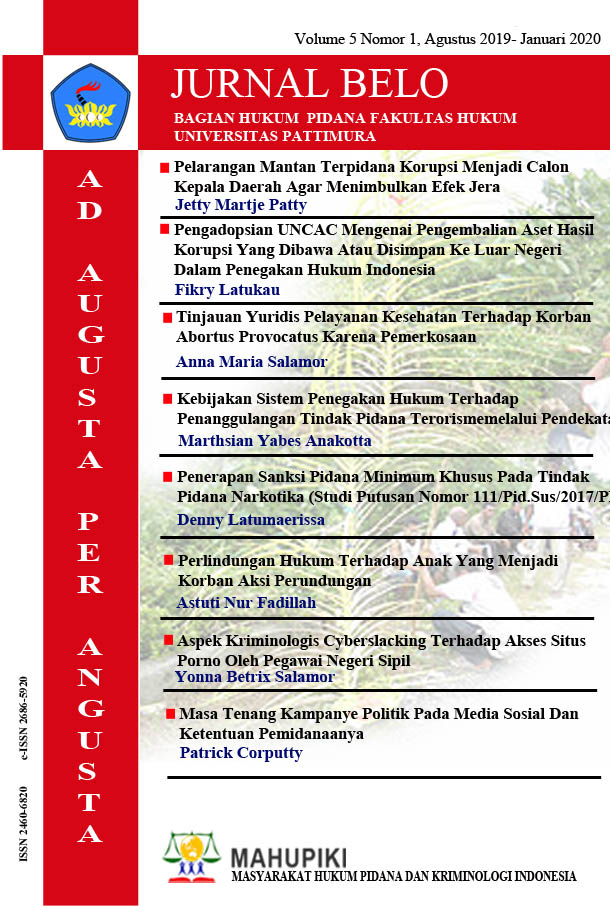 How to Cite
Latumaerissa, D. (2019). Penerapan Sanksi Pidana Minimum Khusus Pada Tindak Pidana Narkotika (Studi Putusan Nomor 111/Pid.Sus/2017/PN Sag). JURNAL BELO, 5(1), 67-85. https://doi.org/10.30598/belovol5issue1page67-85
Copyright (c) 2019 Denny Latumaerissa
This work is licensed under a Creative Commons Attribution-NonCommercial 4.0 International License.
Copyright:
Authors who publish their manuscripts in this Journal agree to the following conditions:
1. The copyright in each article belongs to the author, as well as the right to patent.
2. Authors are able to enter into separate, additional contractual arrangements for the non-exclusive distribution of the journal's published version of the work (e.g., post it to an institutional repository or publish it in a book), with an acknowledgment of its initial publication in this journal.
3. Authors are permitted and encouraged to post their work online (e.g., in institutional repositories or on their website) prior to and during the submission process, as it can lead to productive exchanges, as well as earlier and greater citation of published work.
4. Authors have the right to self-archiving of the article (Author Self-Archiving Policy)
License :
JURNAL BELO is disseminated based on the Creative Commons Attribution-NonCommercial 4.0 International license terms. This license allows anyone to copy and redistribute this material in any form or format, compose, modify, and make derivatives of this material for any purpose. You cannot use this material for commercial purposes. You must specify an appropriate name, include a link to the license, and certify that any changes have been made. You can do this in a way that is appropriate, but does not imply that the licensor supports you or your use.

This work is licensed under a Creative Commons Attribution-NonCommercial 4.0 International License.