Perlindungan Hukum Terhadap Anak Yang Menjadi Korban Aksi Perundungan
Astuti Nur Fadillah

Universitas Pattimura
Keywords:
Perundungan, anak sebagai korban, perlindungan hukum
Abstract
Perundungan adalah tindakan yang dilakukan secara sengaja untuk menyakiti secara fisik, verbal, psikologis oleh seseorang terhadap seseorang atau sekelompok orang terhadap seseorang atau sekelompok orang yang merasa tidak berdaya. Anak yang menjadi korban perundungan harus mendapat perlindungan hukum. Perlindungan anak sebagai segala kegiatan untuk menjamin dan melindungi anak dan hak-haknya agar dapat hidup, tumbuh, berkembang, dan berpartisipasi secara optimal sesuai dengan harkat dan martabat kemanusiaan, serta mendapat perlindungan dari kekerasan dan diskriminasi. Pemerintah, orang tua, wali, masyarakat dan pihak sekolah memiliki kewajiban untuk memberikan pendidikan karakter dan menanamkan budi perkerti terhadap anak untuk mencegah terjadinya perundungan.
Downloads
Download data is not yet available.
References
Novelia, R. (2016). Dampak Bulliying terhadap Kondisi Psikososial Anak Diperkampungan Sosial Pingit. Yogyakarta: Universitas Islam Negeri Sunan Kalijaga.
Sonia. Victims & Bully-Victims Impact on Health Profile.
Sumara, D. d. (2017). Kenakalan Remaja dan Penanggannya. Jurnal Penelitian & PPM, Univesitas Padjajaran. https://doi.org/10.24198/jppm.v4i2.14393
Sunarso, S. (2015). Viktimologi dalam Sistem Peradilan Pidana. Jakarta: Sinar Grafika.
Surilena. (2016). Perilaku Bulliying (Perundungan) pada Anak dan Remaja. Jakarta: Departemen Psikiatri Fakultas Kedokteran Universitas Katolik Atma Jaya.
Waluyo, B. (2017). Penegakan Hukum Indonesia. Jakarta: Sinar Grafika.
UUD NRI 1945.
Undang-Undang Republik Indoneia Nomor 23 Tahun 2002 tentang Perlindungan Anak
Undang-Undang Nomor 13 tahun 2006 tentang Perlindungan Saksi dan Korban
Undang-Undang Nomor 35 Tahun 2014 Tentang Perubahan Atas Undang-Undang Nomor 23 Tahun 2002 Tentang Perlindungan Anak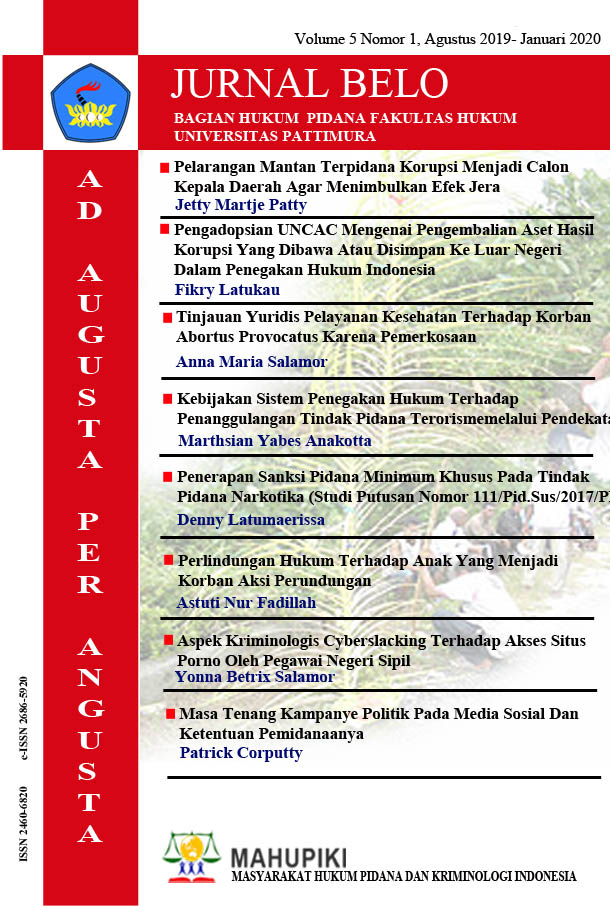 How to Cite
Fadillah, A. (2019). Perlindungan Hukum Terhadap Anak Yang Menjadi Korban Aksi Perundungan. JURNAL BELO, 5(1), 86-100. https://doi.org/10.30598/belovol5issue1page86-100
Copyright (c) 2019 Astuti Nur Fadillah
This work is licensed under a Creative Commons Attribution-NonCommercial 4.0 International License.
Copyright:
Authors who publish their manuscripts in this Journal agree to the following conditions:
1. The copyright in each article belongs to the author, as well as the right to patent.
2. Authors are able to enter into separate, additional contractual arrangements for the non-exclusive distribution of the journal's published version of the work (e.g., post it to an institutional repository or publish it in a book), with an acknowledgment of its initial publication in this journal.
3. Authors are permitted and encouraged to post their work online (e.g., in institutional repositories or on their website) prior to and during the submission process, as it can lead to productive exchanges, as well as earlier and greater citation of published work.
4. Authors have the right to self-archiving of the article (Author Self-Archiving Policy)
License :
JURNAL BELO is disseminated based on the Creative Commons Attribution-NonCommercial 4.0 International license terms. This license allows anyone to copy and redistribute this material in any form or format, compose, modify, and make derivatives of this material for any purpose. You cannot use this material for commercial purposes. You must specify an appropriate name, include a link to the license, and certify that any changes have been made. You can do this in a way that is appropriate, but does not imply that the licensor supports you or your use.

This work is licensed under a Creative Commons Attribution-NonCommercial 4.0 International License.