Masa Tenang Kampanye Politik Pada Media Sosial Dan Ketentuan Pemidanaanya
Patrick Corputty

Universitas Pattimura
Keywords:
Kampanye, Masa Tenang dan Pemidanaan
Abstract
Kampanye adalah suatu saluran atau program yang esensial dalam mendukung pesta pemilihan umum, kampanye adalah suatu cara untuk memperkenalkan diri serta memaparkan sebuah visi dan misi. Kampanye pada era modern telah merambah mengikuti kemajuan teknologi. Media sosial menjadi salah satu wujud perkembangan tersebut, sekarang banya calon wakil rakyat yang berkampanye melalui media sosial, kampanye yang dilakukan cendeung melampaui batasan-batasan yang telah ditentukan, batasan yang dimaksudkan ialah masa tenang, kampanye yang dilakukan melalui media sosial tidak lagi menghiraukan masa tenang, padahal Undang-Undang secara tegas telah menetapkan ketentuan pidana bagi siapa saja yang melakukan pelanggaran termasuk melakukan kampanye pada masa tenang.
Downloads
Download data is not yet available.
References
Beetham. (2000). Demokrasi : Tanya Jawab, Terjemahaan Bern . Yogyakarta: Kanisius.
Budiyono. (2017). Media Sosial Sebagai Komunikasi Politik Menjelang Pilkada DKI Jakarta. Jurnal Komunikasi .
Hartanti, E. (2007). Tindak Pidana Korupsi. Jakarta: Sinar Grafika.
Junaidi, V. (2009). Menata Sistem Penegakan Hukum Pemilu Demokratis Tinjauan Kewenangan MK atas Penyelesiaian Perselisihan Hasil Pemilu. Jurnal Konstitusi .
Lamintang, P. (1990). Dasar-Dasar Hukum Pidana Indonesia. Bandung : Sinar Baru.
Mafud, M. M. (1999). Pergulatan Politik dan Hukum. Yogyakarta: Gama Media.
Moeljatno. (1993). Asas-asas Hukum Pidana. Jakarta: Rineka Cipta.
Ratnamuyani, I. A., & Maksudi, B. I. (2018). Peran Media Sosial Dalam Peningkatan Partisipasi Pemilih Pemula di Kalangan Pelajar Kabupaten Bogor. Jurnal Ilmu-ilmu Sosial dan Humaniora . https://doi.org/10.24198/sosiohumaniora.v20i2.13965
Usfa, F. (2004). Pengantar Hukum Pidana. Malang: UMM Press.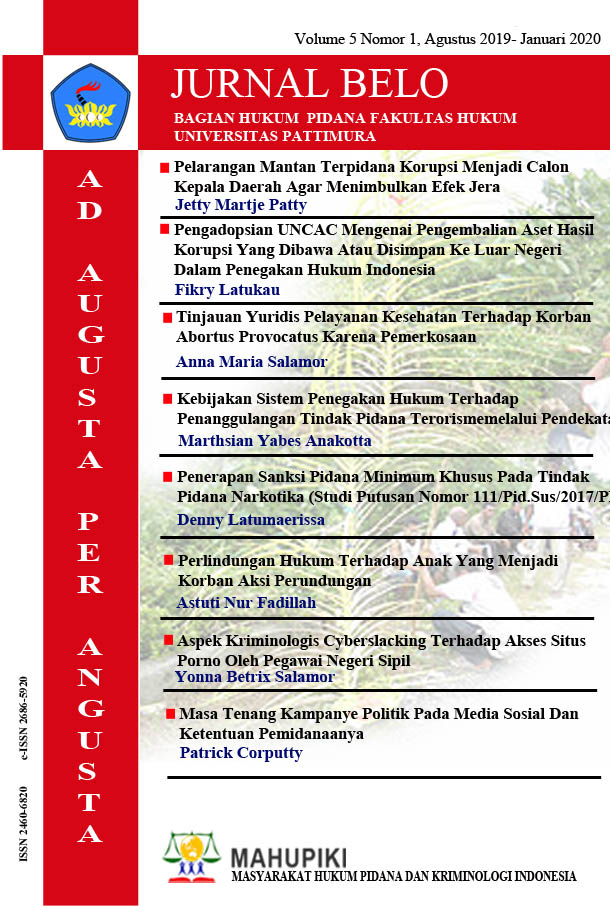 How to Cite
Corputty, P. (2019). Masa Tenang Kampanye Politik Pada Media Sosial Dan Ketentuan Pemidanaanya. JURNAL BELO, 5(1), 110-122. https://doi.org/10.30598/belovol5issue1page110-122
Copyright (c) 2019 Patrick Corputty
This work is licensed under a Creative Commons Attribution-NonCommercial 4.0 International License.
Copyright:
Authors who publish their manuscripts in this Journal agree to the following conditions:
1. The copyright in each article belongs to the author, as well as the right to patent.
2. Authors are able to enter into separate, additional contractual arrangements for the non-exclusive distribution of the journal's published version of the work (e.g., post it to an institutional repository or publish it in a book), with an acknowledgment of its initial publication in this journal.
3. Authors are permitted and encouraged to post their work online (e.g., in institutional repositories or on their website) prior to and during the submission process, as it can lead to productive exchanges, as well as earlier and greater citation of published work.
4. Authors have the right to self-archiving of the article (Author Self-Archiving Policy)
License :
JURNAL BELO is disseminated based on the Creative Commons Attribution-NonCommercial 4.0 International license terms. This license allows anyone to copy and redistribute this material in any form or format, compose, modify, and make derivatives of this material for any purpose. You cannot use this material for commercial purposes. You must specify an appropriate name, include a link to the license, and certify that any changes have been made. You can do this in a way that is appropriate, but does not imply that the licensor supports you or your use.

This work is licensed under a Creative Commons Attribution-NonCommercial 4.0 International License.