Kebijakan Formulasi Undang-undang Narkotika Dalam Legalisasi Penggunaan Ganja Sebagai Bahan Pengobatan di Indonesia
Leonie Lokollo

Universitas Pattimura

Yonna Beatrix Salamor

Universitas Pattimura

Erwin Ubwarin
Keywords:
Kebijakan Hukum Pidana, Ganja
Abstract
Abstrak
Ganja merupakan jenis narkotika terlarang di Indonesia, hal ini diatur dalam Lampran I Undang-undang Nomor 35 Tahun 2009 tentang Narkotika, ganja merupakan narkotika Golongan I yang tidak bisa digunakan untuk keperluan medis. Bahkan ada beberapa orang yang menggunakan sebagai bahan medis untuk menangani penyakit mereka padahal belum legal di Indonesia. Penulisan ini memakai metode yuridis normatif dengan tujuan untuk memberikan masukan kepada Pemerintah Republik Indonesia maupun Dewan Perwakilan Rakyat tentang pentingnya ganja sebagai bahan medis. Pembahasan penulisan ini menemukan bahwa ada beberapa penelitian yang membuktikan bahwa ganja berkhasiat menjadi obat untuk para pasien dan terbukti sembuh contohnya penyakit Alzheimer, Kanker, HIV/AIDS, epilepsy, Parkinson disease, Hepatitis C dan glaukoma, bahkan di Kota Ambon, perna menggunakan ganja sebagai obat herbal untuk beberapa penyakit ganja sudah diakui khasiatnya dan legal dibeberapa Negara. Untuk itu ganja perlu dimasukan kedalam Narkotika Golongan II atau Golongan III supaya dapat digunakan sebagai bahan medis.
Downloads
Download data is not yet available.
References
Arief, B. (2010). Kebijakan Legislatif Dalam Penangulangan Kejahatan Dengan Pidana Penjara. Yogyakarta: GENTA.
Bradley, L. A. (Vol 122, no. 12 (2009)). Pathophysiology of Fibromyalgia. American Journal of Medicine , hal 22-30. . https://doi.org/10.1016/j.amjmed.2009.09.008
Buenz, E., Johnson, H. E., Beekman, E., & Bauer, B. (2004). Bioprospecting Rumphiu's Ambonese Herbal. Jurnal of Etho-phramacologi .
Campbell , V. A. ;and A. Gowran. (Vol 152, no. 5 (November 2007)). Alzheimer's Disease; Taking the Edge Off with Cannabinoids? British Journal of Pharmacology , 655-62. https://doi.org/10.1038/sj.bjp.0707446
Eberhard, R. G. (1981). The Poison Tree Selected Writings of Rumphius on the Natural Hostory of The Indies. University of Massachusetts Pres.
Jampel, H. (Vol 19, no. 2 (2010)). "American Glaucoma Society Position Statement: Marijuana and the Treatment of Glaucoma," . Journal of Glaucoma , 75-76. https://doi.org/10.1097/IJG.0b013e3181d12e39
Sudarto. (1981). Hukum dan Hukum Pidana. Bandung: Alumni.
Sudarto. (1981). Kapita Selekta Hukum Pidana. Bandung: Alumni.
Tomida, I., A. Azuara-Blanco, & H. House, M. F. (Vol 15, no.5 (2006)). Effect of Sublingual Application of Cannabinoids on Intraocular Pressure: A Pilot Study," . Journal of Glaucoma , 349-53. https://doi.org/10.1097/01.ijg.0000212260.04488.60
Ubwarin, E. (Vol.21 No.1 Bulan Januari - Juni 2015). ebijakan Formulasi Hukum Pidana Dalam Penanggulangan Tindak Pidana Perjudian Melalui Internet (Internet Gambling.). Jurnal Sasi , Hal 48.
Ubwarin, E. (2015 ). KEBIJAKAN FORMULASI HUKUM PIDANA DALAM MELANGGULAGI KEJAHATAN SKIMMING ATM. Jurnal Sasi Volume 21 Nomor 2.
Ubwarin, E. (Vol.21 No.2 Bulan Juli - Desember 2015). Kebijakan Formulasi Hukum Pidana Dalam Melanggulagi Kejahatan Skimming ATM. Jurnal Sasi .
Zunetti, T. S. (2002). Hukum Pidana Horizon Baru Pasca Reformasi,. Jakarta: Raja Grafindo Persada .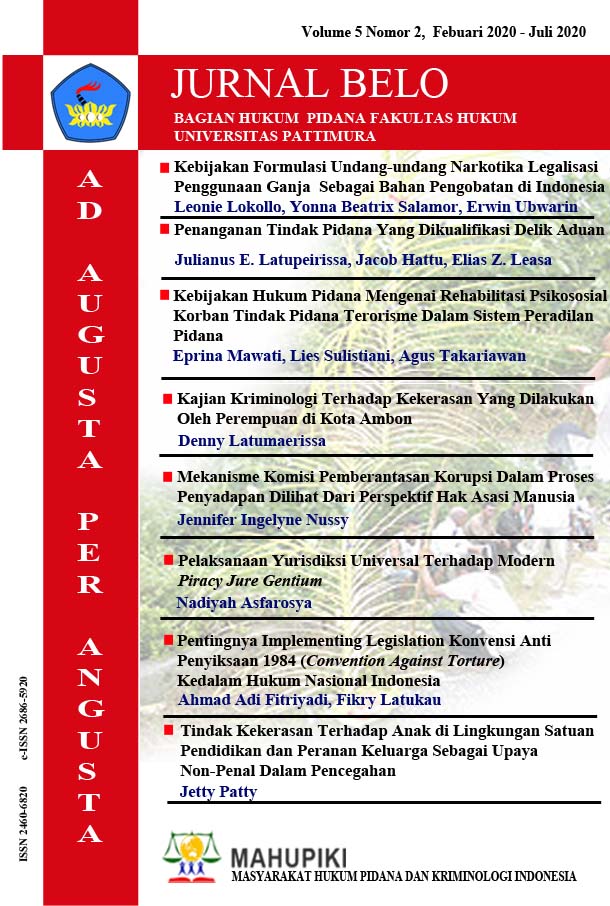 How to Cite
Lokollo, L., Salamor, Y., & Ubwarin, E. (2020). Kebijakan Formulasi Undang-undang Narkotika Dalam Legalisasi Penggunaan Ganja Sebagai Bahan Pengobatan di Indonesia. JURNAL BELO, 5(2), 1-20. https://doi.org/10.30598/belovol5issue2page1-20
Copyright (c) 2020 Leonie Lokollo, Yonna Beatrix Salamor, Erwin Ubwarin
This work is licensed under a Creative Commons Attribution-NonCommercial 4.0 International License.
Copyright:
Authors who publish their manuscripts in this Journal agree to the following conditions:
1. The copyright in each article belongs to the author, as well as the right to patent.
2. Authors are able to enter into separate, additional contractual arrangements for the non-exclusive distribution of the journal's published version of the work (e.g., post it to an institutional repository or publish it in a book), with an acknowledgment of its initial publication in this journal.
3. Authors are permitted and encouraged to post their work online (e.g., in institutional repositories or on their website) prior to and during the submission process, as it can lead to productive exchanges, as well as earlier and greater citation of published work.
4. Authors have the right to self-archiving of the article (Author Self-Archiving Policy)
License :
JURNAL BELO is disseminated based on the Creative Commons Attribution-NonCommercial 4.0 International license terms. This license allows anyone to copy and redistribute this material in any form or format, compose, modify, and make derivatives of this material for any purpose. You cannot use this material for commercial purposes. You must specify an appropriate name, include a link to the license, and certify that any changes have been made. You can do this in a way that is appropriate, but does not imply that the licensor supports you or your use.

This work is licensed under a Creative Commons Attribution-NonCommercial 4.0 International License.