Kebijakan Hukum Pidana Mengenai Rehabilitasi Psikososial Korban Tindak Pidana Terorisme Dalam Sistem Peradilan Pidana
Eprina Mawati

Universitas Padjadjaran

Lies Sulistiani

Universitas Padjadjaran

Agus Takariawan

Universitas Padjadjaran
Keywords:
Sistem Peradilan Pidana, Rehabilitasi Psikososial, Kebijakan Hukum Pidana
Abstract
Pada dasarnya kebijakan legislatif atau kebijakan perundang-undangan, secara fungsional dapat dilihat sebagai bagian dari perencanaan dan mekanisme penanggulangan kejahatan, bahkan dapat dikatakan sebagai langkah awal. Kebijakan atau upaya penanggulangan kejahatan pada hakikatnya merupakan bagian integral dari upaya perlindungan masyarakat (sosial defence) dan upaya mencapai kesejahteraan masyarakat (sosial welfare). Dalam penelitian ini menggunakan metode penelitian yuridis normatif, yaitu dengan menerapkan peraturan perundang-undangan. Perlindungan hak-hak korban tindak pidana, merupakan tanggungjawab negara terhadap korban, tanpa terkecuali. Hal tersebut merupakan bentuk pertanggungjawaban negara atas ketidakmampuannya dalam melindungi masyarakat, sehingga timbul korban. Namun, efektifitas dan ketepatan sasaran serta bentuk perlindungan yang diberikan Pemerintah Indonesia dinilai masih kurang tepat, khususnya korban tindak pidana terorisme.
Downloads
Download data is not yet available.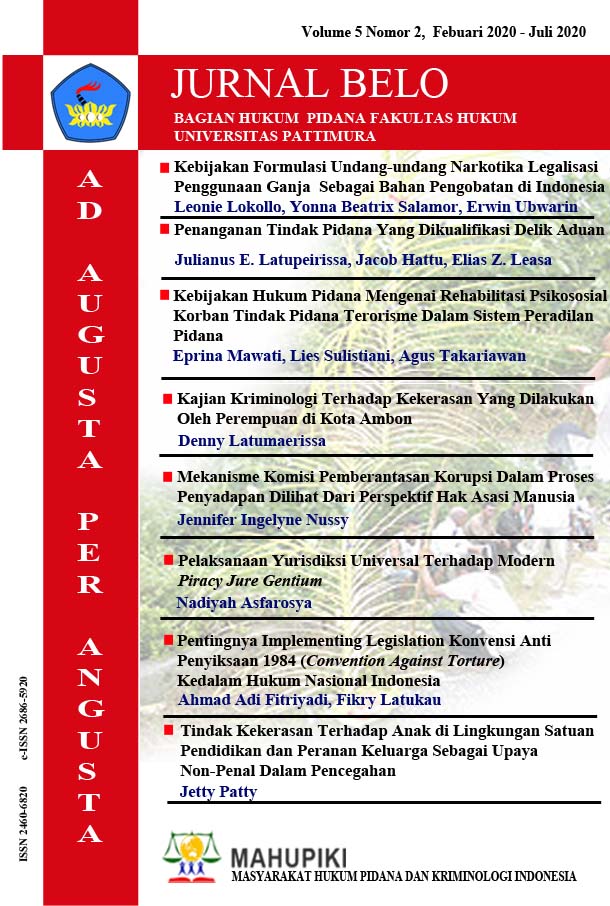 How to Cite
Mawati, E., Sulistiani, L., & Takariawan, A. (2020). Kebijakan Hukum Pidana Mengenai Rehabilitasi Psikososial Korban Tindak Pidana Terorisme Dalam Sistem Peradilan Pidana. JURNAL BELO, 5(2), 34-56. https://doi.org/10.30598/belovol5issue2page34-56
Copyright (c) 2020 Eprina Mawati, Lies Sulistiani, Agus Takariawan
This work is licensed under a Creative Commons Attribution-NonCommercial 4.0 International License.
Copyright:
Authors who publish their manuscripts in this Journal agree to the following conditions:
1. The copyright in each article belongs to the author, as well as the right to patent.
2. The author acknowledges that the JURNAL BELO has the right to publish it for the first time.
3. The author can enter the writing separately, regulate the non-exculsive distribution of manuscripts that have been published in this journal into other versions (eg sent to the author's institution respository, publication into books, etc.), by acknowledging that the manuscript was first published in JURNAL BELO
Licence :
JURNAL BELO is disseminated based on the Creative Commons Attribution-NonCommercial 4.0 International license terms. This license allows anyone to copy and redistribute this material in any form or format, compose, modify, and make derivatives of this material for any purpose. You cannot use this material for commercial purposes. You must specify an appropriate name, include a link to the license, and certify that any changes have been made. You can do this in a way that is appropriate, but does not imply that the licensor supports you or your use.

This work is licensed under a Creative Commons Attribution-NonCommercial 4.0 International License.