Pelaksanaan Yurisdiksi Universal Terhadap Modern Piracy Jure Gentium
Nadiyah Asfarosya

Universitas Padjadjaran
Keywords:
Piracy Jure Gentium, Universal Jurisdiction, Law Enforcement
Abstract
This study aims to analyze the relevance of the approach of universal jurisdiction in law enforcement against the crime of modern pirates. This study looks at piracy itself which changes over time and the effectiveness of universal jurisdiction in minimizing back piracy that can affect the international community. This research is normative. Universal jurisdiction has long been in law enforcement against piracy. However, turning the numbers of countries implementing universal jurisdiction raises the question of what constitutes an obstacle to implementing universal jurisdiction over the crime of piracy. In addition, several solutions have emerged that are considered more effective in enforcing the law against modern piracy in order to prevent the culture of impunity.
Downloads
Download data is not yet available.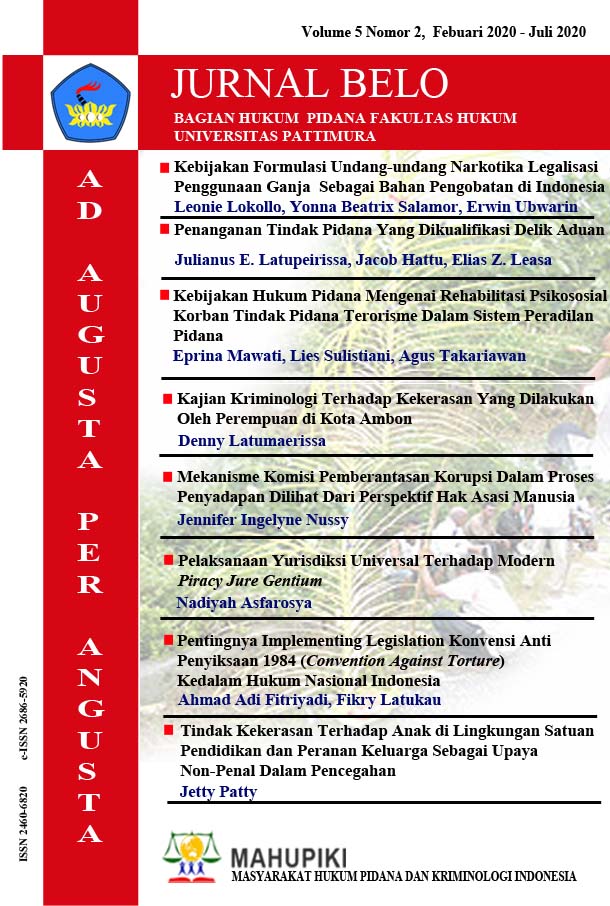 How to Cite
Asfarosya, N. (2020). Pelaksanaan Yurisdiksi Universal Terhadap Modern Piracy Jure Gentium. JURNAL BELO, 5(2), 86-96. https://doi.org/10.30598/belovol5issue2page86-96
Copyright (c) 2020 Nadiyah Asfarosya
This work is licensed under a Creative Commons Attribution-NonCommercial 4.0 International License.
Copyright:
Authors who publish their manuscripts in this Journal agree to the following conditions:
1. The copyright in each article belongs to the author, as well as the right to patent.
2. The author acknowledges that the JURNAL BELO has the right to publish it for the first time.
3. The author can enter the writing separately, regulate the non-exculsive distribution of manuscripts that have been published in this journal into other versions (eg sent to the author's institution respository, publication into books, etc.), by acknowledging that the manuscript was first published in JURNAL BELO
Licence :
JURNAL BELO is disseminated based on the Creative Commons Attribution-NonCommercial 4.0 International license terms. This license allows anyone to copy and redistribute this material in any form or format, compose, modify, and make derivatives of this material for any purpose. You cannot use this material for commercial purposes. You must specify an appropriate name, include a link to the license, and certify that any changes have been made. You can do this in a way that is appropriate, but does not imply that the licensor supports you or your use.

This work is licensed under a Creative Commons Attribution-NonCommercial 4.0 International License.