Tindak Kekerasan Terhadap Anak di Lingkungan Satuan Pendidikan dan Peranan Keluarga Sebagai Upaya Non-Penal Dalam Pencegahan
Jetty Martje Patty

Universitas Pattimura
Keywords:
Non Penal, Efforts Violence, Educational Unit Environment
Abstract
ABSTRACT
 ROLE OF THE FAMILY AS A NON PENAL EFFORT IN PREVENTING
 ACTS OF VIOLENCE AGAINTS CHILDREN IN THE EDUCATION UNIT ENVIRONMENT
              Schools are required to be anti violence zones, which provides a safe comfortable and enjoyable learning environment. Legal protection made by the government has not provided protection for children from violence that occurs in schools. So that there needs to be other efforts beyond legal measures that can prevent acts of violence against children in school. Non penal efforts through the role of the family.a as the first educational institution in society that plays a role in educating children to shape the character of children. Character education in the family will produce anti violence behavior in children themselves will distance themselves from behavior u violence, because children are equipped with loving behavior, tenderness, religious values, empathy in children.
Downloads
Download data is not yet available.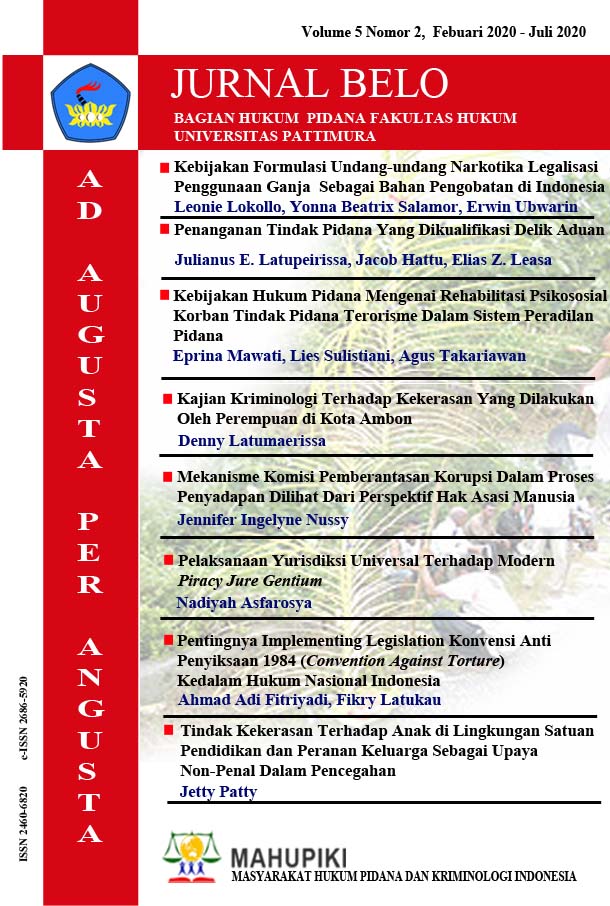 How to Cite
Patty, J. (2020). Tindak Kekerasan Terhadap Anak di Lingkungan Satuan Pendidikan dan Peranan Keluarga Sebagai Upaya Non-Penal Dalam Pencegahan. JURNAL BELO, 5(2), 115-129. https://doi.org/10.30598/belovol5issue2page115-129
Copyright (c) 2020 Jetty Martje Patty
This work is licensed under a Creative Commons Attribution-NonCommercial 4.0 International License.
Copyright:
Authors who publish their manuscripts in this Journal agree to the following conditions:
1. The copyright in each article belongs to the author, as well as the right to patent.
2. The author acknowledges that the JURNAL BELO has the right to publish it for the first time.
3. The author can enter the writing separately, regulate the non-exculsive distribution of manuscripts that have been published in this journal into other versions (eg sent to the author's institution respository, publication into books, etc.), by acknowledging that the manuscript was first published in JURNAL BELO
Licence :
JURNAL BELO is disseminated based on the Creative Commons Attribution-NonCommercial 4.0 International license terms. This license allows anyone to copy and redistribute this material in any form or format, compose, modify, and make derivatives of this material for any purpose. You cannot use this material for commercial purposes. You must specify an appropriate name, include a link to the license, and certify that any changes have been made. You can do this in a way that is appropriate, but does not imply that the licensor supports you or your use.

This work is licensed under a Creative Commons Attribution-NonCommercial 4.0 International License.