Penanganan Tindak Pidana Yang Dikualifikasi Delik Aduan
Julianus Edwin Latupeirissa

Universitas Pattimura

Jacob Hattu

Elias Zadrach Leasa
Keywords:
Penanganan, Delik, Aduan
Abstract
Laporan dan aduan merupakan hal yang berbeda, dalam Kitab Undang-undang Hukum Pidana ada delik biasa dan delik aduan, delik biasa dapat dilaporkan oleh semua orang namun dalam delik aduan tidak dapat diadukan semua orang, dalam perkara pidana Nomor 6/Pid.B/2018/PN.Drh yang disidangkan pada Pengadilan Negeri Dataran Hunipopu Seram Bagian Barat, saudara HW didakwakan Pasal 310 ayat (1) Kitab Undang-undang Hukum Pidana atas adulan yang dilakukan oleh AA. Tujuan penulisan ini untuk mengetahui apa akibat hukum jika penaganan delik aduan dengan aduan yang tidak sah, metode yang digunakan adalah metode penelitan hukum yuridis normatif, hasil dari pembahasan diketahui saudara saksi AA tidak mengadukan langsung perbuatan HW namun lewat pengacara, namun dalam aduan tersebut pengacara tidak mencantumkan surat kuasa dari AA, tentunya surat kuasa tersebut cacat, dan fakta persidangan tidak ada dasar aduan yaitu surat kuasa dari korban kepada pengacara, akibat hukumnya adalah  hakim menolak tuntutan jaksa (neit ontvankelijk verklaring van het OM) atau H W Alias H untuk dapat dituntut pidana seharusnya gugur atau putusan lepas dari tuntutan hukum (ontslag van rechtsvervolging) hal ini dapat dilihat dalam Pasal 319 Kitab Undang-Undang Hukum Pidana. Kesimpulannya dalam tindak pidana yang dikualifikasinya delik aduan, wajib ada aduan jika tidak ada maka tuntutan jaksa ditolak atau  putusan pengadilan lepas dari tuntutan hukum.
Downloads
Download data is not yet available.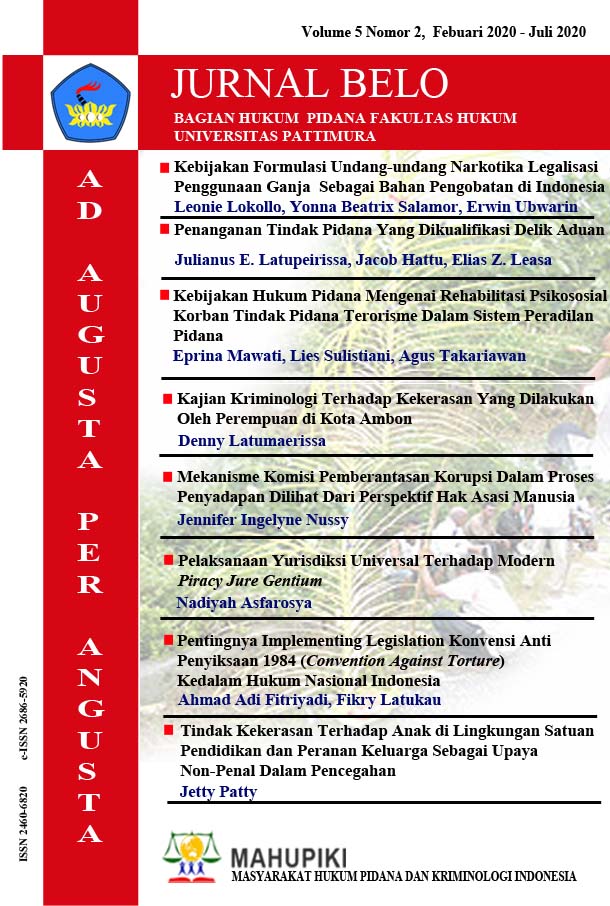 How to Cite
Latupeirissa, J., Hattu, J., & Leasa, E. (2020). Penanganan Tindak Pidana Yang Dikualifikasi Delik Aduan. JURNAL BELO, 5(2), 21-33. https://doi.org/10.30598/belovol5issue2page21-33
Copyright (c) 2020 Julianus Edwin Latupeirissa, Jacob Hattu, Elias Zadrach Leasa
This work is licensed under a Creative Commons Attribution-NonCommercial 4.0 International License.
Copyright:
Authors who publish their manuscripts in this Journal agree to the following conditions:
1. The copyright in each article belongs to the author, as well as the right to patent.
2. The author acknowledges that the JURNAL BELO has the right to publish it for the first time.
3. The author can enter the writing separately, regulate the non-exculsive distribution of manuscripts that have been published in this journal into other versions (eg sent to the author's institution respository, publication into books, etc.), by acknowledging that the manuscript was first published in JURNAL BELO
Licence :
JURNAL BELO is disseminated based on the Creative Commons Attribution-NonCommercial 4.0 International license terms. This license allows anyone to copy and redistribute this material in any form or format, compose, modify, and make derivatives of this material for any purpose. You cannot use this material for commercial purposes. You must specify an appropriate name, include a link to the license, and certify that any changes have been made. You can do this in a way that is appropriate, but does not imply that the licensor supports you or your use.

This work is licensed under a Creative Commons Attribution-NonCommercial 4.0 International License.