Pentingnya Implementing Legislationkonvensi Anti Penyiksaan 1984 (Convention Against Torture) Kedalam Hukum Nasional Indonesia
Ahmad Adi Fitriyadi

Universitas Padjadjaran

Fikry Latukau

Universitas Padjadjaran
Keywords:
: Penyiksaan, Implementing Legislation, Asas Yurisdiksi Universal
Abstract
Persoalan tindak pidana Penyiksaan adalah masalah yang sudah sejak lama terjadi di negara Indonesia sejak zaman Orde Baru hingga detik ini.Banyak kasus yang terjadi bahkan hingga akhir tahun 2019 dan para pelakunya tidaklah kunjung diadili.Hal ini disebabkan tidak adanya aturan hukum pidana nasional Indonesia yang mengatur tersendiri terkait tindakan Penyiksaan. Padahal Indonesia merupakan negara peserta pada Convention against Torture and Other Cruel, Inhuman or Degrading Treatment or Punishment (CAT) atau Konvensi Anti Penyiksaan 1984 dan telah diratifikasi ke dalam Undang-Undang No.5 Tahun 1998. Namun, karena konvensi ini bersifat Non-Self Executing, maka perlu untuk dilakukan Implementing Legislation ke dalam hukum nasional Indonesia untuk diundangkan ke dalam hukum nasional Indonesia tersendiri terkait tindak pidana Penyiksaan, sebab tindakan Penyiksaan merupakan bagian dari kejahatan internasional yang mengancam masyarakat internasional, maka aturan hukum tersebut didasarkan pada Asas Yurisdiksi Universal.
Downloads
Download data is not yet available.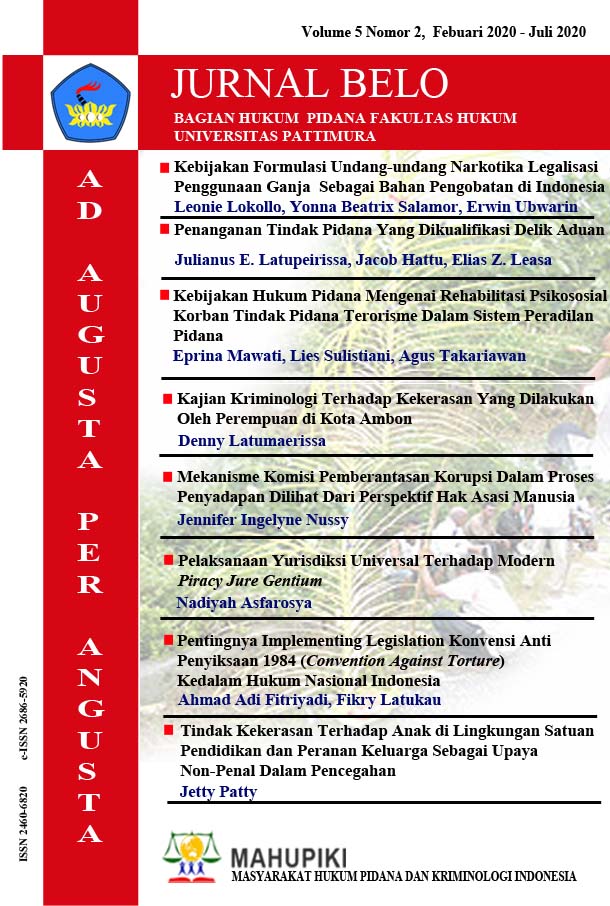 How to Cite
Fitriyadi, A., & Latukau, F. (2020). Pentingnya Implementing Legislationkonvensi Anti Penyiksaan 1984 (Convention Against Torture) Kedalam Hukum Nasional Indonesia. JURNAL BELO, 5(2), 97-114. https://doi.org/10.30598/belovol5issue2page97-114
Copyright (c) 2020 Ahmad Adi Fitriyadi, Fikry Latukau
This work is licensed under a Creative Commons Attribution-NonCommercial 4.0 International License.
Copyright:
Authors who publish their manuscripts in this Journal agree to the following conditions:
1. The copyright in each article belongs to the author, as well as the right to patent.
2. The author acknowledges that the JURNAL BELO has the right to publish it for the first time.
3. The author can enter the writing separately, regulate the non-exculsive distribution of manuscripts that have been published in this journal into other versions (eg sent to the author's institution respository, publication into books, etc.), by acknowledging that the manuscript was first published in JURNAL BELO
Licence :
JURNAL BELO is disseminated based on the Creative Commons Attribution-NonCommercial 4.0 International license terms. This license allows anyone to copy and redistribute this material in any form or format, compose, modify, and make derivatives of this material for any purpose. You cannot use this material for commercial purposes. You must specify an appropriate name, include a link to the license, and certify that any changes have been made. You can do this in a way that is appropriate, but does not imply that the licensor supports you or your use.

This work is licensed under a Creative Commons Attribution-NonCommercial 4.0 International License.