Perlindungan Hak Anak Korban Tindak Pidana
Leviana Rachel

Universitas Tarumanagara

Winda Gadis Sukardi

Universitas Tarumanagara

Putry Nadia

Universitas Tarumanagara
Keywords:
Perlindungan, Hak, Anak
Abstract
Hak hidup adalah hak yang secara langsung diberikan Tuhan kepada manusia, semua mahkluk hidup berhak memiliki itu demikian pada anak keberadaan anak di Indonesia diatur tegas dalam Undang-Undang dan dalam Hak Asasi Manusia sehingga anak memiliki hak yang sama dengan orang dewasa. Zaman semakin modern sehingga keberadaan anak selalu disepelekan seperti dalam kasus seorang Ibu membunuh anak kandungnya tindakan ini yang dapat merusak kehidupan, tahap tumbuh kembang, dan kebahagian anak-anak. Keberadaan penegakan hukum terhadap pelaku kejahatan pada anak sangat diperlukan guna menjamin tumbuh kembang anak secara wajar dalam lingkungan yang sehat dan harmonis dan saksi tegas agar pelaku jera. Metode yang digunakan penulis dalam penyusunan artikel ilmiah ini adalah penelitian hukum normatif. menggunakan teknik pengumpulan data dan pengolahan data dilakukan secara kualitatif selanjutnya dianalisis menggunakan metode deduktif artinya menarik kesimpulan yang bersifat khusus dari pernyataan-pernyataan yang sifatnya umum.
Downloads
Download data is not yet available.
References
Daftar Pustaka
Jurnal
Fadillah, A. (2019). Perlindungan Hukum Terhadap Anak Yang Menjadi Korban Aksi Perundungan. Jurnal Belo, 5(1), 86-100. DOI: https://doi.org/10.30598/belovol5issue1page86-100
Patty, J. (2020). Tindak Kekerasan Terhadap Anak di Lingkungan Satuan Pendidikan dan Peranan Keluarga Sebagai Upaya Non-Penal Dalam Pencegahan. Jurnal Belo, 5(2), 115-129. DOI : https://doi.org/10.30598/belovol5issue2page115-129
Latukau, F. (2020). Pengadopsian UNCAC Mengenai Pengembalian Aset Hasil Korupsi Yang Dibawa Atau Disimpan Ke Luar Negeri Dalam Penegakan Hukum Indonesia. Jurnal Belo, Volume 5 Nomor 1. DOI: https://doi.org/10.30598/belovol5issue1page10-31
Lokollo, L., Salamor, Y. B., & Ubwarin, E. (2020). Kebijakan Formulasi Undang-undang Narkotika Dalam Legalisasi Penggunaan Ganja Sebagai BahanPengobatan di Indonesia. Jurnal Belo, Volume 5 Nomor 2. DOI: https://doi.org/10.30598/belovol5issue2page1-20
Putra, Muhammad Amin. (2015) "Eksistensi Lembaga Negara Dalam Penegakan HAM Di Indonesia". Fiat Justisia. Jurnal Ilmu Hukum. 9 (3). DOI :
https://doi.org/10.25041/fiatjustisia.v9no3.600
Buku
E Gunakaya,Widiada. (2017)Hukum Hak Asasi Manusia. Yogyakarta: Andi Jogja
Afriansyah, dkk. (2016) Hak Asasi Manusia dan Perubahan Sosial Politik. Malang:Badan Penerbit Universitas Muhammadiyah Malang.
I Made Pasek Diantha, (2019), Metodologi Penelitian Hukum Normatif Dalam Justifikasi Teori Hukum, Jakarta: Prenadamedia Group.
Subi Moh. (2017), Implementasi Hak Asasi Manusia dalam Undang-Undang Dasar 1945.Jakarta:Rasi Penerbit.
Zein Fadhilah, (2017), Anak dan Keluarga Dalam Teknologi Informasi. Jakarta: Perpustaan Nasional.
Chandra Mardi, (2018), Aspek perlindungan anak Indonesia. Jakarta: Penerbit Kencana
Sabon Boli, (2019) Hak Asasi Manusia bahan pendidikan untuk perguruan tinggi, Jakarta: Universitas Atma Jaya,
Prasetyo Herry, (2019)Agar anak merasa dicintai. Jakarta: Penerbit Duta.
Arliman, Laurensius. (2017)"Komnas Hak Asasi Manusia sebagai State Auxialiary Bodies Di Dalam Penegakan Hak Asasi Manusia di Indonesiaâ€. Jakarta: Komnas Ham.
Harefa Beniharmoni, (2019) Kapita Selekta Perlindungan Hukum Bagi Anak. Yogyakarta: Penerbit Deepublish.
https://pih.kemlu.go.id/files/UUNo23tahun2003PERLINDUNGANANAK.pdf diakses 17 Juli 2020
https://www.liputan6.com/regional/read/2669411/ibu-tega-hilangkan-nyawa-anak-kandung diakses 18 Agustus 2020
https://www.liputan6.com/news/read/4015585/aniaya-anak-hingga-tewas-ibu-di-boyolali-terancam-15-tahun-penjara diakses 11 Agustus 2020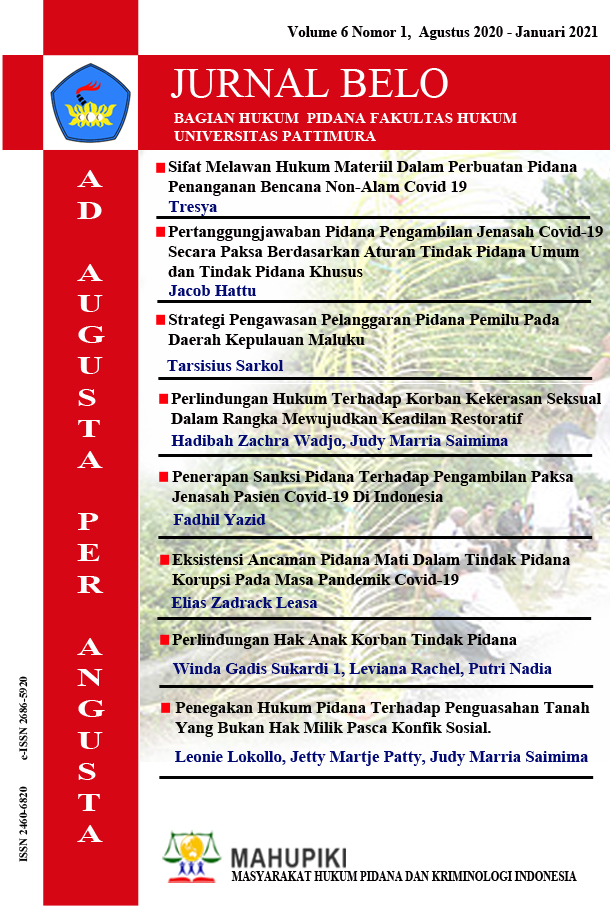 How to Cite
Rachel, L., Sukardi, W., & Nadia, P. (2020). Perlindungan Hak Anak Korban Tindak Pidana. JURNAL BELO, 6(1), 89-100. https://doi.org/10.30598/belovol6issue1page89-100
Copyright (c) 2020 Leviana Rachel, Winda Gadis Sukardi, Putry Nadia
This work is licensed under a Creative Commons Attribution-NonCommercial 4.0 International License.
Copyright:
Authors who publish their manuscripts in this Journal agree to the following conditions:
1. The copyright in each article belongs to the author, as well as the right to patent.
2. Authors are able to enter into separate, additional contractual arrangements for the non-exclusive distribution of the journal's published version of the work (e.g., post it to an institutional repository or publish it in a book), with an acknowledgment of its initial publication in this journal.
3. Authors are permitted and encouraged to post their work online (e.g., in institutional repositories or on their website) prior to and during the submission process, as it can lead to productive exchanges, as well as earlier and greater citation of published work.
4. Authors have the right to self-archiving of the article (Author Self-Archiving Policy)
License :
JURNAL BELO is disseminated based on the Creative Commons Attribution-NonCommercial 4.0 International license terms. This license allows anyone to copy and redistribute this material in any form or format, compose, modify, and make derivatives of this material for any purpose. You cannot use this material for commercial purposes. You must specify an appropriate name, include a link to the license, and certify that any changes have been made. You can do this in a way that is appropriate, but does not imply that the licensor supports you or your use.

This work is licensed under a Creative Commons Attribution-NonCommercial 4.0 International License.