Strategi Pengawasan Pelanggaran Pidana Pemilu Pada Daerah Kepulauan Maluku
Tarsisius Sarkol

Sekolah Tinggi Ilmu-Ilmu Sosial (STIS) Tual
Keywords:
Strategi, Pengawasan, Kepualauan
Abstract
Fungsi Bawaslu Provinsi, Kota Kabupaten/Kota diperluas dengan Undang-Undang tentang pemilu, Bawaslu dapat melaksanakan Mediasi, dan Proses Adjudikasi, namun dibatasi dengan waktu yang sangat singkat, sementara rentan kendali yang luas, dengan 92 % wilayah laut dan 8 % wilayah darat. Tujuan penulisan ini untuk mengetahui strategi pengawasan pemilu pada daerah kepulauan Maluku. Metode yang dipakai adalah yuridis normatif, dengan sumber bahan hukum primer, sekunder dan tresier. Hasil penelitian menunjukan bahwa dengan rentan waktu yang cepat namun wilayah yang luas maka di era revolusi 4.0, pengenegakan hukum dengan memakai basis teknologi informasi dan komunikasi, dengan ini maka tidak akan terkendala waktu dan rentan wilayah.
Downloads
Download data is not yet available.
References
Daftar Pustaka
Jurnal
Katja, G. (2013 ). Adat and Indigeneity in Indonesia: Culture and Etitlements between Heteronomy and Self-Ascription. Indigenous Peoples in International Law dalam Göttingen Studies in Cultural Property , 7 (1) 18-30.
Latukau, F. (2020). Pengadopsian UNCAC Mengenai Pengembalian Aset Hasil Korupsi Yang Dibawa Atau Disimpan Ke Luar Negeri Dalam Penegakan Hukum Indonesia. Jurnal Belo , 5 (1). 10. DOI : https://doi.org/10.30598/belovol5issue1page10-31
Lokollo, L., Salamor, Y. B., & Ubwarin, E. (2020). Kebijakan Formulasi Undang-undang Narkotika Dalam Legalisasi Penggunaan Ganja Sebagai Bahan Pengobatan di Indonesia. Jurnal Belo , 5 (2) 3. DOI : https://doi.org/10.30598/belovol5issue2page1-20
Mawati, E., Takariawan, A., & Sulistiani, L. (2020). Kebijakan Hukum Pidana Mengenai Rehabilitasi Psikososial Korban Tindak Pidana Terorisme Dalam Sistem Peradilan Pidana. Jurnal Belo, Volume 5, Nomor 2, 34-56. DOI : https://doi.org/10.30598/belovol5issue2page34-56
Patty, J. (2020). jmp Pelarangan Mantan Terpidana Korupsi Menjadi Calon Kepala Daerah Agar Menimbulkan Efek Jera. Jurnal Belo, 5 (1), 1-9. DOI : https://doi.org/10.30598/belovol5issue1page1-9
Rahmatunnisa, M. (2017). MENGAPA INTEGRITAS PEMILU PENTING?, Jurnal Bawaslu, 3 (1), 1-11. DOI : https://doi.org/10.14203/jpp.v16i1.782
Zuhro, R. S. (2019). DEMOKRASI DAN PEMILU PRESIDEN 2019. Jurnal Penelitian Politik LIPI , 16 (1) 69-81
Buku.
Amirudin, e. (2016). Pengantar Metode Penelitian Hukum. Jakarta: RajaGrafindo Prasada.
David, H. (2017). Globalization/ Anti-Globalization : Beyond the Great Divide Polity. Cambridgeshire: Cambridge.
Manan, B. (2010). Teori dan Politik Konstitusi. Jakarta: Direktorat Jenderal Pendidikan Tinggi, Departemen Pendidikan Nasional.
Muchsan. (2017). Sistem Pengawasan Terhadap Perbuatan Aparat Pemerintah Dan Peradilan Tata Usaha Negara Di Indonesia,. Yogyakarta: Liberty.Schumpeter, J. (2016). Capitalism, Socialism & Democracy . London: Routledge.
Soekanto, S. (2015). Pengantar Penelitian Hukum. Jakarta: UI Press.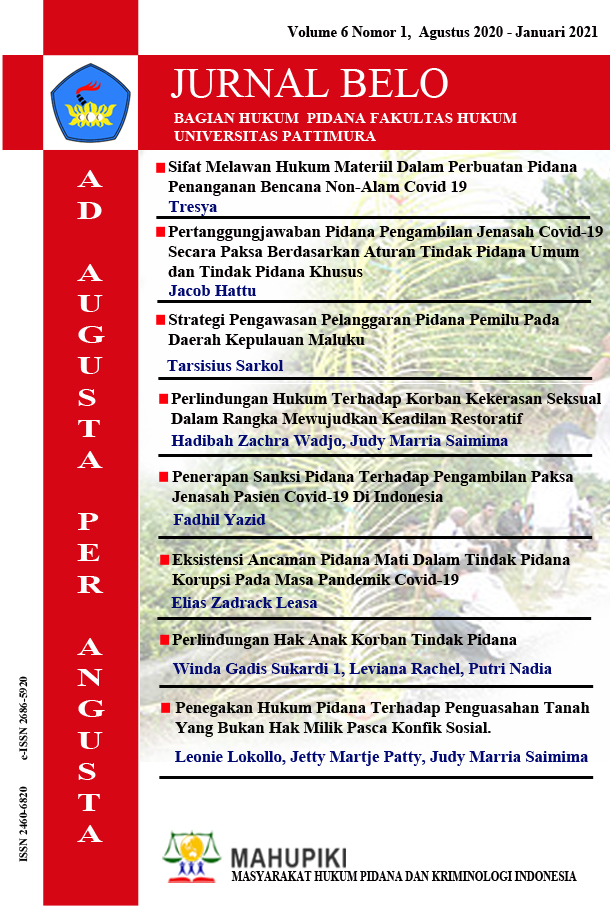 How to Cite
Sarkol, T. (2020). Strategi Pengawasan Pelanggaran Pidana Pemilu Pada Daerah Kepulauan Maluku. JURNAL BELO, 6(1), 32-47. https://doi.org/10.30598/belovol6issue1page32-47
Copyright (c) 2020 Tarsius Sarkol
This work is licensed under a Creative Commons Attribution-NonCommercial 4.0 International License.
Copyright:
Authors who publish their manuscripts in this Journal agree to the following conditions:
1. The copyright in each article belongs to the author, as well as the right to patent.
2. Authors are able to enter into separate, additional contractual arrangements for the non-exclusive distribution of the journal's published version of the work (e.g., post it to an institutional repository or publish it in a book), with an acknowledgment of its initial publication in this journal.
3. Authors are permitted and encouraged to post their work online (e.g., in institutional repositories or on their website) prior to and during the submission process, as it can lead to productive exchanges, as well as earlier and greater citation of published work.
4. Authors have the right to self-archiving of the article (Author Self-Archiving Policy)
License :
JURNAL BELO is disseminated based on the Creative Commons Attribution-NonCommercial 4.0 International license terms. This license allows anyone to copy and redistribute this material in any form or format, compose, modify, and make derivatives of this material for any purpose. You cannot use this material for commercial purposes. You must specify an appropriate name, include a link to the license, and certify that any changes have been made. You can do this in a way that is appropriate, but does not imply that the licensor supports you or your use.

This work is licensed under a Creative Commons Attribution-NonCommercial 4.0 International License.