Penyerobotan Tanah Secara Tidak Sah Dalam Perspektif Pidana
Margie Gladies Sopacua

Universitas Pattimura
Keywords:
Land of annexation, Criminal
Abstract
Land of is a very valuable asset, given the price of land is very stable and continue to rise along with the times. Unauthorized land grabbing can harm anyone even more so if the land is used for business purposes. Annexation of land by a person or group of people against another people's land can be interpreted as an act of mastering, occupy or take over someone else's land unlawfully, against the right, or in violation of applicable laws. Therefore, such actions may be sued under civil law or prosecuted under criminal law. Provisions in criminal law contained in Section 363, 365, 167 and 389, 170, 406, 412, 263, 264, 266 as Lex Generalis later in Article 2 of Law No. 51 PRP of 1960 on the Prohibition of Use of Land Without Permission Eligible or the attorney as Lex Specialist.
Downloads
Download data is not yet available.
References
DAFTAR PUSTAKA

Buku :

Black Henry Campbell, 2017. Black's Law Dictionary. Edisi VI. St. Paul Minesota: West Publishing.

Djoki Prakoso, 2017. Pembaharuan Hukum Pidana di Indonesia, Yogyakarta: Liberty.

Lamintang, P. A. F 2019. Delik-delik Khusus Kejahatan Terhadap Harta Kekayaan, Cet. 4, Jakarta: Sinar Grafika.

Romli Atmasasmita, 2019. Sistem Peradilan Pidana Kontemporer, Jakarta: Binacipta.

Satjipto Rahardjo, 2019. Penegakan Hukum : Suatu Tinjauan Sosiologis, Yogyakarta: Genta Publishing.

Soerjono Soekanto, 2017. Faktor-faktor yang Mempengaruhi Penegakan Hukum, Jakarta: PT. Raja Grafindo Persada.

Teguh Prasetyo dan Abdul Halim Barkatullah, 2019. Politik Hukum Pidana Kajian Kebijakan Kriminalisasi dan Dekriminalisasi, Yogyakarta: Pustaka Pelajar.

Jurnal :

Yohanes Suhardin, (2009, Juni). Fenomena Mengabaikan Keadilan dan Penegakan Hukum, Mimbar Hukum, Vol.21, No. 2.

Internet
http://www.siwalimanews.com/post/serobot_tanah_berurusan_dengan_polisi,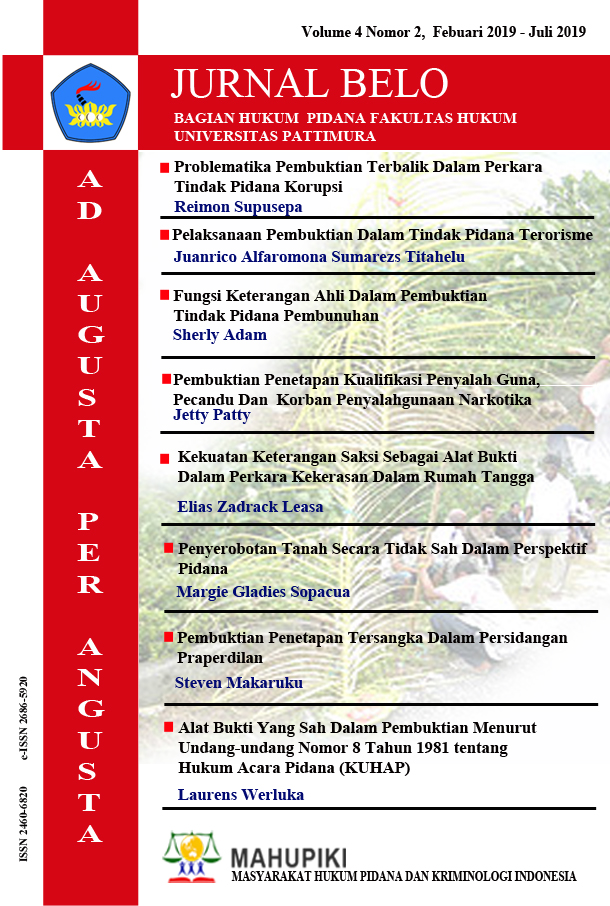 How to Cite
Sopacua, M. (2019). Penyerobotan Tanah Secara Tidak Sah Dalam Perspektif Pidana. JURNAL BELO, 4(2), 204-217. https://doi.org/10.30598/belovol4issue2page204-217
Copyright (c) 2019 Margie Gladies Sopacua
This work is licensed under a Creative Commons Attribution-NonCommercial 4.0 International License.
Copyright:
Authors who publish their manuscripts in this Journal agree to the following conditions:
1. The copyright in each article belongs to the author, as well as the right to patent.
2. Authors are able to enter into separate, additional contractual arrangements for the non-exclusive distribution of the journal's published version of the work (e.g., post it to an institutional repository or publish it in a book), with an acknowledgment of its initial publication in this journal.
3. Authors are permitted and encouraged to post their work online (e.g., in institutional repositories or on their website) prior to and during the submission process, as it can lead to productive exchanges, as well as earlier and greater citation of published work.
4. Authors have the right to self-archiving of the article (Author Self-Archiving Policy)
License :
JURNAL BELO is disseminated based on the Creative Commons Attribution-NonCommercial 4.0 International license terms. This license allows anyone to copy and redistribute this material in any form or format, compose, modify, and make derivatives of this material for any purpose. You cannot use this material for commercial purposes. You must specify an appropriate name, include a link to the license, and certify that any changes have been made. You can do this in a way that is appropriate, but does not imply that the licensor supports you or your use.

This work is licensed under a Creative Commons Attribution-NonCommercial 4.0 International License.