ANTAGONISME LIMA ISOLAT Trichoderma sp. LOKAL MALUKU TERHADAP JAMUR PATOGEN PENYEBAB PENYAKIT REBAH KECAMBAH (Sclerotium rolfsii Sacc.)
Program Studi Agroekotek Fakultas Pertanian Universitas Pattimura
Wilhelmina Rumahlewang

Program Studi Agroekotek Fakultas Pertanian Universitas Pattimura

Costanza Uruilal

Program Studi Agroekotek Fakultas Pertanian Universitas Pattimura
Keywords:
Antagonisme, Sclerotium rolfsii Sacc., Trichoderma sp.
Abstract
Pengendalian biologi terhadap patogen tumbuhan merupakan pengendalian patogen yang ramah lingkungan dan akan mengurangi ketergantungan pada pemakaian bahan sintetik. Banyak mikroogaisme yang bisa dieksplorasi untuk mendapatkan agen pengendali biologi terhadap patogen tumbuhan. Penelitian ini bertujuan mendapatkan jamur Trichoderma sp. isolat lokal hasil eksplorasi dari perakaran tanaman galoba (Hornstedtia alliacea) di Desa Leinitu, kecamatan Nusalaut, Kabupaten Maluku Tengah. Tahapan penelitian meliputi isolasi dan uji antagonisme isolat Trichoderma sp. sebagai antagonis indigenos risosfer. Hasil penelitian ditemukan lima isolat Trichoderma sp. yang memiliki kemampuan antagonis terhadap Sclerotium rolfsii Sacc., dengan rata-rata persentase penghambatan (PIGR) sebesar 68,74%. Rata-rata persentase penghambatan tertinggi pada isola Tg10 sebesar 72,28%, diikuti Tg8 dan Tg9 sebesar 67,8% dan 65,99%. Sedangkan isolat Tg1 dan Tg2 sebesar 63,65% dan 63%. Persentase penghambatan 5 isolat tersebut tidak berbeda nyata pada hasil uji analisis varians pada taraf  95%.
Downloads
Download data is not yet available.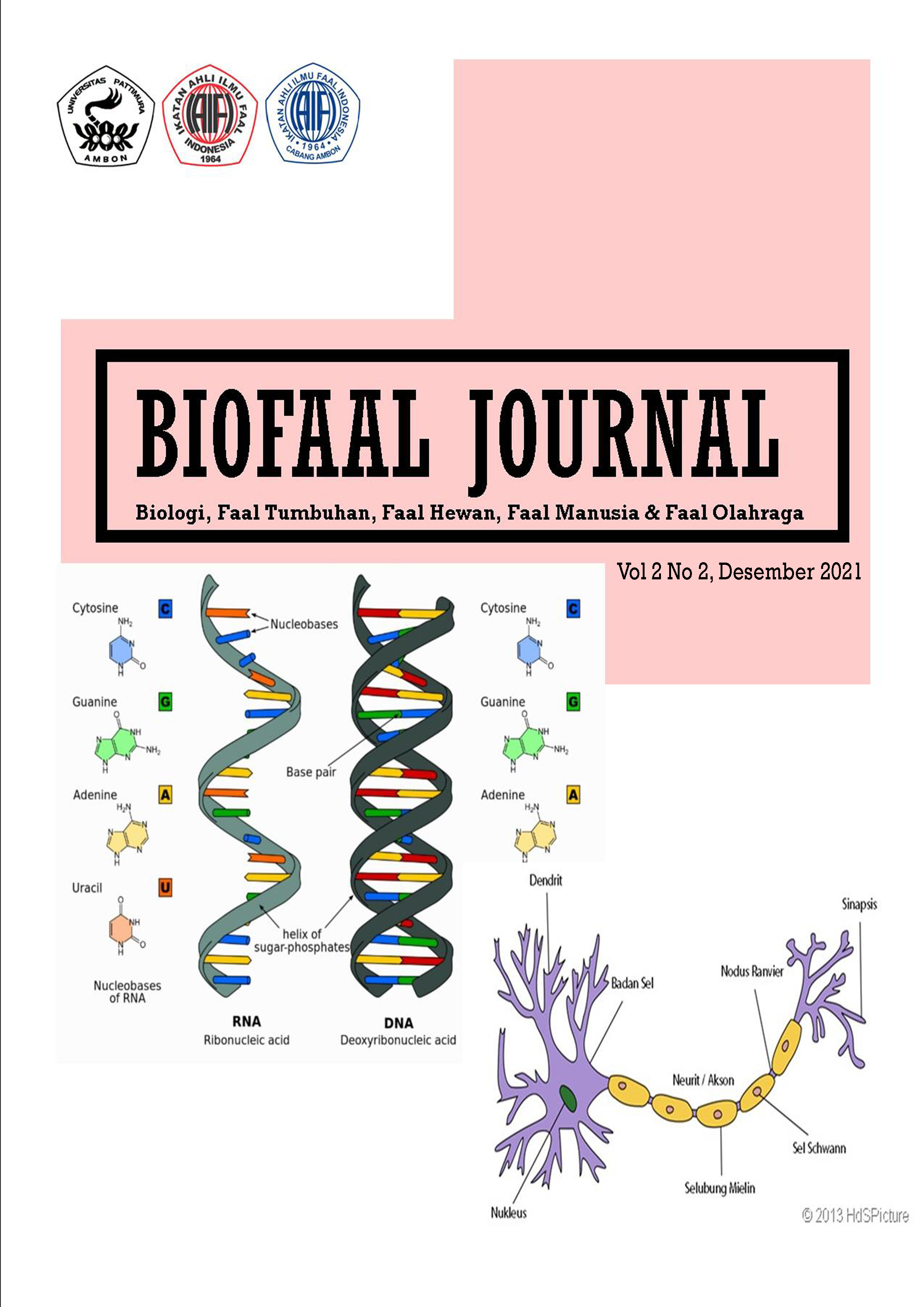 How to Cite
Rumahlewang, W., & Uruilal, C. (2022). ANTAGONISME LIMA ISOLAT Trichoderma sp. LOKAL MALUKU TERHADAP JAMUR PATOGEN PENYEBAB PENYAKIT REBAH KECAMBAH (Sclerotium rolfsii Sacc.). Biofaal Journal, 3(2), 80 - 84. https://doi.org/10.30598/biofaal.v3i2pp80 - 84
Copyright (c) 2022 Wilhelmina Rumahlewang, Costanza Uruilal
This work is licensed under a Creative Commons Attribution-NonCommercial-ShareAlike 4.0 International License.
1. Author retain copyright and grant the journal right of first publication with the work simultaneously licensed under a creative commons attribution license that allow others to share the work within an acknowledgement of the work's authorship and initial publication of this journal.
2. Authors are able to enter into separate, additional contractual arrangementfor the non-exclusive distribution of the journal's published version of the work (e.g. acknowledgement of its initial publication in this journal).
3. Authors are permitted and encouraged to post their work online(e.g. in institutional repositories or on their websites) prior to and during the submission process, as it can lead to productive exchanges, as well as earlier and greater citation of published works.