AKTIVITAS ANTIDIABETES EKSTRAK ETANOL DAUN Calophyllum inophyllum Linn TERHADAP KADAR GULA DARAH MENCIT (Mus musculus) MODEL DIABATES MELLITUS
Abdul M Ukratalo

Biologi

Martha Kaihena

Muhammad Reza Ramadhany
Keywords:
Calophyllum inophyllum, diabetes mellitus, blood sugar
Abstract
The use of herbal remedies in treating diabetes mellitus has been used for generations because in addition to the relatively small side effects, the price is more economical. Bintangur (Calophyllum inophyllum Linn) is a plant that has multiple benefits. Bintangur contains compounds derived from xantona, coumarins, flavonoids, benzodipiranones, triterpenoids and steroids. Flavonoid compounds in star leaves are thought to be able to capture free radicals that cause damage to cells β the pancreas that causes diabetes mellitus. The purpose of this study was to determine the potential of ethanol extract of Calophyllum inophyllum Linn leaves against decreasing blood sugar levels of diabetes mellitus mice. Mice of 20 heads divided into 5 groups KN, K (-), K (+), P1 = dose 0.2 ml / head / day and P2 = dose 0.4 ml / head / day. In the K(-), K(+), P1 and P2 groups STZ induction and blood sugar levels were observed. After an increase in blood sugar levels in the K (+) group, metformin drugs were given, P1 and P2 were given stargur leaf extract according to a predetermined dosage. Observation of post-induction blood sugar levels was observed on days 7 and 14. The research data were then analyzed using the ANOVA test. The results of the ANOVA test showed that the calculated F value was 177.503 with an F probility of 0.000 (sig<0.05) which means that the administration of stargur leaf ethanol extract had an effect on kgd mice.
Downloads
Download data is not yet available.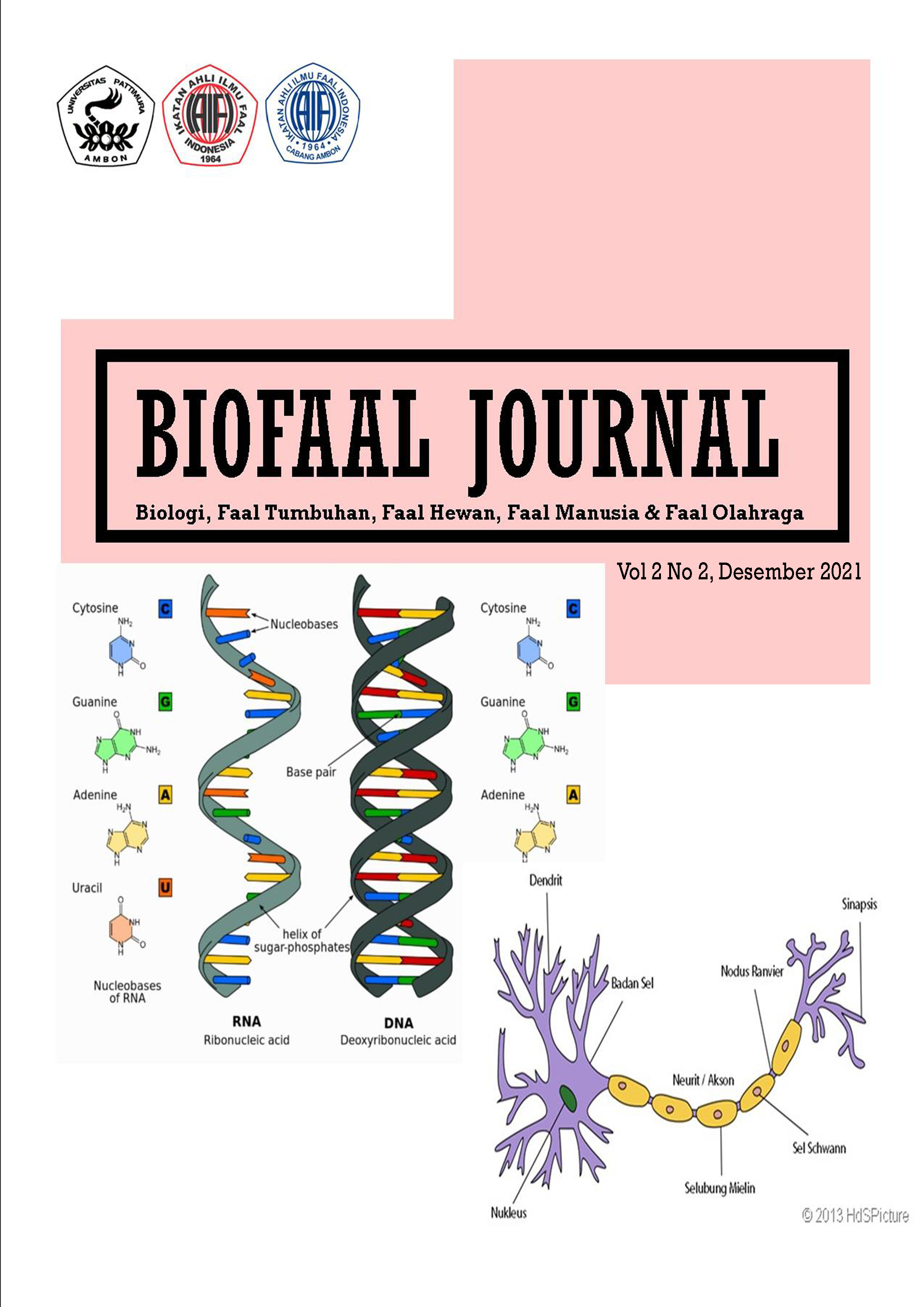 How to Cite
Ukratalo, A., Kaihena, M., & Ramadhany, M. (2022). AKTIVITAS ANTIDIABETES EKSTRAK ETANOL DAUN Calophyllum inophyllum Linn TERHADAP KADAR GULA DARAH MENCIT (Mus musculus) MODEL DIABATES MELLITUS. Biofaal Journal, 3(2), 89 - 95. https://doi.org/10.30598/biofaal.v3i2pp89 - 95
Copyright (c) 2022 Abdul M Ukratalo, Martha Kaihena, Muhammad Reza Ramadhany
This work is licensed under a Creative Commons Attribution-NonCommercial-ShareAlike 4.0 International License.
1. Author retain copyright and grant the journal right of first publication with the work simultaneously licensed under a creative commons attribution license that allow others to share the work within an acknowledgement of the work's authorship and initial publication of this journal.
2. Authors are able to enter into separate, additional contractual arrangementfor the non-exclusive distribution of the journal's published version of the work (e.g. acknowledgement of its initial publication in this journal).
3. Authors are permitted and encouraged to post their work online(e.g. in institutional repositories or on their websites) prior to and during the submission process, as it can lead to productive exchanges, as well as earlier and greater citation of published works.