AGIHAN PENYAKIT PADA TANAMAN JERUK MANIS KISAR (Citrus spp.) DI PULAU KISAR, KABUPATEN MALUKU BARAT DAYA
Jogeneis Patty

Jurusan Budidaya Pertanian, Fakultas Pertanian Universitas Pattimura, Ambon

Ch. Leiwakabessy

Jurusan Budidaya Pertanian, Fakultas Pertanian Universitas Pattimura, Ambon

Costanza Uruilal

Jurusan Budidaya Pertanian, Fakultas Pertanian Universitas Pattimura, Ambon

Wilhelmina Rumahlewang

Jurusan Budidaya Pertanian, Fakultas Pertanian Universitas Pattimura, Ambon
Keywords:
Botrydiplodia theobomae, Corticium salmonicolor, CVPD, Xanthomonas axonopodis pv. citri
Abstract
Jeruk Kisar merupakan komoditas buah andalan di pulau Kisar. Penelitian ini bertujuan untuk mengetahui jenis-jenis penyakit pada tanaman jeruk manis Kisar (Citus spp), intensitas penyakit dan kategori serangannya, serta sebaran sebaran jenis penyakit jeruk manis Kisar di Pulau Kisar Kabupaten Maluku Barat Daya. Penelitian ini merupakan penelitian deskriptif dengan menggunakan metode survey dan penentuan tanaman sampel secara acak sederhana (Simple random sampling). Jenis-jenis penyakit dan intensitas kerusakan serta kategori serangannya pada tanaman jeruk manis Kisar adalah CVPD (Liberobacter asiaticum) 8.58% (ringan), kulit Diplodia (Botrydiplodia theobomae) 39.67% (sedang), kanker jeruk (Xanthomonas axonopodis pv. citri), 46.39% (sedang), dan jamur upas (Corticium salmonicolor) 43.78% (sedang). Kondisi areal yang mempengaruhi terjadinya penyakit adalah teknik budidaya yang menyimpang yang menunjang perkembangan penyakit adalah tindakan pemeliharaan yang kurang baik, tidak dilakukan sanitasi terhadap bagian tanaman yang sakit sehingga sumber inokulum selalu ada, dan tidak pernah dilakukan pengendalian penyakit dengan pestisida.
Downloads
Download data is not yet available.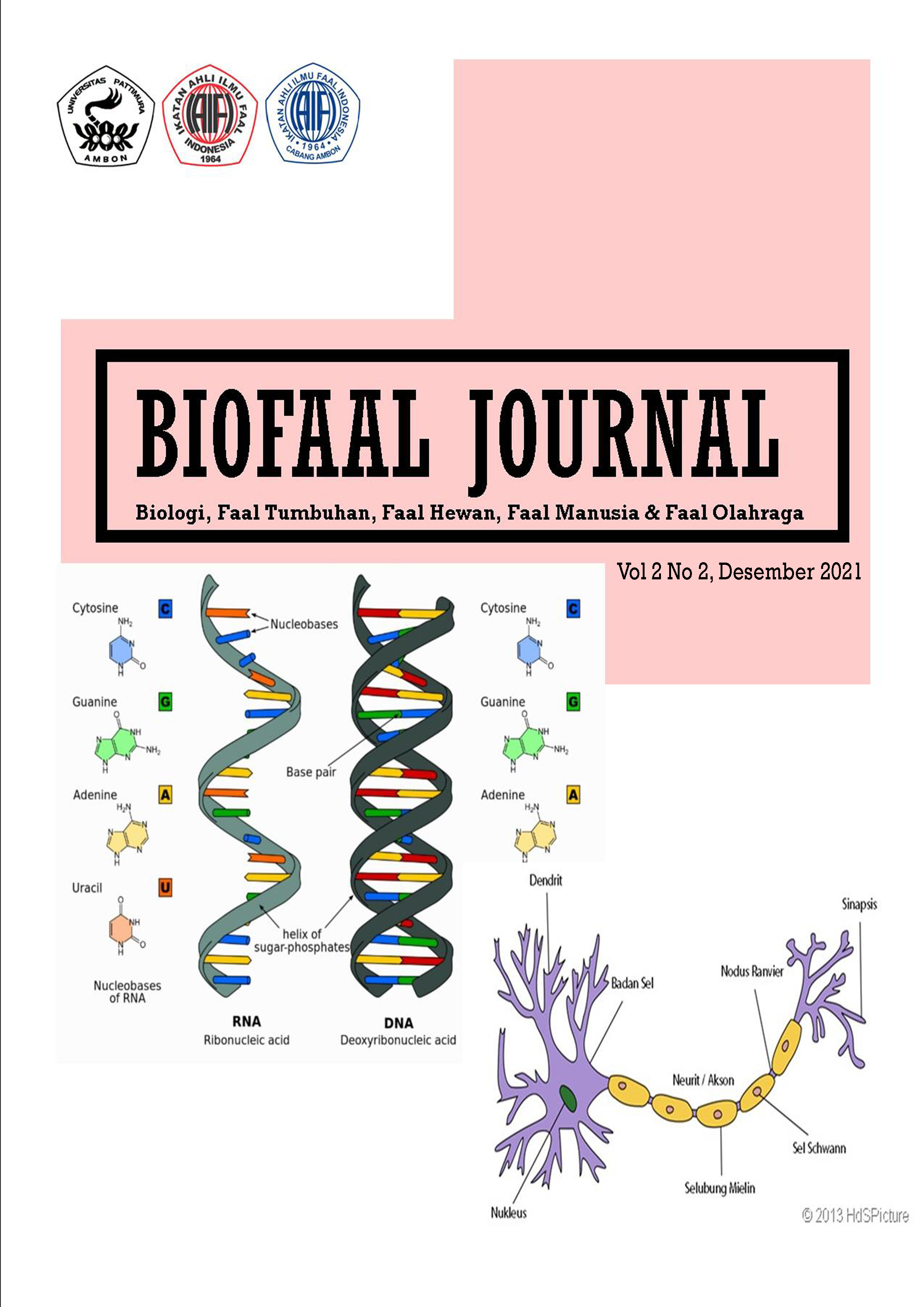 How to Cite
Patty, J., Leiwakabessy, C., Uruilal, C., & Rumahlewang, W. (2022). AGIHAN PENYAKIT PADA TANAMAN JERUK MANIS KISAR (Citrus spp.) DI PULAU KISAR, KABUPATEN MALUKU BARAT DAYA. Biofaal Journal, 3(2), 96 - 104. https://doi.org/10.30598/biofaal.v3i2pp96 - 104
Copyright (c) 2022 Jogeneis Patty, Ch. Leiwakabessy, Costanza Uruilal, Wilhelmina Rumahlewang
This work is licensed under a Creative Commons Attribution-NonCommercial-ShareAlike 4.0 International License.
1. Author retain copyright and grant the journal right of first publication with the work simultaneously licensed under a creative commons attribution license that allow others to share the work within an acknowledgement of the work's authorship and initial publication of this journal.
2. Authors are able to enter into separate, additional contractual arrangementfor the non-exclusive distribution of the journal's published version of the work (e.g. acknowledgement of its initial publication in this journal).
3. Authors are permitted and encouraged to post their work online(e.g. in institutional repositories or on their websites) prior to and during the submission process, as it can lead to productive exchanges, as well as earlier and greater citation of published works.