PEMBERIAN EKSTRAK AMPAS DAUN SERAI WANGI (Cymbopogon Nardus (L.) Randle) TERHADAP PERUBAHAN TINGKAH LAKU LARVA INSTAR II Chrysodeixis Chalcites
Maulinda -

Program Studi Pendidikan Biologi FKIP Unsyiah

Supriatno -

Program Studi Pendidikan Biologi FKIP Unsyiah

Wardiah -

Program Studi Pendidikan Biologi FKIP Unsyiah

Hafnati Rahmatan

Program Studi Pendidikan Biologi FKIP Unsyiah

M. Ali Sarong

Program Studi Pendidikan Biologi FKIP Unsyiah
Keywords:
Ampas daun serai wangi, Tingkah laku, Larva instar II
Abstract
Chrysodeixis chalcites termasuk larva yang sangat khas, karena cara berjalan berjingkat-jingkat, yaitu dengan cara ujung bagian belakang tubuhnya melengkung, kemudian tubuh bagian depan bergerak maju. Daun serai wangi mengandung zat aktif seperti alkaloid, saponin, tanin, dan flavonoid. Komponen utama dari minyak serai wangi yaitu sitronela dan geraniol. Ekstrak ampas daun serai wangi bepotensi sebagai insektisida alami karena memiliki kandungan senyawa metabolit sekunder berupa alkaloid, saponin, tanin dan flavonoid, senyawa tersebut dapat mempengaruhi tingkah laku larva. Tujuan penelitian ini untuk mengetahui pengaruh pemberian ekstrak ampas daun serai wangi terhadap tingkah laku larva Instar II Chrysodeixis chalcites. Jenis penelitian eksperimen dengan pola Rancangan Acak Lengkap (RAL) dengan 6 perlakuan masing-masing 4 ulangan. Perlakuan yang digunakan adalah kontrol negatif), 5000, 10.000, 15.000. Simpulan dari penelitian ini ekstrak ampas daun serai wangi menyebabkan perubahan tingkah laku pada larva Chrysodeixis chalchites seperti aktivitas makan yang menurun, kegelisahan larva yang bergerak naik turun pada wadah penelitian dan aktivitas bergerak larva yang awalnya bergerak lincah lama kelamaan menjadi lamban hingga sulit bergerak.
Downloads
Download data is not yet available.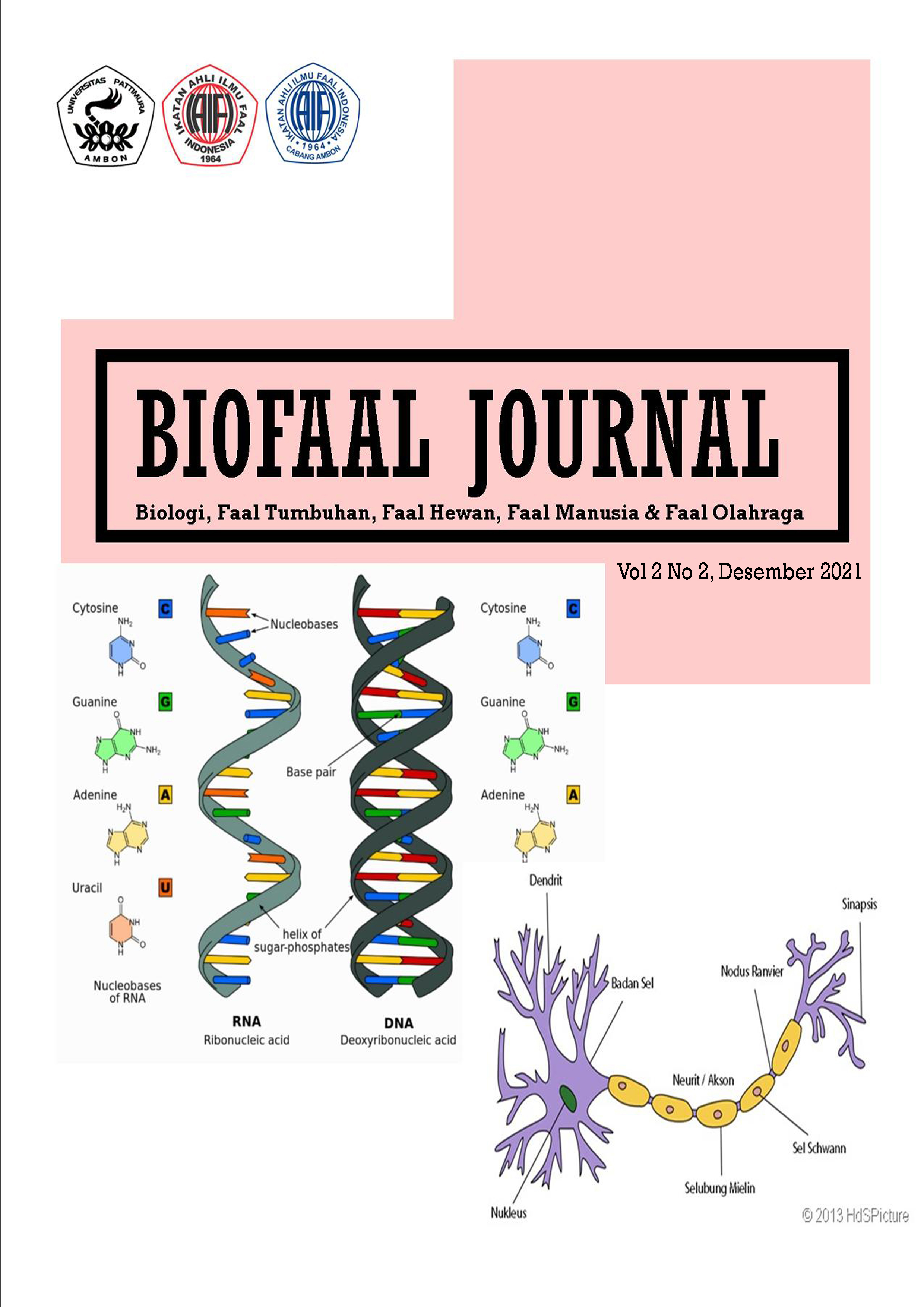 How to Cite
-, M., -, S., -, W., Rahmatan, H., & Sarong, M. (2023). PEMBERIAN EKSTRAK AMPAS DAUN SERAI WANGI (Cymbopogon Nardus (L.) Randle) TERHADAP PERUBAHAN TINGKAH LAKU LARVA INSTAR II Chrysodeixis Chalcites. Biofaal Journal, 4(1), 20 - 25. https://doi.org/10.30598/biofaal.v4i1pp20 - 25
Copyright (c) 2023 Maulinda -, Supriatno -, Wardiah -, Hafnati Rahmatan, M. Ali Sarong
This work is licensed under a Creative Commons Attribution-NonCommercial-ShareAlike 4.0 International License.
1. Author retain copyright and grant the journal right of first publication with the work simultaneously licensed under a creative commons attribution license that allow others to share the work within an acknowledgement of the work's authorship and initial publication of this journal.
2. Authors are able to enter into separate, additional contractual arrangementfor the non-exclusive distribution of the journal's published version of the work (e.g. acknowledgement of its initial publication in this journal).
3. Authors are permitted and encouraged to post their work online(e.g. in institutional repositories or on their websites) prior to and during the submission process, as it can lead to productive exchanges, as well as earlier and greater citation of published works.