GAMBARAN HISTOPATOLOGI GINJAL MENCIT (Mus musculus) TERINFEKSI Plasmodium berghei SETELAH DIBERI EKSTRAK METANOL KULIT BATANG Alstonia scholaris
Abdul M. Ukratalo

Biologi

Maria Nindatu

Program Studi Biologi FMIPA Universitas Pattimura Ambon

Nasrul A. Tuarita

Program Studi Biologi FMIPA Universitas Pattimura Ambon

Nunun A. P. S. B. Kaliky

Program Studi Perikanan Tangkap, Universitas Muhammadiyah Maluku
Keywords:
Alstonia scholaris, Flavonoid, Ginjal Plasmodium berghei
Abstract
Alstonia scholaris merupakan salah satu tanaman yang mengandung antioksidan jenis flavonoid, saponin dan polifenol, yang diduga dapat bersifat sebagai antimalaria, menetralisir radikal bebas dan dapat memperbaiki kerusakan ginjal mencit (Mus musculus) terinfeksi Plasmodium berghei. Tujuan penelitian ini adalah untuk mengetahui perubahan histolopatologi ginjal mencit (Mus musculus) terinfeksi Plasmodium berghei ANKA setelah diberi ekstrak metanol kulit batang Alstonia scholaris. Mencit dengan berat badan 20 – 30 gram di infeksi Plasmodium berghei sebanyak 0,1 ml per ekor dan dibiarkan sampai persen parasitemia mencapai 1-5%. Kemudian mencit (Mus musculus) diberi ekstrak metanol kulit batang Alstonia scholaris dengan dosis 1, 10, 100 dan 200 mg/kg BB selama 4 hari berturut-turut. Setelah itu dilakukan pembedahan untuk mengambil darah untuk pengukuran kadar kreatenin dan organ ginjal mencit untuk dilakukan preparasi organ. Hasil penelitian menunjukkan bahwa pemberian ekstrak metanol kulit batang Alstonia scholaris dosis 100 mg/kg BB dan 200 mg/kg BB dapat meningkatkan kadar kreatenin serta memperbaiki kerusakan ginjal mencit terinfeksi Plasmodium berghei ANKA seperti endapan protein tubuli, nekrosis tubulus distal, atrofi glomerulus dan degenerasi hidrofis tubulus proksima
Downloads
Download data is not yet available.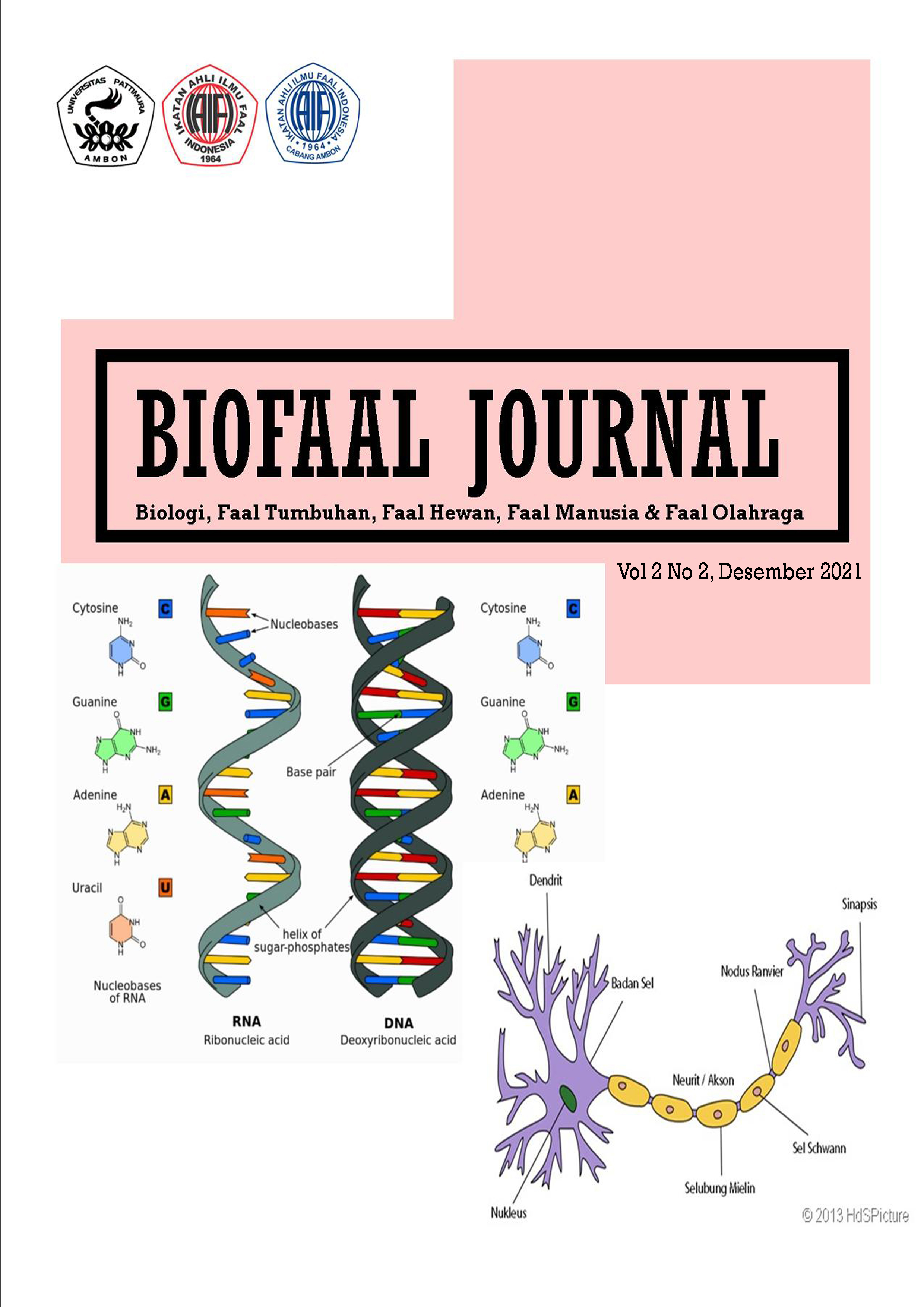 How to Cite
Ukratalo, A., Nindatu, M., Tuarita, N., & Kaliky, N. (2023). GAMBARAN HISTOPATOLOGI GINJAL MENCIT (Mus musculus) TERINFEKSI Plasmodium berghei SETELAH DIBERI EKSTRAK METANOL KULIT BATANG Alstonia scholaris. Biofaal Journal, 4(1), 49 - 57. https://doi.org/10.30598/biofaal.v4i1pp49 - 57
Copyright (c) 2023 Abdul M Ukratalo, Maria Nindatu, Nasrul A Tuarita, Nunun A P S B Kaliky
This work is licensed under a Creative Commons Attribution-NonCommercial-ShareAlike 4.0 International License.
1. Author retain copyright and grant the journal right of first publication with the work simultaneously licensed under a creative commons attribution license that allow others to share the work within an acknowledgement of the work's authorship and initial publication of this journal.
2. Authors are able to enter into separate, additional contractual arrangementfor the non-exclusive distribution of the journal's published version of the work (e.g. acknowledgement of its initial publication in this journal).
3. Authors are permitted and encouraged to post their work online(e.g. in institutional repositories or on their websites) prior to and during the submission process, as it can lead to productive exchanges, as well as earlier and greater citation of published works.