UJI KELIMPAHAN BAKTERI COLIFORM PADA MAKANAN JAJANAN BAKSO TUSUK YANG DIJUAL DI LINGKUNGAN SDN 82 KUDAMATI DAN SDN 2 TANAH TINGGI AMBON
Aknes Tahya

M Kaihena

Theopilus Watuguly
Keywords:
Coliform Bacteria, Skewered Meatballs
Abstract
Background: Snack food is part of food that is inseparable from the community. Snack food consists of various types, one of which is skewer meatballs. Skewers are a type of snack food made from flour and meat that is round and then boiled until cooked, has a savory and chewy taste. One of the bacteria that often contaminates snacks is coliform bacteria. Coliform bacteria is a group of rod-shaped gram negative bacteria.
Method: The sample used in the study was skewered meatball samples taken at the location of SDN 82 Kudamati and SDN 2 Tanah Tinggi Ambon. Testing for the presence of coliform bacteria was carried out at the Indonesian Institute of Research and Standardization Laboratory in Ambon. The type of research used is descriptive. Calculation of the number of bacterial colonies using the standard Total Plate Count (TPC).
Results: The study showed that the two positive samples contained coliform bacteria with the highest number of coliform bacteria colonies in code A1 1.55 x 105 at location A SDN 82 Kudamati and the lowest at code B1 1.49 x 103 at location B SDN 2 Tanah Tinggi. If compared with SNI for processed meat and chicken products is 1 x 105 colonies / gram, which means the highest number of colonies cannot be consumed.
Conclusion: Skewers meatball snacks sold in SDN 82 Kudamati and Ambon Tanah 2 Elementary School 2, positive for coliform bacteria
Downloads
Download data is not yet available.
References
BPOM RI. 2012. Laporan Tahunan 2012 Badan Pengawas Obat dan Makanan RI. Jakarta: BPOM RI.
BPOM RI. 2013. Laporan Tahunan 2013 Badan Pengawas Obat dan Makanan RI. Jakarta: BPOM RI.
Cahaya, P. 2009. Karakteristik Mikrobiologis Bakso Sapi yang Diawetkan Dengan Antimikroba Dari Lactobacillus plantarum 1A5 Selama Penyiapan Suhu Dingin.Skripsi. IPB: Bogor.
Djaja. I.M. 2003. Kontaminasi E. coli pada makanan dari tiga jenis tempat pengelolaan makanan (TPM) di jakarta selatan.
Farida. 2002. Proses Pengolahan Air Sungai untuk Keperluan Air Minum. Universitas Sumatera Utara. Medan.
Istiqamah R, 2012. Syarat-syarat Makanan yang Baik. (Online). (http://istiqamahroseholic.blogspot.com). Diakses tanggal 7 November 2016.
Keputusan Menteri Kesehatan RI No. 942 Tahun 2003 Tentang Persyaratan Hygiene Sanitasi Makanan Jajana, 2006
Kusnoputranto, H, 2000. Kesehatan Lingkungan. Fakultas Kesehatan Masyarakat Universitas Indonesia, Jakarta.
Notoatmodjo, S. 2003, Pendidikan dan Perilaku Kesehatan. Rineka Cipta, Jakarta.
Sunarlim, R, 1992. Karakteristik Mutu Daging Sapi dan Pengaruh Penambahan Natrium Tipoloposfat Terhadap Perbaikan Mutu.Disertai Program Pascasarjana Institut Pertanian Bogor: Bogor.
Waluyo, Lud. 2008. Teknik dan Metode Dasar dalam Mikrobiologi.UPT.Penerbit UMM.Malang.
Wijaya. 2009. Hubungan Gaya Hidup Dengan Kejadian Hipertensi Pada Pasien Rawat Jalan di Poli Penyakit Dalam Rumah Sakit Raden Said Sukanto Jakarta. Diakses tanggal 25 Mei 2017
Zaenab. 2008. Kasus Keracunan Makanan. Kesehatan Lingkungan Makassar. http://keslingmks.wordpress.com/makalah-tentang kasuskeracunan-makanan/. (Dikutip pada tanggal 16 Oktober 2017).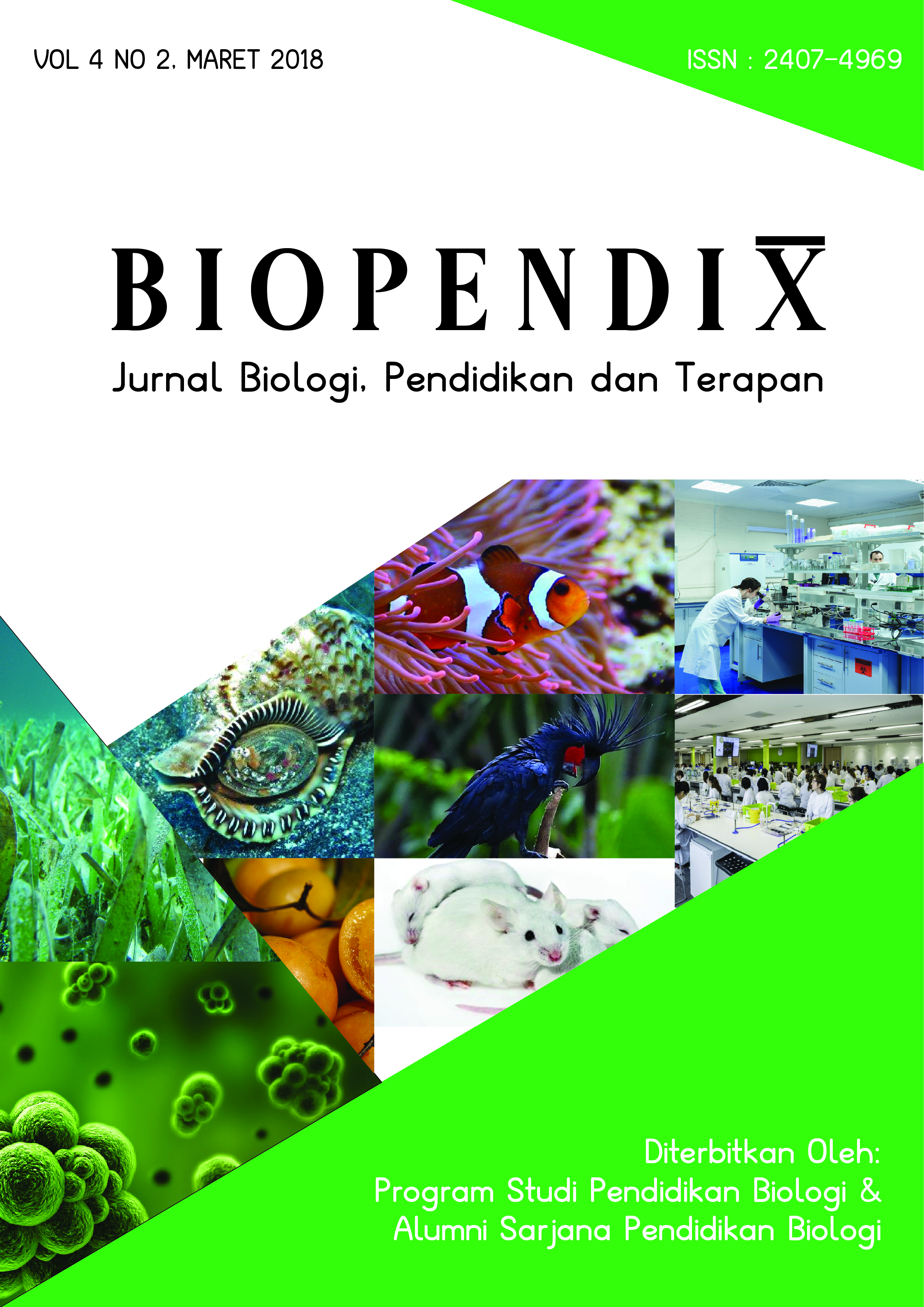 How to Cite
Tahya, A., Kaihena, M., & Watuguly, T. (2018). UJI KELIMPAHAN BAKTERI COLIFORM PADA MAKANAN JAJANAN BAKSO TUSUK YANG DIJUAL DI LINGKUNGAN SDN 82 KUDAMATI DAN SDN 2 TANAH TINGGI AMBON. BIOPENDIX: Jurnal Biologi, Pendidikan Dan Terapan, 4(2), 97-101. https://doi.org/10.30598/biopendixvol4issue2page97-101
Copyright (c) 2018 Biopendix : Jurnal Biologi, Pendidikan dan Terapan
This work is licensed under a Creative Commons Attribution-ShareAlike 4.0 International License.