HUBUNGAN KANDUNGAN NITRAT TERHADAP PERTUMBUHAN LAMUN (Enhalus acoroides) DI PESISIR PANTAI NEGERI SULI KECAMATAN SALAHUTU KABUPATEN MALUKU TENGAH
Risaldi Abidin

John F Rehena
Keywords:
Seagrass, nitrate, seagrass growth, Suli Village
Abstract
Background: Seagrass (Enhalus acoroides) is a type of seagrass that has the largest size, leaf strands can reach sizes> 1m. This type grows in shallow waters to a depth of 4 meters, on the basis of sand, mud sand or mud. The purpose of this study was to determine the relationship of nitrate content to the growth of seagrass (Enhalus acoroides) on the coast of Suli Village Salahutu District, Central Maluku Regency.
Method: The type of research used in this study was descriptive to determine the relationship of nitrate content to growth of seagrass Enhalus acoroides on the coast of Suli State Salahutu District, Central Maluku Regency. The study was conducted on February 1-15, 2018.
Results: This study showed that each transect had different growths of seagrass length, namely on transect 1, seagrass growth, reaching an average of 1.05, transect 2 averaging 1.01, while on transect 3 seagrass growth reached 1 average. , 35. Transect 3 has a greater growth rate than transect 1 and transect 2 while transect 2 has a lower growth rate than transect 1 and transect 3, while the results of the measurement of the average nitrate level on all transects are the same namely at transect 1 of 0.020 mg / l, transect 2 is 0.010 mg / l and transect 3 is 0.210 mg / l.
Conclusion: Oligtrofic waters have nitrate levels between 0-5 mg / l, mesotrophic waters have nitrate levels between 1-5 mg / l, and eutrophic waters have nitrate levels ranging from 5-50 mg / l.
Downloads
Download data is not yet available.
References
Arikunto, S. 2006. Prosedur Penelitian kuatitatif, Jakarta: Bumi Aksara.
Den Hartog, C. (1977). Structure, function and classification in seagrass communities. In: Seagrass ecosystems: a scientific perspective (C.P. McRoy and C.Helfferich, Eds.). Marcel Dekker, Inc. New York. 89-121.
Effendi, H. 2003. Telaah Kualitas Air Bagi Pengolahan Sumberdaya Hayati Lingkungan Perairan. Kanysius: Yogyakarta.
EFSA. 2008. Nitrate in vegetables. Scientific Opinion of the Panel on Contaminants in the Food Chain. The EFSA Journal 689: 1-79.
Hendra. 2011. Analisis Penerapan Anggaran Berbasis Kinerja 1, Jurnal Manajemen Kinerja. Tanah Datar.
Kasijan Romimohtarto dan Sri Juwana. Biologi Laut: Ilmu Pengetahuan Tentang Biota Laut. Cet. Ke-2- Jakarta: Djambatan 2005.
KepMen L H, No. 200. 2004. Kriteria Tentang Baku Kerusakan dan Pedoman Penentuan Status Padang Lamun. Keputusan Menteri Negara Lingkungan Hidup. (http://jdih.menlh.go.id/content/docDetail), diakses 23 Maret 2019.
Soehartono, Irawan. 1995. Metode Penelitian Sosial. Remaja Rosdakarya: Bandung.
Supriadi, Soedharma D, Kaswadji RF. 2006. Beberapa aspek pertumbuhan lamun Enhalus acoroides (Linn. F) Royle di Pulau Barrang Lompo Makasar. Biosfera 23 (1):1-8.
Susetiono. 2004. Fauna Padang Lamun Tanjung Merah Selat Lembeh. Jakarta: Pusat Penelitian Oseanografi, LIPI.
Tuwo, A. 2011. Pengelolaan Ekowisata pesisir dan Laut. Brilian Internasional. Sidoarjo.
Waycott, M., McMahon K, J. Mellors, A. Calladine, and D. Kleine. 2004. A Guide to Tropical Seagrasses of the Indo-West Pacific. James Cook University, Townsville-Queensland-Australia.
Wibisono M.S. 2005. Pengaturan Ilmu Kelautan. Jakarta: PT Grasindo.
Ziemen, J.C. 1974. Methods for the study of growth and production of turtle grass. Thalasia testudirum. Konig. Aquacult.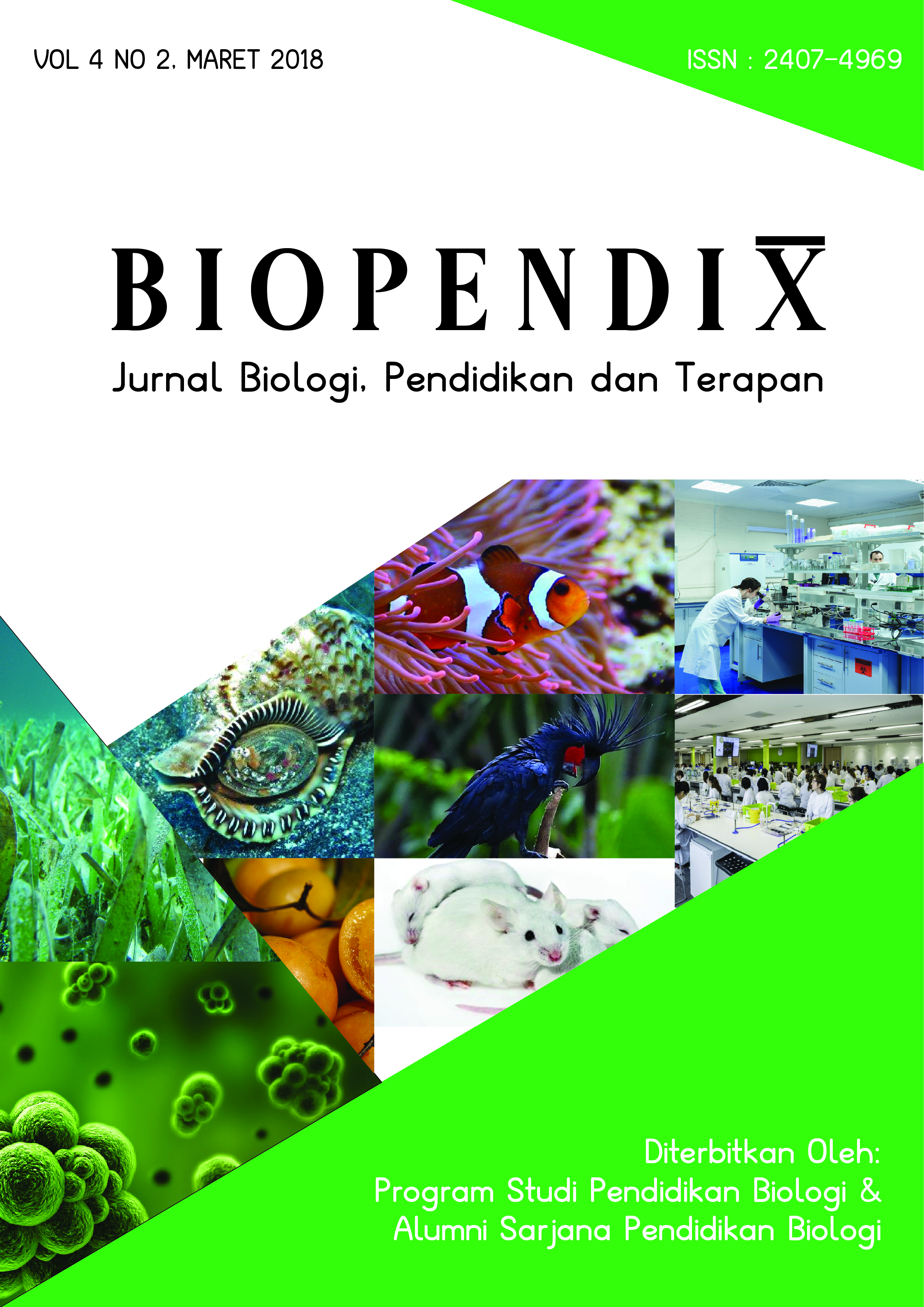 How to Cite
AbidinR., & RehenaJ. (2018). HUBUNGAN KANDUNGAN NITRAT TERHADAP PERTUMBUHAN LAMUN (Enhalus acoroides) DI PESISIR PANTAI NEGERI SULI KECAMATAN SALAHUTU KABUPATEN MALUKU TENGAH. BIOPENDIX: Jurnal Biologi, Pendidikan Dan Terapan, 4(2), 128-132. https://doi.org/10.30598/biopendixvol4issue2page128-132
Copyright (c) 2018 Biopendix : Jurnal Biologi, Pendidikan dan Terapan
This work is licensed under a Creative Commons Attribution-ShareAlike 4.0 International License.