STUDI PEMANFAATAN TUMBUHAN OBAT TRADISIONAL OLEH MASYARAKAT SUKU OIRATA PULAU KISAR KECAMATAN PULAU-PULAU TERSELATAN KABUPATEN MALUKU BARAT DAYA
Beatrixs Rupilu

Theopilus Watuguly
Keywords:
Utilization of plants, traditional medicines, Oirata tribe
Abstract
Background: Medicinal plants are medicinal plants that can relieve pain, increase endurance and treat various diseases. The Oirata tribe is an indigenous tribe of Kisar Island. The community traditionally uses various types of plants as alternative treatments to cure diseases because they are easier to obtain and there are no side effects.
Methods: This study uses descriptive methods. Data collection techniques by conducting interviews, observation, questionnaires, and collecting and documenting medicinal plants.
Results: Medicinal plants found in the Oirata Tribe of Kisar Island, the Sub district Islands, Southwest Maluku Regency are 31 types of medicinal plants. Plant parts used are roots, bark, leaves, flowers, fruits and seeds. How to process traditional medicinal plants is done by boiling, pounding, chopping, squeezing, pasting, wrapping, heating, and some even eaten directly to swallow the water.
Conclusion: The way to use it for the people of the Oirata tribe is that it is single because they do not use plants mixed with plants or other raw materials only mixed with water.
Downloads
Download data is not yet available.
References
Adfa, M. 2005. Study Senyawa Flavonoid dan Uji Brine Shrimp Beberapa Tumbuhan Obat Tradisional Suku Serawai di Provinsi Bengkulu.
Anggraini, 2014.Pemanfaatan Tumbuhan Obat Oleh Masyarakat di Sekitar Kasawasan Hutan Adat Gunung Semaung Kecamatan Tayn Hulu Kabupaten Sanggau. Skripsi Fakultas Kehutanan Universitas Tanjungpura Pontianak.
Darsini, N.N. 2013. Analisis Keanekaragaman Jenis Tumbuhan Obat Tradisional Berkhasiat untuk Pengobatan Penyakit Saluran Kencing di Kecamatan Kintamani Kabupten Bangli Provinsi Bali.
Deny, G. 2015. Studi Tumbuhan Obat Pada Etnis Dayak di Desa Gerantung Kecamatan Monterado Kabupaten Bengkayang. Skripsi Fakultas Kehutanan Universitas Tanjungpura Pontianak.
Ngarbingan, M.J. 2009.Studi Pemanfaatan Tumbuhan Obat Tradisional Oleh Masyarakat Dusun Toisapu Desa Hutumuri Kecamatan Leitimur Selatan Kota Ambon.Ambon:Fakultas Matemetika dan Ilmu Pengetahuan Alam. Universitas Pattimura.
Nurhaida . 2015. Studi Etnobotani Tumbuhan Obat di Dusun Kelampuk Kecamatan Tanah Pinoh Barat Kabupaten Melawi. Skripsi Fakultas Kehutanan Universitas Tanjungpura Pontianak.
Masyhud. 2010. Lokakarya Nasional Tumbuhan Obat Indonesia. http://www.dephud.go.id. Diaskes 4 juni 2018.
Maryadi. 2012. Studi Etnobotani Tumbuhan Obat di Desa Seriang Kecamatan Bedau Kabupaten Kapuas Hulu. Skripsi Fakultas Kehutanan Tanjungpura Pontianak.
Putra, dkk. 2012. Studi Etnobotani Suku Serawai di Kelurahan Sukarmi Kecamatan Selebar Kota Bengkulu. Jurnal Penelitian dan Pengelolaan Sumberdaya Alam dan Lingkungan.1 (3):217-224.
Sabri, M. 2001. Etnobotani Tumbuhan Obat Dalam Kawasan Hutan Wisata Baning Kabupaten Sintang. Skripsi Fakultas Kehutanan Tanjungpura Pontianak.
Supriadi. 2001. Tumbuhan Obat Indonesia: Penggunaan dan Khasiatnya. Pustaka Populer Obor. Jakarta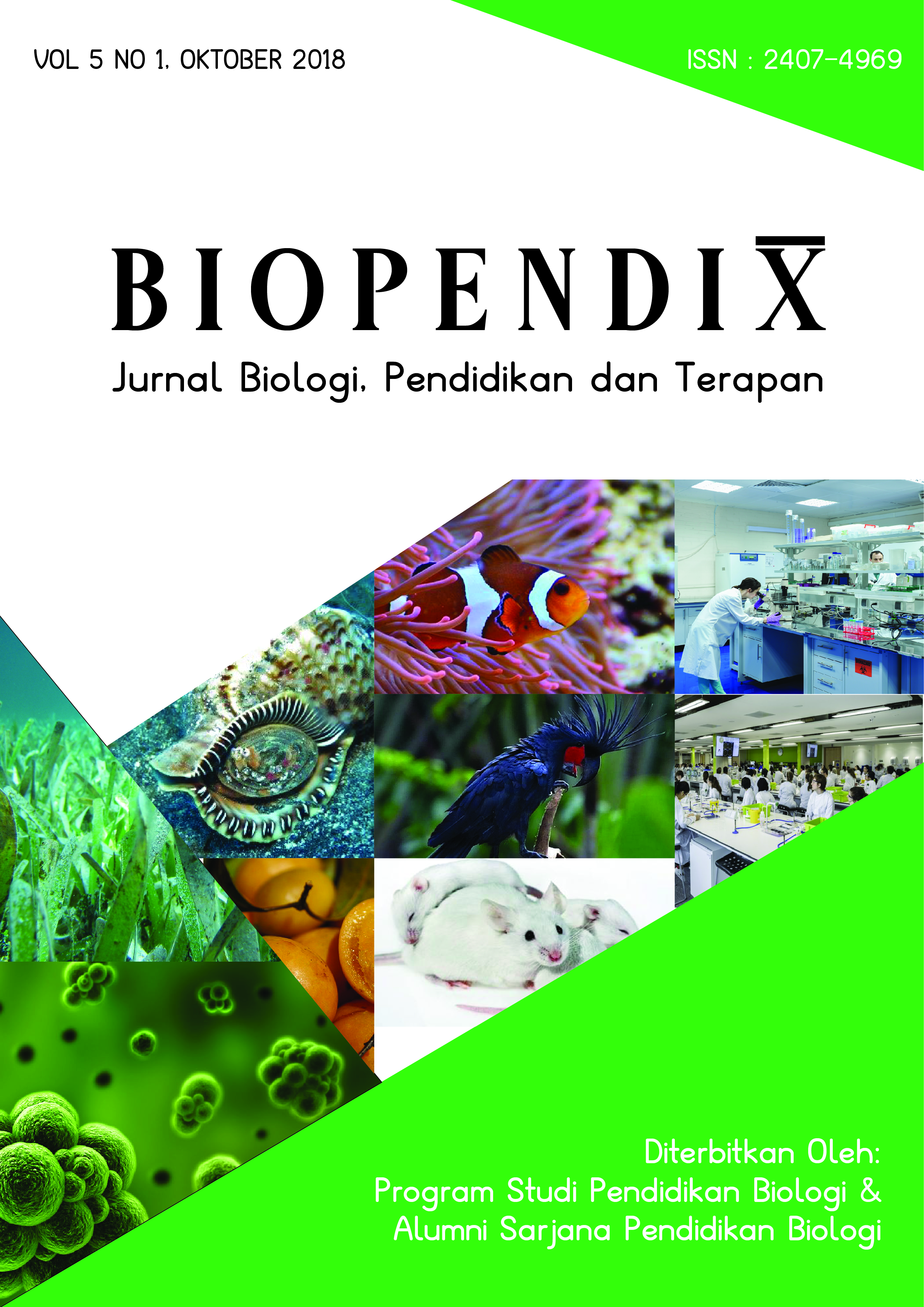 How to Cite
Rupilu, B., & Watuguly, T. (2018). STUDI PEMANFAATAN TUMBUHAN OBAT TRADISIONAL OLEH MASYARAKAT SUKU OIRATA PULAU KISAR KECAMATAN PULAU-PULAU TERSELATAN KABUPATEN MALUKU BARAT DAYA. BIOPENDIX: Jurnal Biologi, Pendidikan Dan Terapan, 5(1), 53-64. https://doi.org/10.30598/biopendixvol5issue1page53-64
Copyright (c) 2018 Biopendix : Jurnal Biologi, Pendidikan dan Terapan
This work is licensed under a Creative Commons Attribution-ShareAlike 4.0 International License.