PENGARUH CARA PENGOLAHAN DAN WAKTU BERBEDA TERHADAP KADAR PROTEIN DAGING BEKICOT (ACHANTINA FULICA) SEBAGAI SUMBER PROTEIN ALTERNATIF MASYARAKAT NEGERI LESLURU KECAMATAN TEON NILA SERUA (TNS) WAIPIA
Rofli J Lessu

Mery Pattipeilohy

Stevin Melay
Keywords:
Snail meat (Achantina fulica), protein content, kjeldhal method
Abstract
Background: Snail (Achantina fulica) is one of the animals from the gastropod class. Snails are often consumed by the Lesluru people as an alternative source of protein for fish substitutes. This study aims to determine the levels of snail meat protein which is processed by boiling, fumigation and frying, as well as providing information on the nutritional content of snails for the community in general.
Method: The type of research used is experimental research and to test the protein content using the kjeldhal method. This research was conducted from November 4 to November 12, 2018.
Results: This study was analyzed using the normality test, homogeneity test and followed by ANOVA test. In analyzing the data used the SPSS Windows version 16.0 program help. The results of the analysis of protein content of snail meat, known, the highest levels found in the treatment by fumigation with an average protein content of 40.4% while the lowest protein content found in boiling processing with an average protein content of 27.0%.
Conclusion: treatment by fumigation while the lowest protein content is found in the treatment by boiling.
Downloads
Download data is not yet available.
References
Adawyah, R. 2007. Pengolahan dan Pengawetan Ikan. Bumi Aksara. Jakarta.
Buckle, K. A., Edwards, R. A., Fleet, G. H., and Wotton, M. 1987. Ilmu Pangan. Penerjemah Hari Purnomo dan Adiono. Universitas Indonesia Press. Jakarta.
Campbell, N.A., Jane B.R., dan Lawerance G.R., 2000. Biologi. Erlangga. Jakarta. Hal. 224-225.
Dewi, E.N. 2001. Chemical Analysis during the Processing of Dried Salted and anchovy. Journal of Costal Development, Vol 5, (number 2), 55-65.
Diniz, G.S.; Barbarino, E.; Pacheco, J.O and Lourenço, S.O. 2013. Gross chemical profile and calculation of nitrogen-to-protein conversion factors for nine species of fishes from coastal waters of Brazil. Lat. Am. J. Aquat. Res., .41(2): 254-264.
Gerenimo. 2011. Analisis Kuantitatif Protein Dengan Metode Semimikro Kjaldhal (Online): (geronimo-neo.blogspot.com). Diakses 20 Oktober 2018.
Girrard, J.P. 1992. Technology of Meat and Meat Products. Ellis Horwood. New York.
Ika. S. A. 2011. Studi Pembuatan Konsentrasi Protein ikan (Fish Protein Concentrate) dari ikan Gabus (Ophiacephalcesstriat). Kementerian Pertanian, Indonesia.
Kompiang, L. P. 1979. Pendayagunaan Bekicot. Kongres Nasional Biologi IV. Bandung.
Khomsan, A. 2002. Susut gizi akibat proses pemasakan. Diakses www.kompas.com. Diakses 11 Desember 2018.
Raut, S., dan Barker, G. M. 2002. Achantina fulicaBowdich and Other Achantindae as Pests in Tropical Agricultural, in Mollusca as Crop Pests. CAB International Publishing. Harmilton. New Zealand. pp. 1-60.
Prabandari R, Mangalik A, Achmad J, & Agustina. 2005. Pengaruh waktu perebusan dari dua jenis udang yang berbeda terhadap kualitas tepung limbah udang putih (Penaeus indicus) dan udang windu (Penaeus monodon). Enviroscienteae 1(1), 24-28.
Prayogo. 2011. Enzim Mikroba (online) (www.wordpress.com).
Pharmachy Science. 2011 Pengaruh Suhu, pH, Konsentrasi Enzim Terhadap Kecepatan Enzimatik (online): (www.pueplepharmachy.blogspot.com). Diakses 11 Desember 2018.
Riansyah. A., Supriadi. A., & Nopianti. R., 2013. Pengaruh Perbedaan Suhu dan waktu Pengeringan Terhadap Karakteristik Ikn Asin Sepat Siam (Trichhogaster Pectorialis) Dengan Menggunakan Oven. Jurnal, (on line). Vol II, no 01, (http:/www.thi.fp.usri.ac.id), diakses 20 Januari 2019.
Sundari, D., Almasyhuri & Lamid, A. 2015. Pengaruh proses pemasakan terhadap komposisi zat nilai gizi bahan pangan sumber protein. Media Litbangkes, 25(4), 235-242.
Winarno. FG, Fardiaz S Fardiaz D. 1982. Pengantar Teknologi Pangan. PT. Gramedia. Jakarta.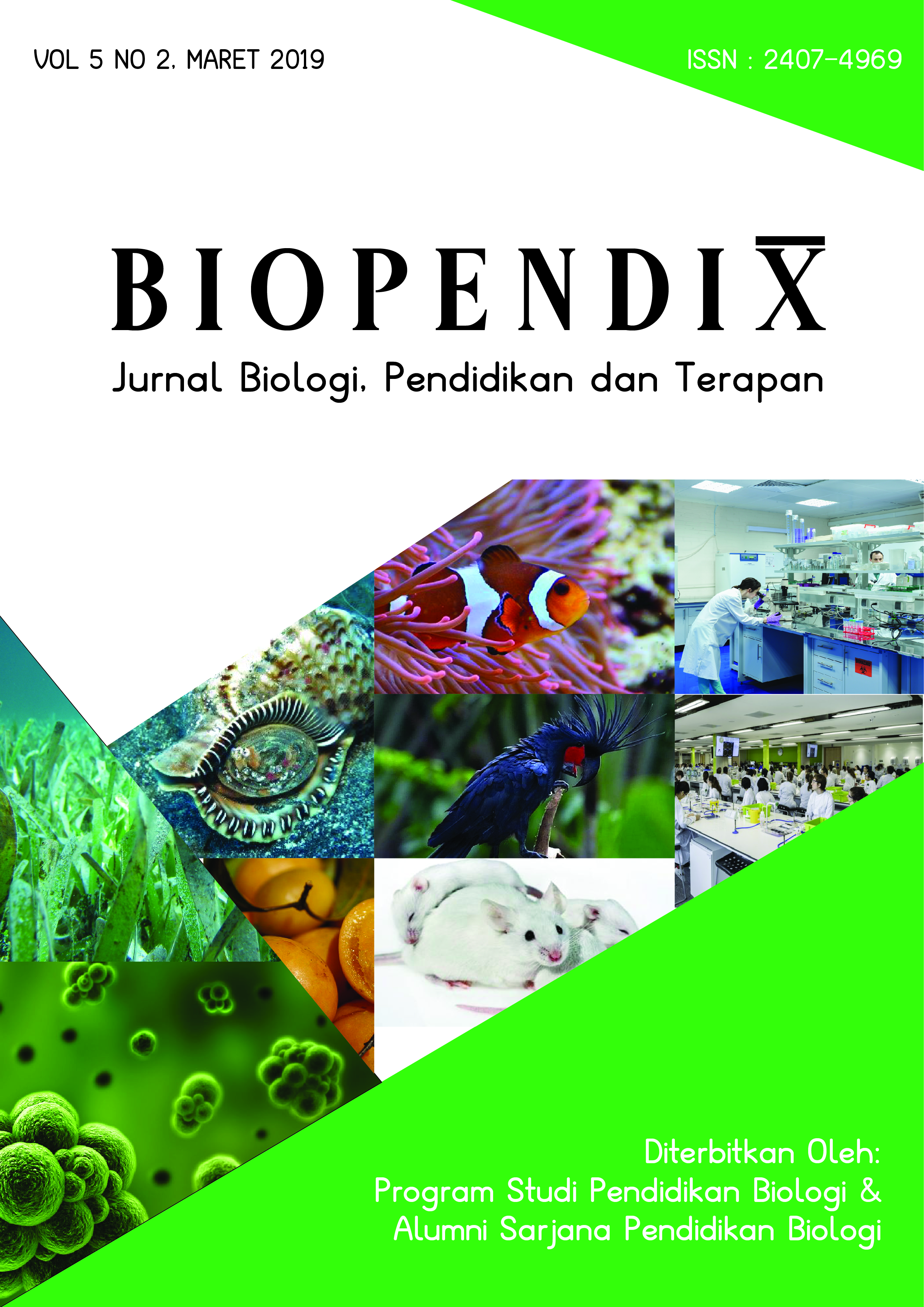 How to Cite
Lessu, R., Pattipeilohy, M., & Melay, S. (2019). PENGARUH CARA PENGOLAHAN DAN WAKTU BERBEDA TERHADAP KADAR PROTEIN DAGING BEKICOT (ACHANTINA FULICA) SEBAGAI SUMBER PROTEIN ALTERNATIF MASYARAKAT NEGERI LESLURU KECAMATAN TEON NILA SERUA (TNS) WAIPIA. BIOPENDIX: Jurnal Biologi, Pendidikan Dan Terapan, 5(2), 72-81. https://doi.org/10.30598/biopendixvol5issue2page72-81
Copyright (c) 2019 Biopendix : Jurnal Biologi, Pendidikan dan Terapan
This work is licensed under a Creative Commons Attribution-ShareAlike 4.0 International License.