PENERAPAN MODEL KOOPERATIF DENGAN METODE THINGKING ALOUND PAIR PROBLEM SOLVING (TAPPS) DALAM MENINGKATKAN KETRAMPILAN PEMECAHAN MASALAH DAN HASIL BELAJAR SISWA DALAM KONSEP SISTEM EKSKRESI KELAS VIII SMP NEGERI 1 AMBON
Jona Wisye Ririmasse

F Leiwakabessy
Keywords:
Cooperative learning model, TAPPS method, problem solving skills, learning outcomes
Abstract
Background: Education is one of the important factors in efforts to improve human resources in Indonesia. The latest methods and methods of learning are used to streamline the conventional learning process. Cooperative learning model with TAPPS (Thinking Aloud Pair Problem Solving) method in improving problem solving skills and student learning outcomes in the concept of class VIII excretion system at SMPN 1 Ambon.
Method: This study is a descriptive study that is by giving treatment in the form of learning by using cooperative learning models with the TAPPS method for class VIII students of SMP 1 Ambon, amounting to 21 people.
Results: In the cognitive, affective, and psychomotor aspects all students are said to be complete, with an average value of each aspect namely for cognitive 86.1 for affective 84.43 and psychomotor 83.1. While for problem solving skills obtained an average of 86.1. From the average value obtained by students, cooperative learning models with the TAPPS (Thinking Aloud Pair Problem Solving) method can improve problem solving skills and student learning outcomes.
Conclusion: The application of the cooperative learning model with the TAPPS (thinking aloud pair problem solving) method to increasing the results of learning excretion system concepts in class VIII2 of SMPN 1 Ambon showed a significant success rate
Downloads
Download data is not yet available.
References
Anita, Lie. 2007. Cooperative Learning Mempraktikan Cooperative Learning Di Ruangan- Ruangan Kelas. Jakarta: Grasindo.
Dimyati & Mudjiono. 2013. Belajar dan Pembelajaran. Jakarta: Rineka Cipta.
Felder, Richard M, 1994. Cooperative Learning in Technical Corse. Jakarta: Gramedia Widiasarana Indonesia.
Jonassen, D. H. 2000. Toward a Design Theory of Problem Solving. Educational Technology Research and Development 48 (4): 63-85.
Mulyasa. 2011. Manajemen Berbasis Sekolah, Konsep, strategi dan Implementasi. Bandung: PT Remaja Rosdakarya.
Nasution, 2006. Didaktik Asas-Asas Mengajar, Sebagai Pendekatan Dalam Proses Belajar Mengajar. Jakarta: PT Bumi Aksara.
Rusman. 2011. Pembelajaran Berbasis Teknolog iInformasi dan Komunikasi Mengembangkan Profesionalisme Guru. Jakarta: Rajawali Pers.
praditha R. 2012. "Pengaru Model Kooperatife Tipe TAPPS Berbantuan Media Kartu Kerja Terhadap Hasil Belajar IPA Siswa Kelas V SD" (e-journal.undiskha.ac.id)
Takwim. B. 2006.Sebuah Sintetis Rasional dan Kehendak Bebas Jalasutra. Yogyakarta: Kesadaran Plural. Mengajar Anak Berpikir Kritis (http://www.kompas.com/kesehatan). Diakses 21 Juni 2014.
Yamin. 2007. Profesionalisasi Guru Dan Implementasi KTSP. Jakarta: Gaung Persada Press.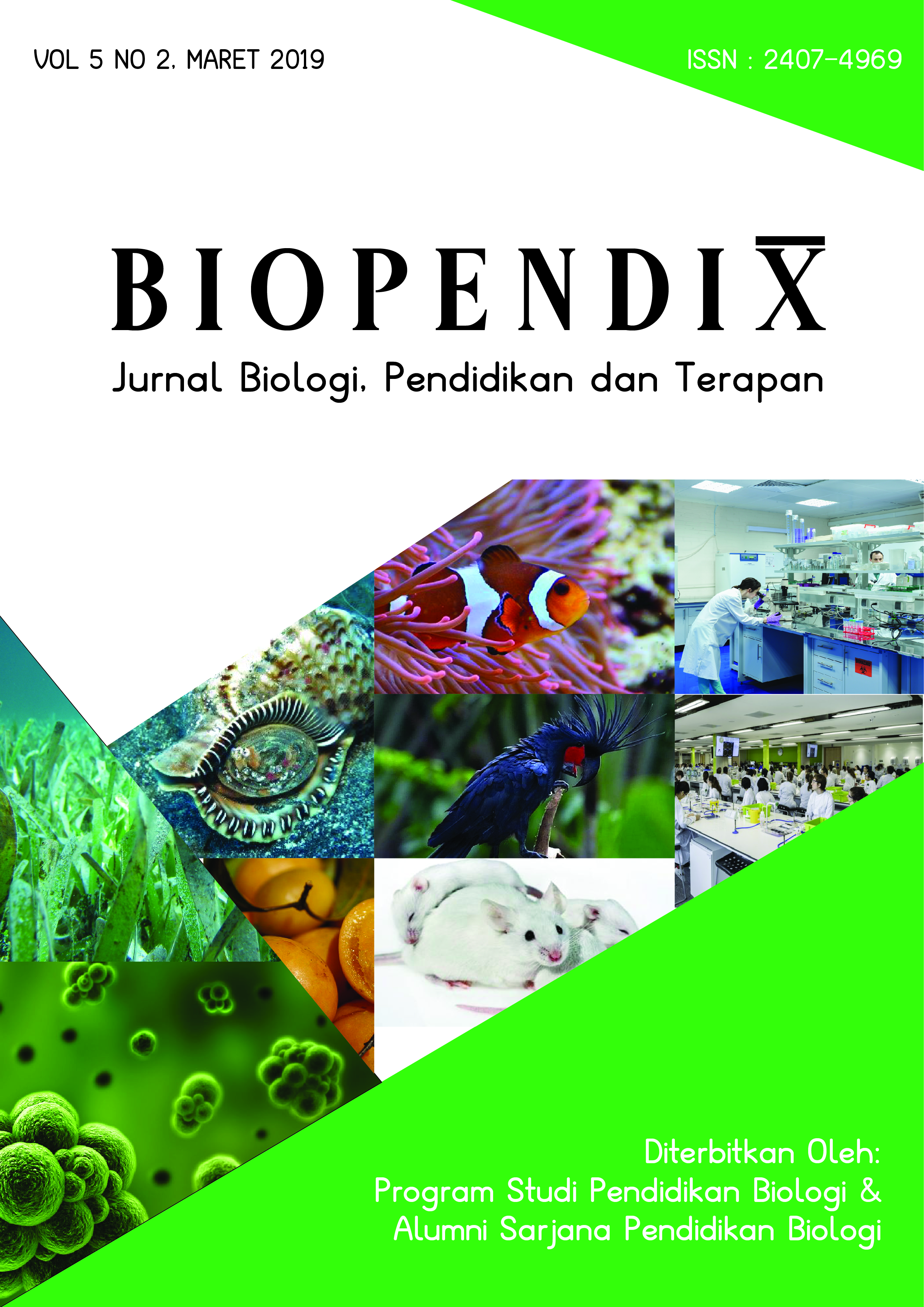 How to Cite
Ririmasse, J., & Leiwakabessy, F. (2019). PENERAPAN MODEL KOOPERATIF DENGAN METODE THINGKING ALOUND PAIR PROBLEM SOLVING (TAPPS) DALAM MENINGKATKAN KETRAMPILAN PEMECAHAN MASALAH DAN HASIL BELAJAR SISWA DALAM KONSEP SISTEM EKSKRESI KELAS VIII SMP NEGERI 1 AMBON. BIOPENDIX: Jurnal Biologi, Pendidikan Dan Terapan, 5(2), 104-111. https://doi.org/10.30598/biopendixvol5issue2page104-111
Copyright (c) 2019 Biopendix : Jurnal Biologi, Pendidikan dan Terapan
This work is licensed under a Creative Commons Attribution-ShareAlike 4.0 International License.