INVENTARISASI TANAMAN BUAH DAN SAYUR SEBAGAI SUMBER PANGAN DI PEKARANGAN RUMAH DESA SURANADI, KECAMATAN NARMADA, KABUPATEN LOMBOK BARAT
Diah Meidatuzzahra

Rosalina Edy Swandayani
Keywords:
Keywords: TWA Suranadi, Fruit and Vegetable Plants, Home Yard
Abstract
Background: Cultivation of homestead plants such as fruit and vegetables can form an area rich in nutritious food sources that are produced by themselves from the home yards, one of which is in the residential area around the Suranadi Nature Tourism Park (TWA). This study aims to make an inventory of fruit and vegetable plants in the yard based on the knowledge of the people in Suranadi Village.
Methods: The research method was carried out in a descriptive exploratory manner using the method of direct observation to the residents' yards by purposive sampling and semi-structured interviews with the owner of the house (semi structural interview) accidentally.
Results: Based on the results of the research that has been carried out, there were 69 types in 35 families that were used as fruit and vegetables (foodstuffs) obtained from 48 sampling plots scattered in the yard of Suranadi Village. The Fabaceae family is the family that has the most types of the first, namely 6 types, while the Euphorbiacea, Araceae, Myrtaceae families with the second most types, each consisting of 4 types and the families of Cucurbitaceae, Liliaceae, Moraceae, Rutaceae, Sapindaceae and the third largest family of Solanaceae that is, each of them consists of 3 types.
Conclusion: There are 69 types of plants in 35 families that are used by the community as fruit and vegetable (foodstuff) plants scattered in the yard in Suranadi Village.
Downloads
Download data is not yet available.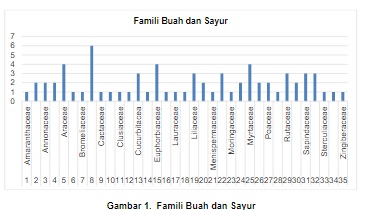 How to Cite
Meidatuzzahra, D., & Swandayani, R. (2020). INVENTARISASI TANAMAN BUAH DAN SAYUR SEBAGAI SUMBER PANGAN DI PEKARANGAN RUMAH DESA SURANADI, KECAMATAN NARMADA, KABUPATEN LOMBOK BARAT. BIOPENDIX: Jurnal Biologi, Pendidikan Dan Terapan, 7(1), 10-15. https://doi.org/10.30598/biopendixvol7issue1page10-15
Copyright (c) 2020 BIOPENDIX: Jurnal Biologi, Pendidikan dan Terapan
This work is licensed under a Creative Commons Attribution-ShareAlike 4.0 International License.