PREFERENSI NYAMUK (Aedes sp.) TERHADAP BERBAGAI WARNA Ovitrap SEBAGAI PENGENDALIAN POPULASI
Anidya Annisa Khansa

Nur Alfi Ramadhanty

Ade Suryanda
Keywords:
Keywords: Demam Berdarah Dengue, Aedes sp., Ovitrap
Abstract
Backgroud: Dengue Hemorrhagic Fever (DHF) is a disease caused by Dengue virus infection and is carried or can be transmitted by mosquitoes, Aedes sp. Until now there has been no dengue virus vaccine, so efforts to eradicate dengue are still based on breaking the chain of transmission, especially human and vector components such as Mosquito Nest Eradication (PSN). Ovitrap (oviposition trap) is a tool that can be used to catch eggs and adult mosquitoes or it can also be used to detect the presence of mosquitoes.
Method: This research was conducted in 2020 with a technical literature study.
Result: Based on the research, it was found that the water storage container for laying eggs (Ovitrap) was the most preferred and many Aedes aegypti mosquitoes were found, namely the black ovitrap.
Conclusion: There are several factors that support mosquitoes to lay eggs, one of which is the color and type of place / container. The most preferred water storage container for laying eggs (Ovitrap) and many Aedes aegypti mosquitoes is the black ovitrap. The number of eggs caught was significantly different for each ovitrap color.
Downloads
Download data is not yet available.
References
DAFTAR PUSTAKA

Alvin M, Pohan S. (2008). Hubungan Antara Warna Container Dengan Keberadaan Larva Aedes Sp. Di Desa Cikumpay, Kecamatan Bayah, Kabupaten Lebak, Provinsi Banten. Jakarta.
Budiyanto A. Pengaruh Perbedaan Warna Ovitrap terhadap Jumlah Telur Nyamuk Aedes spp yang Terperangkap. (2010). Aspirator, 2(2), 99-102.
Burkett DA, Butler JF. Laboratory Evaluation of Colored Light as an Attractant for Female Aedes Aegypti, Aedes Albopictus, Anopheles Quadrimaculatus and Culex Nigripalpus. (2005). Florida Entomol, 88(4), 383-389.
Burkot T., Handzel T, Schmaedick M., Tufa J, Roberts J., Graves P. Productivity of Natural and Artificial Containers for Aedes polynesiensis and Aedes aegypti in Four American Samoan Villages. (2007). Med Vet Entomol, 21, 22-29.
Can O. (2011). Alasan Nyamuk Senang Hitam. www.kidsgen.blogspot.com/2011/08/alasannyamuk-senang-hitam.html. Diakses pada 25 Desember 2020.
Chua KB, Chua IL, Chua IE, Chua KH. (2004). Differential preferences of oviposition by Aedes mosquitos in man made containers under field conditions. Southeast Asean J. Trop Med Public Health, 35(3), 599-607.
Kemenkes RI. (2014). Demam Berdarah. https://www.kemkes.go.id/folder/view/01/structure-publikasi-pusdatin-buletin.html. Diakses pada 25 Desember 2020
Kemenkes RI. (2020). Hingga Juli, Kasus DBD di Indonesia Capai 71 Ribu. https://www.kemkes.go.id/article/view/20070900004/hingga-juli-kasus-dbd-di-indonesia-capai-71-ribu.html. Diakses pada 25 Desember 2020.
Mulyatno KC. (2015). Morfologi, Klasifikasi, Siklus Hidup, Habitat dan Penyakit yang Ditularkan oleh Nyamuk Aedes sp.
Nurhayati S, Santoso B, Rahayu A, et al. (2010). Pengendalian Populasi Nyamuk Aedes aegypti dan Anopheles sp sebagai Vektor Demam Berdarah Dengue (DBD) dan malaria dengan Teknik Teknik Serangga Mandul (TSM). In: Seminar Nasional Keselamatan Kesehatan Dan Lingkungan VI. Jakarta: PTKMR-BATAN, FKM-UI, Kemenkes RI; 2010:163-171.
Nurjana Made Agus, Kurniawan Ade. (2017). Preferensi Aedes aegypti Meletakkan Telur pada Berbagai Warna Ovitrap di Laboratorium. BALABA,13(1), 37-42.
Palgunadi BU, Rahayu A. (2011). Aedes aegypti Sebagai Vektor Penyakit Demam Berdarah Dengue. http://elib.fk.uwks.ac.id/asset/archieve/jurnal/vol2. no1./Aedes Aegypti Sebagai Vektor Penyakit Demam Berdarah Dengue.pdf. Diakses pada 25 Desember 2020.
Santoso J, Hestiningsih R, Wardani RS, Saryono. Pengaruh Warna Kasa Penutup Autocidal Ovitrap terhadap Jmlah Jentik Nyamuk Aedes Aegypti yang Tertangkap. (2007). Jurnal Kesehatan Masyarakat Indonesia, 4(2), 85-90.
Sulistiani E. (2013). Pembuatan Ovitrap (alat peragkap nyamuk). www.evasulistiani.blogspot.com/2013/04/pembuatan--ovitrap-alat-untukmerangkap.html. Diakses pada 25 Desember 2020.
Sungkar S. Pemberantasan Demam Berdarah Dengue: Sebuah Tantangan yang Harus Dijawab. (2007). Majalah Kedokteran Indonesia, 57(6), 167-170.
Sutarno. (2004). Dengue. Yogyakarta: MEDIKA.
Torrisi GJ, Hoback WW. (2013). Color and Container Size Affect Mosquito (Aedes triseriatus) Oviposition. BioOne, 20(2), 363-371.
Veridiana NN, Ambar Gardjito T, Anastasia H, et al. (2008). Pengamatan Indeks Jentik dan Tempat Perkembangbiakan Aedes aegypti di Kota Palu. Jurnal Vektor Penyakit, 2(1), 1-7.
Wuwungan AA, Lumanauw SJ, Posangi J, Pinontoan OR. (2013). Preferensi Nyamuk Aedes Aegypti Pada Beberapa Media Air. Jurnal Biomedik(JBM), 5(1), 32-37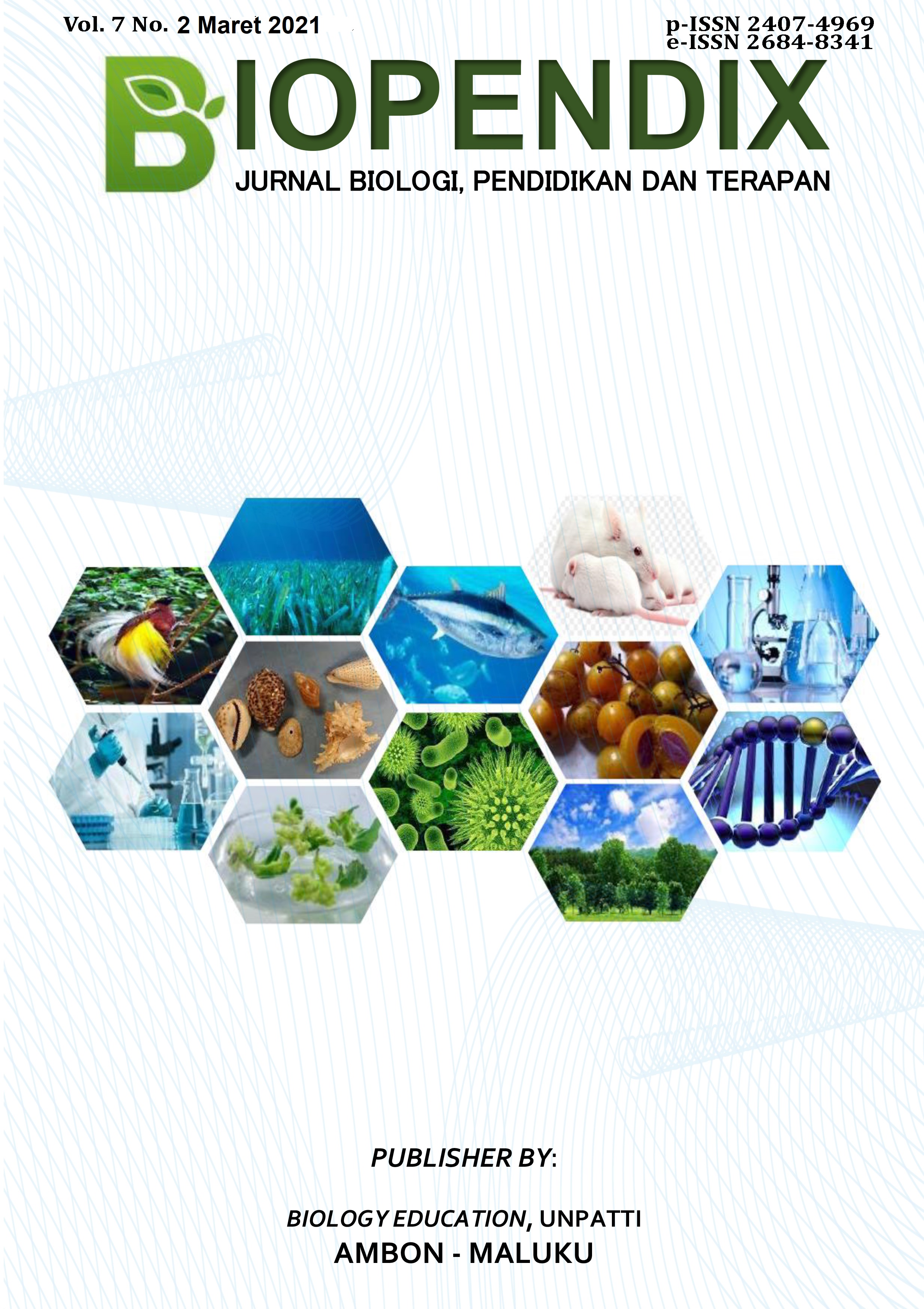 How to Cite
KhansaA., RamadhantyN., & SuryandaA. (2021). PREFERENSI NYAMUK (Aedes sp.) TERHADAP BERBAGAI WARNA Ovitrap SEBAGAI PENGENDALIAN POPULASI. BIOPENDIX: Jurnal Biologi, Pendidikan Dan Terapan, 7(2), 64-70. https://doi.org/10.30598/biopendixvol7issue2page64-70
Copyright (c) 2021 BIOPENDIX: Jurnal Biologi, Pendidikan dan Terapan
This work is licensed under a Creative Commons Attribution-ShareAlike 4.0 International License.