STRATEGI DAN PRIORITAS PENCEGAHAN SERTA PENGENDALIAN IUU FISHING DI PPP BANDA
Leopold A Tomasila

Jozef M Sahilatua

Agustinus Tupamahu

Lolita Tuhumena
Keywords:
Straetgy, Coastal Fishing Port, SWOT, AHP.
Abstract
Background: The issue of IUU fishing is a major threat to fish stocks in today's world, regionally and nationally. In order to prevent and control IUU fishing, supervision at fishing ports needs attention to be evaluated.
Methods: This study was conducted for 5 months from August to December 2018. The data analysis used was SWOT and AHP.
Results:The results obtained in this study were optimization of ASN capacity development for IUUF prevention and control (0.0257), increased education and outreach for fishermen about the importance of IUUF prevention and control (0.0195), RPP policy (local fisheries management plan) (0.0180), Increased accessibility of fishermen and fisheries officers (0.0134), Improved TPI functions (0.0089), Improved coordination between fishermen, entrepreneurs and fisheries supervisors (0.0086), Improved monitoring, controlling and surveillance (MCS ) between ASN and the community (0.0058).
Conclusion: There has been an increase in strategies and priorities for prevention and control of iuu fishing in PPP Banda.
Downloads
Download data is not yet available.
References
Adams, Abdul-Moomin.2016. Journal of Social Science Studies ISSN 2329-9150 2016,Vol.3,No.2; 2016.
Adityani dan Meiliala. 2014. Efektifitas Penegakan Hukum Illegal Fishing di Indonesia. FISIP UI,2014.
Muhamad, V.S. 2012. Illegal Fishing di Perairan Indonesia, Permasalahan dan Upaya Penanganannya Secara Bilateral di Kawasan. Jurnal Politica,Vol.3,No.1, Mei 2012.
Nikijuluw, V.P.H. 2008. Dimensi Sosial Ekonomi Perikanan Illegal Blue Water Crime. Jakarta. PT. Pustak Cidesindo.
Nugroho dan Atmaja, 2014. Kajian Penanggulangan IUUF pada Perikanan Cantrang di Laut Jawa (WPP-712). J. Kebijakan. Perikanan. Ind.Vol.6,No.2 November 2014.
Permen KP Nomor 1 Tahun 2015 Tentang Penangkapan Lobster, Kepiting dan Rajungan.
Permen KP Nomor 2 Tahun 2015 tentang larangan penggunaan alat penangkapan pukat hela dan pukat tarik di WPP Indonesia.
Permen KP nomor 4 Tahun 2015 tentang larangan penangkapan ikan tuna sirip kuning di WPP 714.

Permen KP Nomor 56 Tahun 2014 tentang moratorium perizinan usaha perikanan tangkap di WPP Indonesia.
Permen KP Nomor 8 Tahun 2012 Tentang Kepelabuhan Perikanan.
Rangkuti F.2017.Analisis SWOT Edisi Cetakan ke 23.Jakarta : PT Gramedia Pustaka Utama.
Rochman dkk. 2016. Dampak Pemberlakuan Moratorium Perizinan Tangkap Terhadap Upaya Penangkapan dam Produksi Tawai Tuna Skala Industri yang Berbasis di Pelabuhan Benoa-Bali. Jurnal Penelitian Perikanan Indonesia. Vo.22, No.3 ; September 2016.
Saaty, T. L. 1993. Pengambilan Keputusan Bagi Pemimpin. PT. Pustaka Binaman Pressindo. Gramedia, Jakarta.
Syahrani A. D.,dkk. 2017. Analisis Peran Kebijakan Illegal,Unreported, and Unregulated Fishing (IUU) pada Ekspor Ikan Tuna dan Udang Tangkap. Jurnal Administrasi Bisnis (JAB). Vol.45, No.1; April 2017.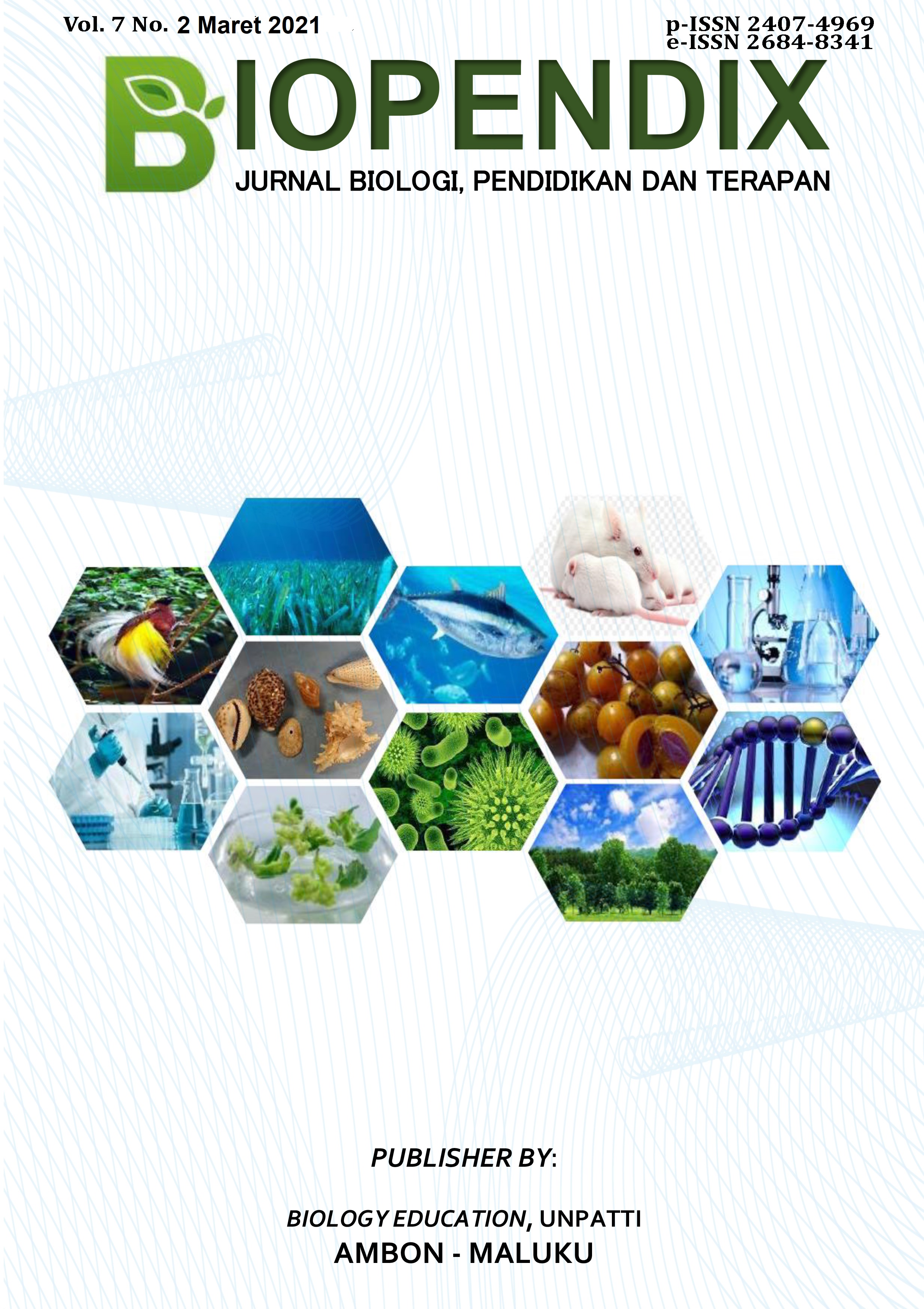 How to Cite
TomasilaL., SahilatuaJ., TupamahuA., & TuhumenaL. (2021). STRATEGI DAN PRIORITAS PENCEGAHAN SERTA PENGENDALIAN IUU FISHING DI PPP BANDA. BIOPENDIX: Jurnal Biologi, Pendidikan Dan Terapan, 7(2), 80-88. https://doi.org/10.30598/biopendixvol7issue2page80-88
Copyright (c) 2021 BIOPENDIX: Jurnal Biologi, Pendidikan dan Terapan
This work is licensed under a Creative Commons Attribution-ShareAlike 4.0 International License.