KONDISI DAN KERAGAMAN JENIS LAMUN DI PERAIRAN PANTAI PULAU AMBON
Prelly M.J Tuapattinaya

Tri Santi Kurnia

Louvenska Lattupeirissa
Keywords:
Seagrass, Diversity, Coastal Waters, Physical Conditions
Abstract
Background: The waters of Ambon Island are sea waters that are rich in flora or fauna resources, one of which is seagrass. Seagrass has significant ecological and economic value, but information about the condition and diversity of seagrass species in Ambon Island coastal waters is still relatively minimal, so this research is important to do.
Methods: This research was conducted in August - November 2020 in the coastal waters of Suli Village, Poka Village, and Morela Village. The materials used in this research are seagrass and seawater which are used to measure temperature, salinity, degree of acidity (pH), and dissolved oxygen (DO). The research data were analyzed using descriptive statistics to obtain the mean value.
Results: Diversity The types of seagrass that are scattered in the coastal waters of the village of Suli are Enhalus acoroides, Cymodocea serulata, Cymodocea rotundata, Halophila ovalis, Syringodium isoetifolium.
Conclusion: In a study of the conditions and diversity of seagrass species in Ambon Island coastal waters, it can be concluded that there are 7 types of seagrass in Ambon Island coastal waters, with details of 7 species in the coastal waters of Suli Village, 4 species in coastal waters of Poka Village, and 5 species in coastal Village waters. Morela.
Downloads
Download data is not yet available.
References
Arriesgado, Dan M., Hiroyuki Kurokochi . Yuichi Nakajima .Yu Matsuki . Wilfredo H. Uy . Miguel D. Fortes . Wilfredo L. Campos .Kazuo Nadaoka . Chunlan Lian. 2014.Genetic diversity and structure of the tropical seagrass Cymodocea serrulata spanning its central diversity hotspotand range edge. Aquat Ecol Springer.
Collier, C.J., Adams, M.P., Langlois, L., Waycott, M., O'Brien, K.R., Maxwell, P.S., McKenzie, L., 2016. Thresholds for morphological response to light reduction for four tropical seagrass species. Ecol. Indic. 67, 358–366. https://doi.org/10.1016/j. ecolind.2016.02.050.
Griffiths, L. L., Melvin, S. D., Connolly, R. M., Pearson, R. M., & Brown, C. J. (2020). Metabolomic indicators for low-light stress in seagrass. Ecological Indicators, 114(March). https://doi.org/10.1016/j.ecolind.2020.106316
Handayani, Armid dan Emiyarti. 2016. Hubungan kandungan nutrien dalam substrat terhadapkepadatan lamun di perairan desa lalowaru kecamatanmoramo utara. Sapa Laut vol 1, no 2
Irawan, A. 2017. Koleksi Lamun LIPI Ambon 2008-2015. Lonawarta. (Online), 23 (2): 1-21, diakses pada 5 Oktober 2020.
Lai, S., Cheok, Z. Y., Bouma, T. J., Yaakub, S. M., & Todd, P. A. (2020). The relative importance of light and hydrodynamics in the decay and transport of vegetative seagrass fragments. Estuarine, Coastal and Shelf Science, 232, 106430. https://doi.org/10.1016/j.ecss.2019.106430
Leiwakabessy, F. 2016. Struktur Komunitas Gastropoda di Zona Pasang Surut Pulau Ambon. Polimedia Publishing: Jakarta Selatan
Nguyen, X. V., Tran, M. H., & Papenbrock, J. (2017). Different organs of Enhalus acoroides (Hydrocharitaceae) can serve as specific bioindicators for sediment contaminated with different heavy metals. South African Journal of Botany, 113, 389–395. https://doi.org/10.1016/j.sajb.2017.09.018
Ondara, K., U. J. Wisha, G. A. Rahmawan. 2017. Karakteristik Hidrodinamika di Perairan Teluk Ambon untuk Mendukung Wisata Selam. Jurnal Kelautan vol. 10, No.1: 2476-9991
Oktawati, N. O., E. Sulistianto, W. Fahrizal, F. Maryanto. 2018. Nilai Ekonomi Ekosistem Lamun di Kota Bontang. EnviroScienteae vol. 14, No. 3: 228-236
Pharmawati, M., I Nyoman G. Putra, Y. F. Syamsuni, I Gusti Ngurah Kade Mahardika. 2015. Genetic Diversity of Enhalus acoroides (L) Royle from Coastal Waters of Pramuka Island, Lembongan Island, and Waigeo Island, Indonesia, Based on Microsatellite DNA. Advance Science Letters vol. 21: 199-202
Procaccini, G., Jeanine L. Olsen b, Thorsten B.H. Reusch. 2007.Contribution of genetics and genomics to seagrass biology and conservation. Elsevier Journal of Experimental Marine Biology and Ecology 350 (2007) 234–259
Putri, I Gusti A. R. M., I Gusti N. P. Dirgayusa, E. Faiqoh. 2017. Perbandingan Morfometrik dan Meristik Lamun Halophila ovalis di Perairan Pulau Serangan dan Tanjung Benoa, Bali. Journal of Marine and Aquatic Sciences 4(2): 213-224
Sakey, W. F., B. T. Wagey, G. S. Gerung. 2015. Variasi Morfometrik Pada Beberapa Lamun di Perairan Semenanjung Minahasa. Jurnal Pesisir dan Laut Tropis vol. 1, No. 1
Saunders, M.I., Bode, M., Atkinson, S., Klein, C.J., Metaxas, A., Beher, J., Beger, M., Mills, M., Giakoumi, S., Tulloch, V., Possingham, H.P., 2017. Simple rules can guide whether land- or ocean-based conservation will best benefit marine ecosystems. PLoS Biol 15, e2001886. https://doi.org/10.1371/journal.pbio.2001886.
Toniolo, C., Di Sotto, A., Di Giacomo, S., Ventura, D., Casoli, E., Belluscio, A., Nicoletti, M., Ardizzone, G., 2018. Seagrass Posidonia oceanica (L.) Delile as a marine biomarker: A metabolomic and toxicological analysis. Ecosphere 9. https://doi.org/10. 1002/ecs2.2054
Tuapattinaya, P M. J. 2014.Hubungan Faktor Fisik Kimia Lingkungan Dengan Keanekaragaman Lamun (Seagrass) di Perairan Pantai Desa Suli. Jurnal Biology Sience and Education. Vol 3, no (1)
Unsworth, R. K. F., Rasheed, M. A., Chartrand, K. M., & Roelofs, A. J. (2012). Solar radiation and tidal exposure as environmental drivers of enhalus acoroides dominated seagrass meadows. PLoS ONE, 7(3). https://doi.org/10.1371/journal.pone.0034133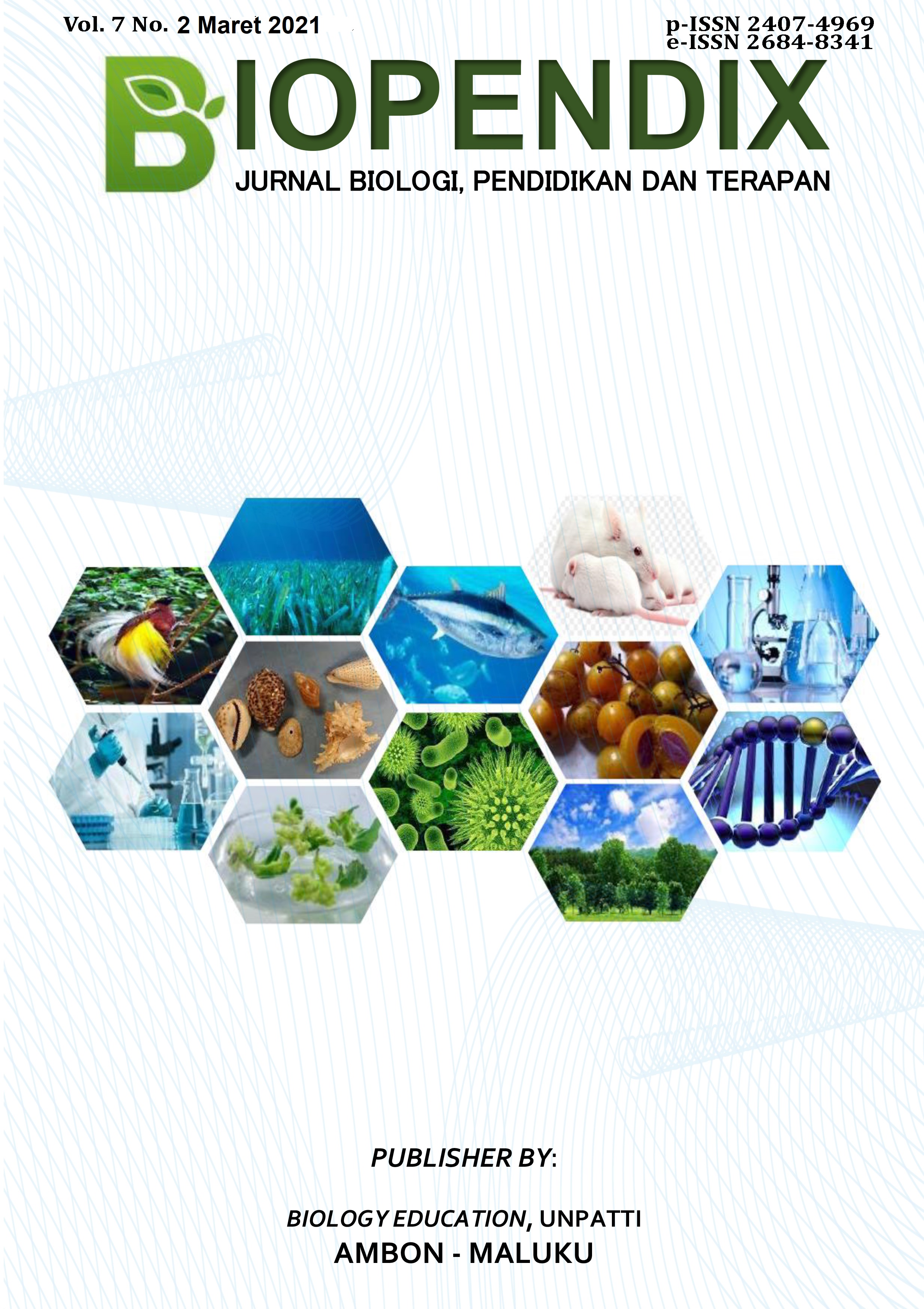 How to Cite
TuapattinayaP., KurniaT., & LattupeirissaL. (2021). KONDISI DAN KERAGAMAN JENIS LAMUN DI PERAIRAN PANTAI PULAU AMBON. BIOPENDIX: Jurnal Biologi, Pendidikan Dan Terapan, 7(2), 95-101. https://doi.org/10.30598/biopendixvol7issue2page95-101
Copyright (c) 2021 BIOPENDIX: Jurnal Biologi, Pendidikan dan Terapan
This work is licensed under a Creative Commons Attribution-ShareAlike 4.0 International License.