PENGARUH CAMPURAN LIMBAH TAHU DAN KOTORAN SAPI TERHADAP PRODUKSI BIOGAS
Yohanes Bare

Universitas Nusa Nipa Indonesia

Oktavius Yoseph Tuta Mago

Aljefridus Misa
Keywords:
Keyword: Anaerobic digester, retention time, renewable energy biogas, biogas fire characteristics
Abstract
Background: The tofu industry is growing rapidly in Indonesia. The agricultural and livestock sectors are relatively high and resource owned by Indonesia. One thing that needs to be confirmed in the supply of biogas energy can be utilized tofu waste and cow dung to meet sustainable need as alternative fuels.
Methods: This research was carried out in May - July 2021. The process of making installation compositions and anaerobic slimming at the Biology Laboratory, Nusa Nipa Indonesia University.
Results: The results of the biogas volume show the potential of tofu waste and cow dung on biogas fires from the second week to the eighth week, the blue and red flames of all treatments showed that the blue flame color was more dominant.
Conclusion: Biogas volume (ml) from a mixture of talcum waste and cow dung produced methane gas which was quite high as see from the results of the biogas flame test.
Downloads
Download data is not yet available.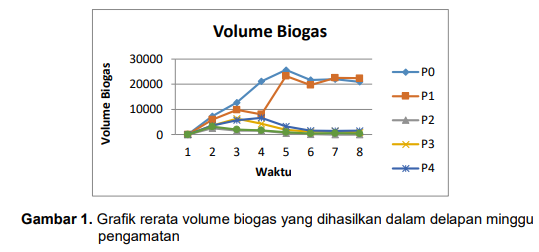 How to Cite
Bare, Y., Mago, O., & Misa, A. (2022). PENGARUH CAMPURAN LIMBAH TAHU DAN KOTORAN SAPI TERHADAP PRODUKSI BIOGAS. BIOPENDIX: Jurnal Biologi, Pendidikan Dan Terapan, 9(1), 10-18. https://doi.org/10.30598/biopendixvol9issue1page9-18
Copyright (c) 2022 BIOPENDIX: Jurnal Biologi, Pendidikan dan Terapan
This work is licensed under a Creative Commons Attribution-ShareAlike 4.0 International License.