KOMPOSISI JENIS MANGROVE DI DUSUN DOKYAR, DESA KAIBOBU KABUPATEN SERAM BAGIAN BARAT
Sven Roberth Loupatty

Fakultas Perikanan dan Ilmu Kelautan Unpatti

Sara Haumahu

Fakultas Perikanan dan Ilmu Kelautan Unpatti

Abdi Ardiansyah

Meigy Nelce Mailoa
Keywords:
ecosystem, identification, mangroves
Abstract
Abstract
Background : Mangrove is a complex ecosystem that is unique and has a large enough carrying capacity for the surrounding environment. Mangrove ecosystems have ecological and economic functions. The ecological function is to protect the coastline, habitat, feeding ground, spawning ground and nursery ground for aquatic biota as well as controlling the microclimate. Meanwhile, its economic function is to produce raw materials for charcoal and medicines. Mangrove ecosystems have high biological productivity, but about 5% are consumed directly by terrestrial animals, and as much as 95% as debris from litter or leaf fall. In the Dokyar Hamlet area of Kaibobu Village, the mangrove forest ecosystem plays a very important role in maintaining the environmental balance in the area, because it is close to the villages. This area has unspoiled mangrove forests. However, there is no information regarding the types of mangroves in Dokyar Hamlet, Kaibobu Village, so it is necessary to conduct research on an identification of mangrove species found in the waters of Dokyar Hamlet, Kaibobu Village.
Methods: This research was conducted in October 2020 with a sampling location taking place in Dokyar Hamlet, Kaibobu Village, Kairatu District, West Seram Regency, Maluku. The observation method used in the research and the sampling of mangroves used the line transect method, while the identification of mangroves was by observing the roots, stems, leaves, flowers and fruits.
Results: Mangrove found 7 species from 6 genera: Bruguiera gimnorrhiza, Ceriops tagal, Nypa fruticans, Rhizophora apiculata, Rhizhopora mucronata, Sonneratia alba and Xylocarpus granatum
Conclusion: The results of research in the mangrove ecosystem area of Dokyar Hamlet, Kaibobu Village, found 7 mangrove species belonging to 6 genera.
Keywords: ecosystem, identification, mangroves
Downloads
Download data is not yet available.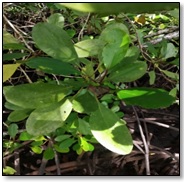 How to Cite
Loupatty, S., Haumahu, S., Ardiansyah, A., & Mailoa, M. (2023). KOMPOSISI JENIS MANGROVE DI DUSUN DOKYAR, DESA KAIBOBU KABUPATEN SERAM BAGIAN BARAT. BIOPENDIX: Jurnal Biologi, Pendidikan Dan Terapan, 9(2), 242-254. https://doi.org/10.30598/biopendixvol9issue2page242-254
Copyright (c) 2023 BIOPENDIX: Jurnal Biologi, Pendidikan dan Terapan
This work is licensed under a Creative Commons Attribution-ShareAlike 4.0 International License.