The Capability Test Of Rice Husk (Oryza sativa L) As Active Carbon For Phenol Adsorption
The capability test of rice husk (Oryza sativa l) as active carbon for Phenol adsorption
Matheis F.J.D.P. Tanasale

Department of Chemistry, Faculty of Mathematics and Natural Science, University of Pattimura-Indonesia

Jolantje Latupeirissa

Department of Chemistry, Faculty of Mathematics and Natural Science, University of Pattimura-Indonesia

Eltha Tuhalauruw

Department of Chemistry, Faculty of Mathematics and Natural Science, University of Pattimura-Indonesia
Keywords:
Active carbon, adsorption, phenol, rice husk.
Abstract
 The utilization study of active carbon from rice husk as adsorbent has been done. Active carbon is gained through carbonization process where rice husk put into furnace on temperature 300 oC. for 1 hour, colded, and sieved by sieve 100 mesh. The next it is activated by KOH solution with a concentration of 50% for 5 hours. The characterization used X-ray diffraction (XRD) for both carbons before and after activation. And determinated anidity weigh, calsinated in furnace with 400 oC. and streamed through N2 gas for 2 hours. Acidity weight of 6.4873 x 10-2 and 2.5467 x 10-2 mol/g, respectively. Determination of phenol adsorption was the UV-Vis spectrophotometry. Adsorption phenol from active carbon was followed the Freundlich isotherm with maximum capacity 5.6964 x 10-2 mg/g and n value is 0.2586 mg/g. The experimental data fitted well to the pseudo second-order kinetic model, which regretion value is 99.9 % and rate constant reaction (k) value is 0.74 g mg-1 menit-1 Phenol adsorption from active carbon rice husk the best is consentration 100 ppm with value 99.56 %.
Downloads
Download data is not yet available.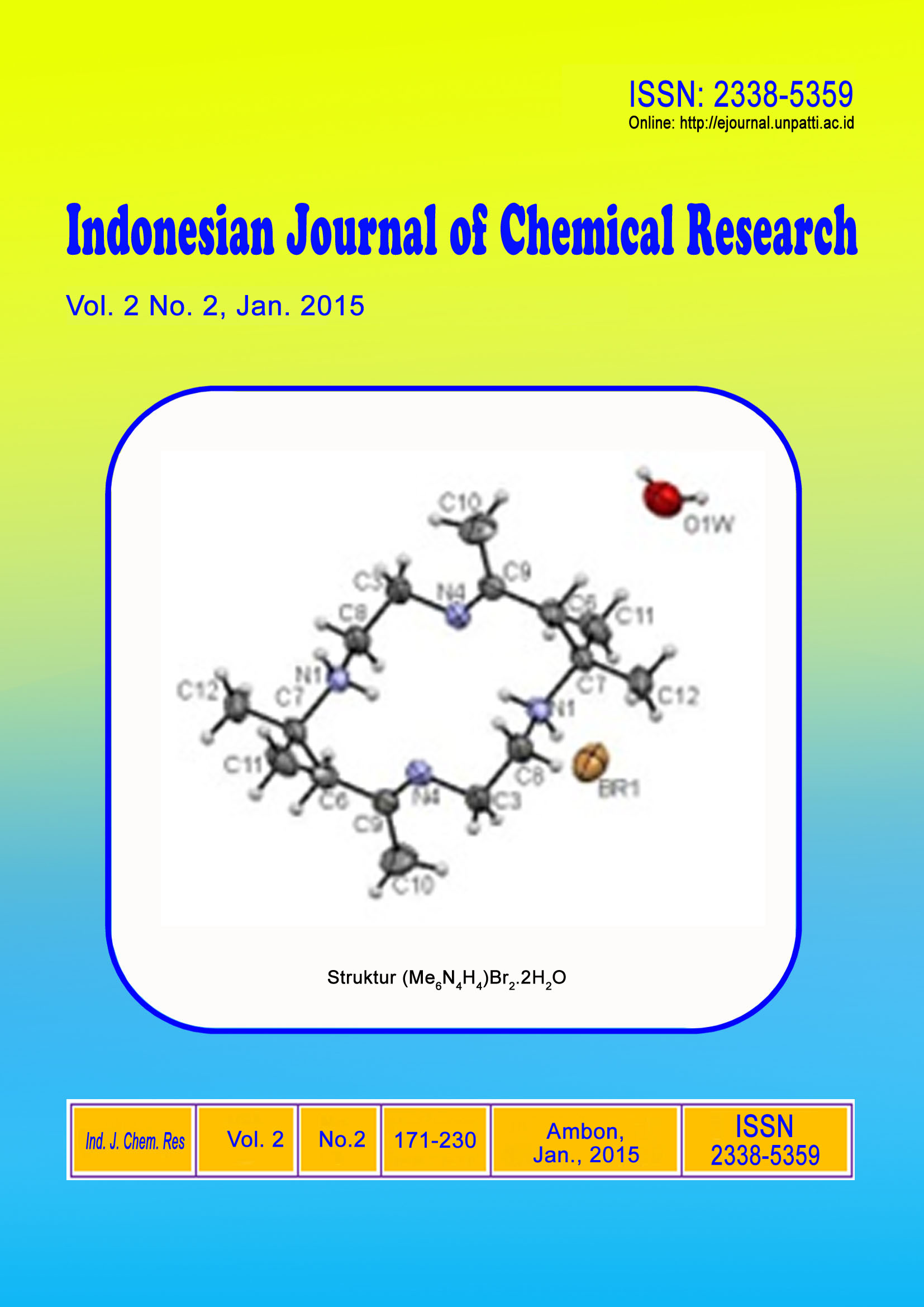 How to Cite
(1)
Tanasale, M.; Latupeirissa, J.; Tuhalauruw, E. The Capability Test Of Rice Husk (Oryza Sativa L) As Active Carbon For Phenol Adsorption. Indo. J. Chem. Res. 2015, 2, 223-230.
Section
Artikel singkat (Short communication)