GAMBARAN ABNORMALITAS ELEKTROKARDIOGRAM PADA PASIEN GAGAL JANTUNG DEWASA DI RSUD DR. M. HAULUSSY KOTA AMBON TAHUN 2019-2021
Abdillah F.A Hasanusi

Fakultas Kedokteran Universitas Pattimura

Ir wan

Nathalie E. Kailola
Keywords:
Electrocardiogram, Heart Failure
Abstract
Heart failure is one of the cardiovascular spectrum and a major cause of morbidity and mortality worldwide. Electrocardiogram (ECG) is a supporting examination in diagnosing heart failure. This study aims to determine the description of ECG abnormalities in adult heart failure patients in RSUD DR. M. Haulussy Ambon City in 2019-2021. This research is a descriptive study with a cross sectional design and 126 samples were selected using a simple random sampling technique. The results showed that the most ECG abnormalities were T inverted 37.3%, pathological Q 31%, prolonged QT interval 25.4%, LVH 23.8%, atrial fibrillation 19.8%, poor R wave 13.5%. , ST depression 12.7%, AV block grade 1 10.3%, ventricular extra systole/premature ventricular contraction 9.5%, ST elevation 8.7%, sinus tachycardia 6.3%, left atrial enlargement 5.6% , sinus bradycardia 4%, complete RBBB 4%, atrial extra systole/premature atrial contraction 3.2, complete LBBB 2.4%, incomplete LBBB 2.4%, AV block grade 2 type 1 1.6%, microvoltage 1, 6%, RVH 0.8%, and supraventricular tachycardy 0.8%.
Downloads
Download data is not yet available.
References
Perhimpunan Dokter Spesialis Kardiovaskular Indonesia ( P E R K I ). Hari Jantung Sedunia (World Heart Day). 26 September 2019. 2019.
Perhimpunan Dokter Spesialis Kardiovaskular Indonesia. Pedoman Tatalaksana Gagal Jantung. 2 ed. 2020.
WHO. Cardiovascular Disease. World Health Organization. 2020.
Al-Shamiri MQ. Heart Failure in the Middle East. Curr Cardiol Rev. 2013;9(2):174–8.
James SL, Abate D, Abate KH, Abay SM, Abbafati C, Abbasi N, et al. Global, regional, and national incidence, prevalence, and years lived with disability for 354 Diseases and Injuries for 195 countries and territories, 1990-2017: A systematic analysis for the Global Burden of Disease Study 2017. Lancet. 2018;392(10159):1789–858.
Groenewegen A, Rutten FH, Mosterd A, Hoes AW. Epidemiology of heart failure. Eur J Heart Fail. 2020;22(8):1342–56.
Guo L, Guo X, Chang Y, Yang J, Zhang L, Li T, et al. Prevalence and risk factors of heart failure with preserved ejection fraction: A population-based study in Northeast China. Int J Environ Res Public Health. 2016;13(8).
Kementerian Kesehatan RI Badan Penelitian dan Pengembangan. Hasil Utama Riset Kesehatan Dasar. Kementrian Kesehat Republik Indones. 2018;1–100.
Aisuwarya R. Rancang Bangun Instrumentasi Elektrokardiograf (EKG) dan Klasifikasi Kenormalan Jantung Pada Pola Sinyal EKG Menggunakan Learning Vector Quantization (LVQ). J Inf Technol Comput Eng. 2018;2(01):19–26.
Nikolaidou T, Samuel NA, Marincowitz C, Fox DJ, Cleland JGF, Clark AL. Electrocardiographic characteristics in patients with heart failure and normal ejection fraction: A systematic review and meta- analysis. Ann Noninvasive Electrocardiol. 2020;25(1).
Donsu RA, Rampengan SH, Polii N. Karakteristik Pasien Gagal Jantung Akut di RSUP Prof Dr. R. D. Kandou Periode Januari- Desember 2018. Med Scope J. 2020;1(2):30– 7.
Saida S, Haryati H, Rangki L. Kualitas Hidup Penderita Gagal Jantung Kongestif Berdasarkan Derajat Kemampuan Fisik dan Durasi Penyakit. Faletehan Heal J. 2020;7(02):70–6.
Lazzarini V, Mentz RJ, Fiuzat M, Metra M, O'Connor CM. Heart failure in elderly patients: Distinctive features and unresolved issues. Eur J Heart Fail. 2013;15(7):717–23.
Wannamethee SG, Whincup PH, Lennon L, Papacosta O, Shaper AG. Alcohol consumption and risk of incident heart failure in older men: a prospective cohort study. Open Hear. 2015;2(1):e000266.
Mehta PA, Cowie MR. Gender and heart failure: A population perspective. Heart. 2016;92(SUPPL. 3):14–8.
Tomaszewski M, Topyła W, Kijewski BG, Miotła P, Waciński P. Does gender influence the outcome of ischemic heart disease? Przegla̜ d Menopauzalny= Menopause Rev. 2019;18(1):51.
Mahmoodzadeh S, Moazenzadeh M, Rashidinejad H, Sheikhvatan M. Diagnostic performance of electrocardiography in the assessment of significant coronary artery disease and its anatomical size in comparison with coronary angiography. J Res Med Sci. 2011;16(6):750–5.
PERKI. Pedoman Tata Laksana Sindrom Koroner Akut 2018. Perhimpunan Dokter Spesialis Kardiovaskular Indonesia. 2018. hal. 76.
Romulo F. Baltazar, MD F. Basic and Bedside. 2009. 464 hal.
Elgendy IY, Mahtta D, Pepine CJ. Medical Therapy for Heart Failure Caused by Ischemic Heart Disease. Circ Res. 2019;124(11):1520–35.
Harhash AA, Huang JJ, Reddy S, Natarajan B, Balakrishnan M, Shetty R, et al. aVR ST Segment Elevation: Acute STEMI or Not? Incidence of an Acute Coronary Occlusion. Am J Med. 2019;132(5):622–30.
Ghaffari S, Kolahdouzan K, Rahimi M, Tajlil A. Predictors of ST depression resolution in STEMI patients undergoing primary PCI and its clinical significance. Int J Gen Med. 2020;13:271–9.
Okin PM, Devereux RB, Nieminen MS, Jern S, Oikarinen L, Viitasalo M, et al. Electrocardiographic strain pattern and prediction of new-onset congestive heart failure in hypertensive patients: The losartan intervention for endpoint reduction in hypertension (LIFE) study. Circulation. 2006;113(1):67–73.
Tiyantara MS, Furqon M, Paramita S. Pathological Q wave as an indicator of left ventricular ejection fraction in acute myocardial infarction. Med J Indones. 2016;25(2):98–103.
Ostrowska M, Bellwon J, Adamski P, Koziński M, Niezgoda P, Ostrowski A, et al. Pathological Q waves as an indicator of prior myocardial infarction in patients with coronary artery disease and diabetes mellitus: a comparison of the prevalence and diagnostic accuracy according to present and former criteria. Med Res J. 2016;1(2):72–80.
Drazner MH. The progression of hypertensive heart disease. Circulation. 2011;123(3):327– 34.
Hawkins NM, Wang D, McMurray JJV, Pfeffer MA, Swedberg K, Granger CB, et al. Prevalence and prognostic implications of electrocardiographic left ventricular hypertrophy in heart failure: Evidence from the CHARM programme. Heart. 2007;93(1):59–64.
Su G, Cao H, Xu S, Lu Y, Shuai X, Sun Y, et al. Left atrial enlargement in the early stage of hypertensive heart disease: A common but ignored condition. J Clin Hypertens. 2014;16(3):192–7.
Parajuli P, Ahmed AA. Left Atrial Enlargement. StatPearls Publishing; 2021. 4– 5 hal.
Keramida K, Lazaros G, Nihoyannopoulos P. Right ventricular involvement in hypertrophic cardiomyopathy: Patterns and implications. Hell J Cardiol. 2020;61(1):3–8.
Śpiewak M, Kłopotowski M, Mazurkiewicz Ł, Kowalik E, Petryka-Mazurkiewicz J, Miłosz-Wieczorek B, et al. Predictors of right ventricular function and size in patients with hypertrophic cardiomyopathy. Sci Rep. 2020;10(1):1–7.
Lin JF, Hsu SY, Wu S, Teng MS, Chou HH, Cheng ST, et al. QT interval independently predicts mortality and heart failure in patients with ST-elevation myocardial infarction. Int J Med Sci. 2015;12(12):968–73.
Link MG, Yan GX, Kowey PR. Evaluation of toxicity for heart failure therapeutics: Studying effects on the QT interval. Circ Hear Fail. 2010;3(4):547–55.
Seiler J, Stevenson WG. Atrial fibrillation in congestive heart failure. Cardiol Rev. 2010;18(1):38–50.
Alhamaydeh M, Gregg R, Ahmad A, Faramand Z, Saba S, Al-Zaiti S. Identifying the most important ECG predictors of reduced ejection fraction in patients with suspected acute coronary syndrome. J Electrocardiol. 2020;61:81–5.
Demir S, Tufenk M, Karakaya Z, Akilli R, Kanadas M. The treatment of heart failure- related symptoms with Ivabradine in a case with Peripartum cardiomyopathy. Int Cardiovasc Res J. 2013;7(1):33–6.
Haghjoo M. Chapter 13 - Tachyarrhythmias. Practical Cardiology. Elsevier Inc.; 2017. 229–249 hal.
Alboni P, Scarfò S FG. Development of heart failure in bradycardic sick sinus syndrome. Ital Hear J. 2011;
Yamama Hafeez, Shamai A. Grossman. Sinus Bradycardia. StatPearls; 2020.
Abdel-Qadir HM, Tu J V., Austin PC, Wang JT, Lee DS. Bundle branch block patterns and long-term outcomes in heart failure. Int J Cardiol. 2011;146(2):213–8.
Duraes AR, Santana Passos LC, Souza Falcon HC de, Ribeiro Marques V, da Silva Medeiros MF, Solano Martins J de C. Bundle Branch Block: Right and Left Prognosis Implications. Interv Cardiol J. 2016;02(01):1–6.
Shan R, Ning Y, Ma Y, Liu S, Wu J, Fan X, et al. Prevalence and risk factors of atrioventricular block among 15 million Chinese health examination participants in 2018: a nation-wide cross-sectional study. BMC Cardiovasc Disord. 2021;21(1):1–9.
Kerola T, Eranti A, Aro AL, Haukilahti MA, Holkeri A, Junttila MJ, et al. Risk factors associated with atrioventricular block. JAMA Netw Open. 2019;2(5):1–13.
Nikolaidou T, Cai XJ, Stephenson RS, Yanni J, Lowe T, Atkinson AJ, et al. Congestive heart failure leads to prolongation of the PR interval and atrioventricular junction enlargement and ion channel remodelling in the rabbit. PLoS One. 2015;10(10):1–18.
Marcus GM. Evaluation and Management of Premature Ventricular Complexes. Circulation. 2020;1404–18.
Farzam K, Richards JR. Premature Ventricular Contraction. StatPearls Publishing, Treasure Island; 2021. 1–5 hal.
Heaton J, Yandrapalli S. Premature Atrial Contractions. StatPearls Publishing, Treasure Island; 2021. 1–5 hal.
Lin CY, Lin YJ, Chen YY, Chang SL, Lo LW, Chao TF, et al. Prognostic significance of premature atrial complexes burden in prediction of long-term outcome. J Am Heart Assoc. 2015;4(9):1–10.
Ikeda T, Yoshino H, Sugi K, Tanno K, Shimizu H, Watanabe J, et al. Predictive Value of Microvolt T-Wave Alternans for Sudden Cardiac Death in Patients With Preserved Cardiac Function After Acute Myocardial Infarction. Results of a Collaborative Cohort Study. J Am Coll Cardiol. 2006;48(11):2268–74.
Baba M, Buba F, Talle M, Umar H, Abdul H. Relationship between ECG QRS voltage and left ventricular functions in patients with heart failure attending federal Medical Centre Nguru, Northeastern Nigeria. Niger J Cardiol. 2020;17(1):55.
Brugada J, Katritsis DG, Arbelo E, Arribas F, Bax JJ, Blomstrom-Lundqvist C, et al. 2019 ESC Guidelines for themanagement of patients with supraventricular tachycardia. Eur Heart J. 2020;41(5):655–720.
Matsuo S, Yamane T, Hioki M, Narui R, Ito K, Tokuda M, et al. Acute progression of congestive heart failure during paroxysmal supraventricular tachycardia in a patient without structural heart disease. J Cardiol Cases. 2010;1(3):e133–6.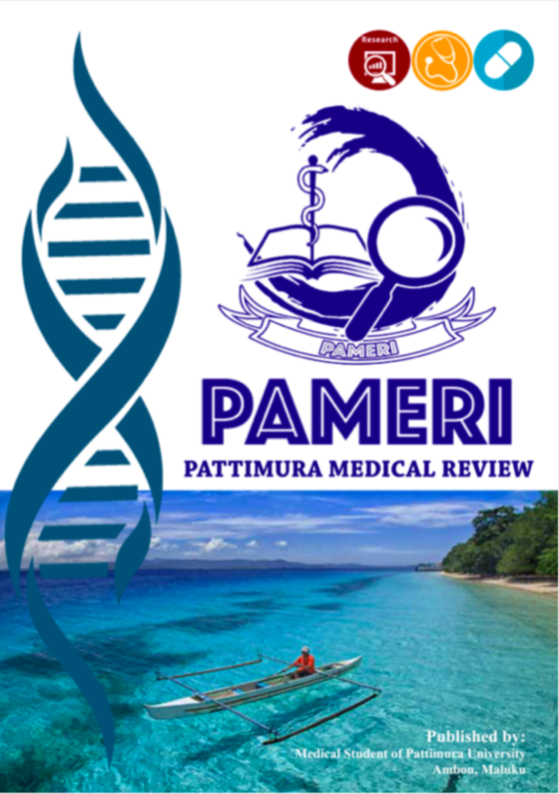 How to Cite
1.
Hasanusi A, wan I, Kailola N. GAMBARAN ABNORMALITAS ELEKTROKARDIOGRAM PADA PASIEN GAGAL JANTUNG DEWASA DI RSUD DR. M. HAULUSSY KOTA AMBON TAHUN 2019-2021. PAMERI [Internet]. 6Jun.2022 [cited 10Dec.2023];4(1):17-6. Available from: https://ojs3.unpatti.ac.id/index.php/pameri/article/view/6006
Copyright (c) 2022 PAMERI: Pattimura Medical Review
This work is licensed under a Creative Commons Attribution-NonCommercial-ShareAlike 4.0 International License.