SPATIAL CLUSTER ING DENGAN METODE SKATER (K'LUSTER ANALYSIS BY TREE EDGE REMOVAL) UNTUK PENGELOMPOKAN SEBARAN COVID-19 DI KABUPATEN TULUNGAGUNG
Danang Ariyanto

Program Doktor Matematika, Fakultas MIPA, Universitas Brawijaya, Indonesia

Henny Pramoedyo

Jurusan Statistika, Fakultas MIPA, Universitas Brawijaya, Indonesia

Novi Nur Aini

Jurusan Statistika, Fakultas MIPA, Universitas Brawijaya, Indonesia
Keywords:
statistika, spasial, cluster , covid-19, tulungagung
Abstract
Covid-19 telah melanda banyak negara di dunia, termasuk di Indonesia. Penyebaran Covid-19 di Indonesia begitu cepat dengan kasus pertama di daerah Jawa Barat yang kemudian menyebar dengan cepat ke seluruh pulau Jawa, termasuk di Jawa Timur yaitu Kabupaten Tulungagung. Meskipun telah diterapkannya aturan PSBB namun penyebaran SARS-CoV-2 masih terus terjadi. Analisis statistika yang dapat digunakan untuk mengetahui sebaran Covid19 di suatu wilayah adalah analisis kluster spasial. Analisis ini menggunakan pengamatan yang dilakukan berdasarkan letak geografis dan merupakan bagian dari analisis kluster yang tidak terbatas hanya pada eksplorasi saja. Penelitian ini bertujuan untuk mengetahui pengelompokan sebaran covid-19 Kabupaten Tulungagung dengan metode SKATER (K'luster Analysis by Tree Edge Removal). Pengetahuan tentang pengklasteran spasial sangat penting dalam pengendalian penyebaran covid-19, khususnya untuk menurunkan kejadian Covid-19 karena dapat memberikan informasi tentang lokasi populasi yang berisiko. Selain itu, hasil dari pengklusteran spatial juga dapat digunakan sebagai rujukan pengambilan keputusan untuk menyiapkan sarana-prasarana kesehatan yang diperlukan. Berdasarkan metode SKATER, telah terbentuk 3 cluster dan 5 cluster untuk dibandingkan untuk mendapatkan metode mana yang paling baik berdasarkan hasil analisis MANOVA. Berdasarkan nilai Pillai's Trace diperoleh hasil bahwa metode SKATER dengan 3 cluster lebih baik daripada 5 cluster
Downloads
Download data is not yet available.
References
Y. Han and H. Yang. "The transmission and diagnosis of 2019 novel coronavirus infection disease (COVID‐19): A Chinese perspective." J. Med. Virol.. vol. 92. no. 6. pp. 639– 644. (2020).
N. Van Doremalen. T. Bushmaker. D. H. Morris. M. G. Holbrook. A. Gamble. and B. N. Williamson. "& Lloyd-Smith. JO (2020). Aerosol and surface stability of SARS-CoV-2 as compared with SARS-CoV-1." N. Engl. J. Med.
A. Susilo et al.. "Coronavirus Disease 2019: Tinjauan Literatur Terkini." J. Penyakit Dalam Indones.. vol. 7. no. 1. pp. 45–67. (2020).
ASEAN Secretariat. "ASEAN Statistical Yearbook 2019." Jakarta: The ASEAN Secretariat. (2019)
G. Eka Dirgantara. I. Novianti. R. Dwi Bekti. Spatial Cluster untuk Pengelompokan Wilayah Setiap Provinsi di Indonesia Berdasarkan Karakteristik Kesenjangan Ekonomi. Seminar Nasional Official Statistics. (2019)
Dinas Kesehatan Kabupaten Tulungagung, "Perkembangan Covid-19 Kabupaten Tulungagung," 2021. http://dinkestulungagung.net/.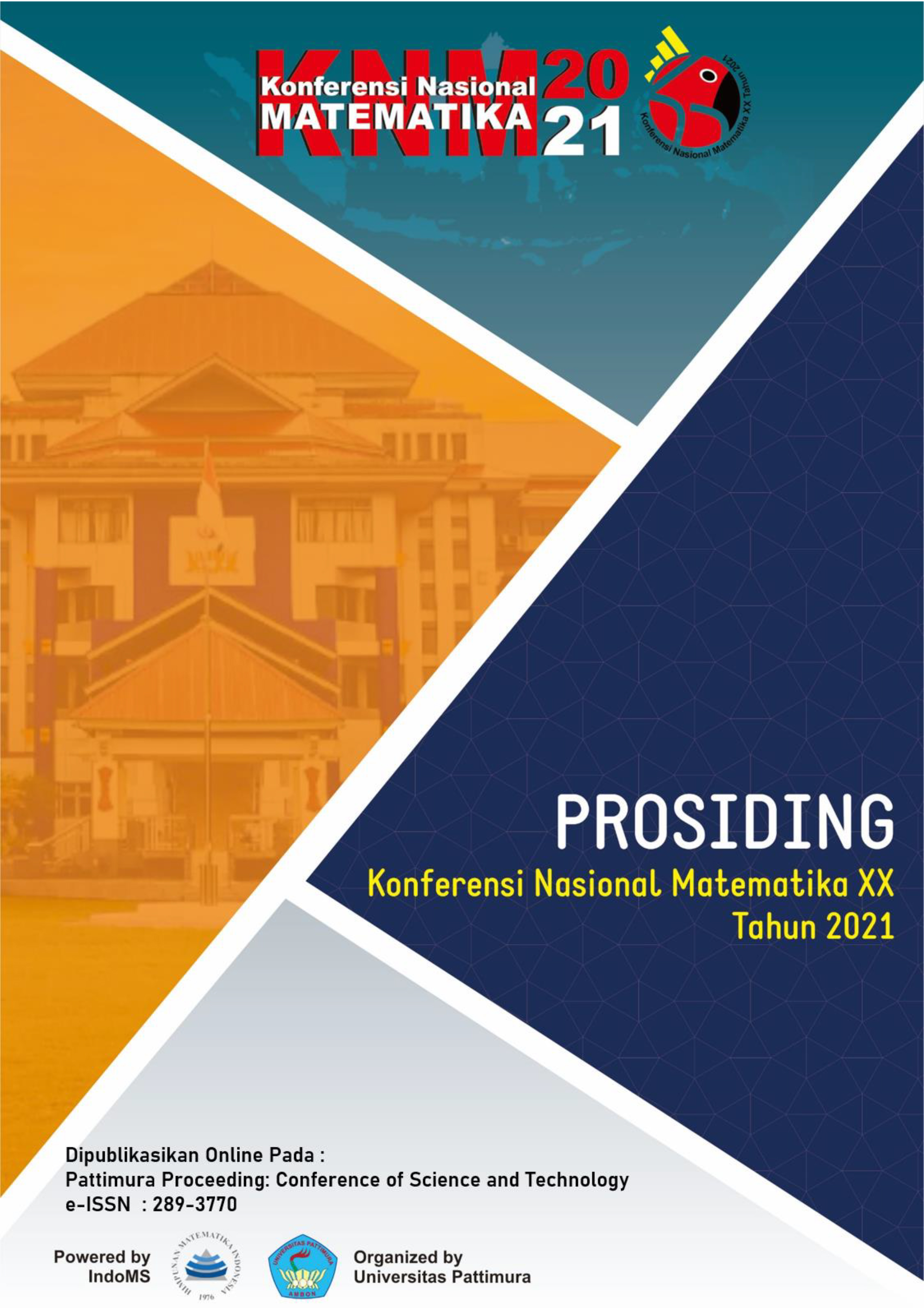 How to Cite
Ariyanto, D., Pramoedyo, H., & Aini, N. (2022). SPATIAL CLUSTER ING DENGAN METODE SKATER (K'LUSTER ANALYSIS BY TREE EDGE REMOVAL) UNTUK PENGELOMPOKAN SEBARAN COVID-19 DI KABUPATEN TULUNGAGUNG. Pattimura Proceeding: Conference of Science and Technology, 2(1), 371-380. https://doi.org/10.30598/PattimuraSci.2021.KNMXX.371-380
Copyright (c) 2022 Pattimura Proceeding: Conference of Science and Technology
This work is licensed under a Creative Commons Attribution-NonCommercial-ShareAlike 4.0 International License.