PERAMALAN GARIS KEMISKINAN KABUPATEN BURU SELATAN MENGGUNAKAN METODE DOUBLE EXPONENTIAL SMOOTHING DARI HOLT
Ade Irma La Murdani

Universitas Pattimura

Intan Gainau

Universitas Pattimura

Unique Resiloy

Universitas Pattimura
Keywords:
double exponential, garis kemiskinan, smoothing holt, MAPE
Abstract
Kemiskinan merupakan masalah yang dihadapi oleh semua negara di dunia dan merupakan
salah satu persoalan mendasar yang menjadi pusat perhatian pemerintah di negara manapun seperti
di Indonesia. Dengan jumlah penduduk yang sangat padat, menyebabkan Indonesia mengalami
masalah sosial seperti kemiskinan. Kurangnya penanggulangan kemiskinan disebabkan kurangnya
informsi mengenai kemiskinan. Pemerintah membutuhkan informasi yang akurat dan tepat sasaran
untuk mengurangi tingkat kemiskinan Penelitian ini bertujuan untuk melakukan peramalan Garis
Kemiskinan untuk membantu pemerintah mendapatkan informasi yang akurat dan cepat. Metode yang
digunakan dala penelitian ini adalah metode Double Exponential Smoothing dari Holt. Penelitian ini
menerapkan teori peramalan untuk menghasilkan Garis Kemiskinan untuk tahun yang akan datang.
Selanjutnya dalam peelitian ini dilakukan analisa pola data, dan memnentukan parameter terbaik.
Metode ini menggunakan parameter Alpha sebesar 0.2 dan Gamma sebesar 0.04, yang menghasilkan ukuran akurasi
terkecil, dalam penelitian ini menggunakan MAPE. Dengan mengamati hasil peramalan yang telah
dilakukan, model peramalan ini sangat baik.



Downloads
Download data is not yet available.
References
[1] Bank, W. Konsep-konsep dan Definisi Kemiskinan. 15. (1990).
[2] BPS. Kemiskinan dan Ketimpangan. Retrieved from (BPS - Statistics Indonesia):
https://www.bps.go.id/subject/23/kemiskinan-dan-ketimpangan.html. (2021).
[3] BPS. Sirusa. Retrieved from Garis Kemiskinan (GK):
https://sirusa.bps.go.id/sirusa/index.php/indikator/50 (2021).
[4] Raihan, d. FORCASTING MODEL EXSPONENSIAL SMOOTHING. Jurnal Poros
TEKNIK, 8(1), (2016).
[5] Riadi, M. Kajian Pustaka.com. Retrieved from Pengertian, Fungsi dan Jenis-Jenis Peramalan
(Forecasting): https://www.kajianpustaka.com/2017/11/pengertian-fungsi-dan-jenisperamalan-forecasting.html (2017).
[6] Roni Aminudin, Model Peramalan Garis Kemiskinan Menggunakan Metode Double
Exponential Smoothingdari Holt. Jurnal Tata Kelola dan Kerangka Kerja Teknologi
Informasi. (2019).
[7] Statistika, R. Retrieved from https://www.rumusstatistik.com/2021/05/cara-menghitung-mapemean-absolute.html. (2021).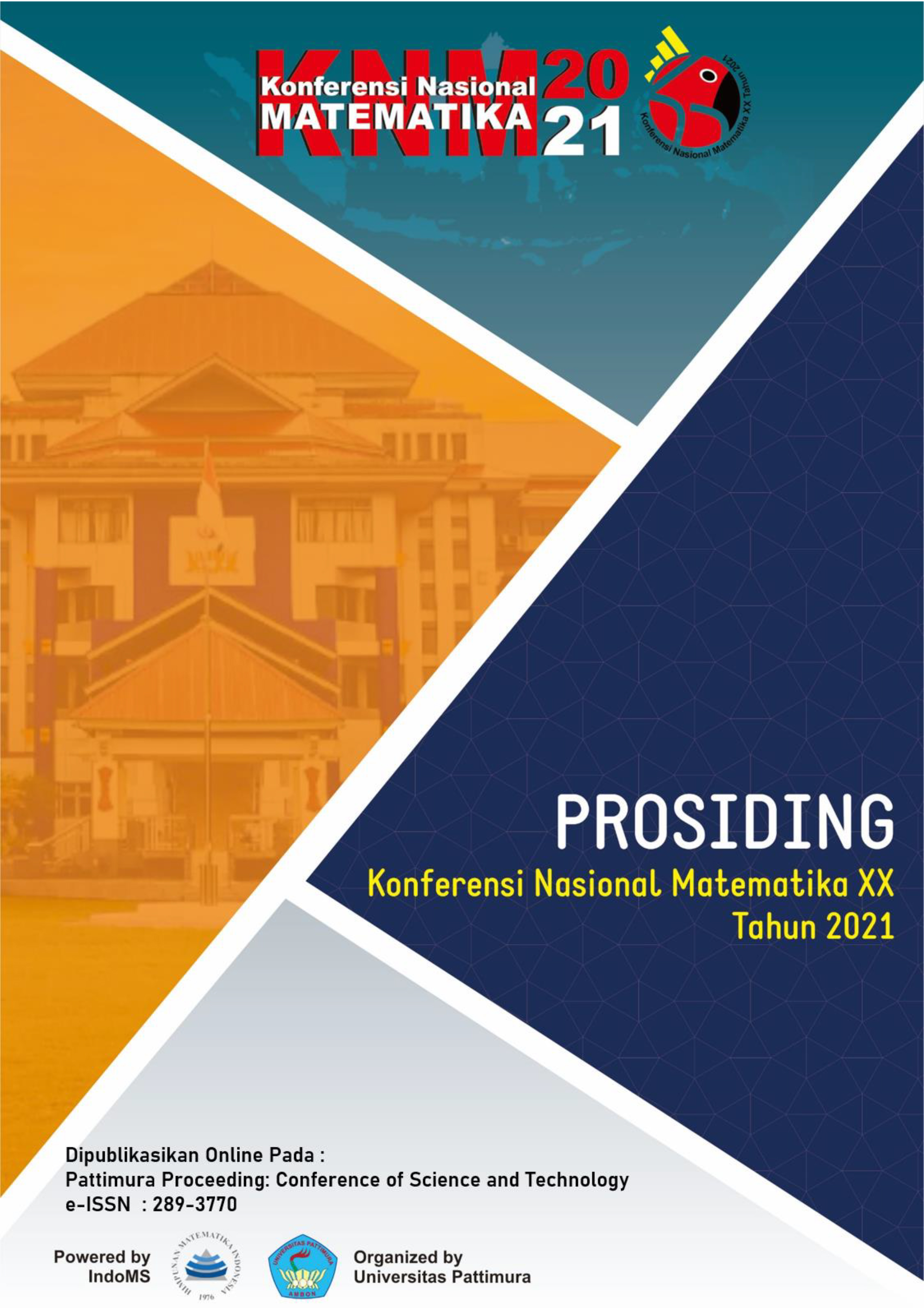 How to Cite
Murdani, A. I. L., Gainau, I., & Resiloy, U. (2022). PERAMALAN GARIS KEMISKINAN KABUPATEN BURU SELATAN MENGGUNAKAN METODE DOUBLE EXPONENTIAL SMOOTHING DARI HOLT. Pattimura Proceeding: Conference of Science and Technology, 2(1), 495-502. https://doi.org/10.30598/PattimuraSci.2021.KNMXX.495-502
Copyright (c) 2022 Pattimura Proceeding: Conference of Science and Technology
This work is licensed under a Creative Commons Attribution-NonCommercial-ShareAlike 4.0 International License.