SISTEM KOMUNIKASI PENGEMBANGAN PANGAN LOKAL DI PROVINSI MALUKU (KASUS PANGAN LOKAL ENBAL DI KABUPATEN MALUKU TENGGARA)
Communication System in the Development Local Food Maluku Province (Case Study Enbal of Local Food in Southeast Maluku District)
Risyart Alberth Far Far

Fakultas Pertanian, Universitas Pattimura

Lydia Maria Ivakdalam

Fakultas Kesehatan, Universitas Kristen Maluku Indonesia

George S J Tomatala

Fakultas Pertanian, Universitas Pattimura
Keywords:
enbal, communication, food
Abstract
The people of Southeast Maluku Regency process bitter cassava as household food which is known as "enbal". Enbal is one of the local food resources that can be used as an alternative food ingredient in an effort to diversify food consumption. The purpose of this paper is to analyze the communication system in the development of local enbal food in Southeast Maluku Regency. The results of the study explain that food is an important and strategic commodity for the Indonesian people because it is a basic need that must be met by the government and society together. In developing local food, communication elements in community development must synergize with each other in building local food in order to lead to food self-sufficiency. The government's task in food affairs is to organize, regulate, develop, control and supervise the availability of food, one of which is carried out by issuing policies on food security. The private sector and the community participate in supporting the policy
Downloads
Download data is not yet available.
References
Apriani S, Baliwati YF. (2011). Faktor-faktor yang Berpengaruh Terhadap Konsumsi Pangan Sumber Karbohidrat di Perdesaan dan Perkotaan. Jurnal Gizi dan Pangan. Vol 6(3): 200-207.
Ariani, M., Hermanto, G.S. Hardono, Sugiarto, dan T.S. Wahyudi. (2013). Kajian Strategi Pengembangan Diversifikasi Pangan Lokal. Laporan Kegiatan Kajian Isu-Isu Aktual Kebijakan Pembangunan Pertanian. Pusat Sosial Ekonomi dan Kebijakan Pertanian. Bogor.
[BPS Promal] Badan Pusat Statistik Provinsi Maluku, (2018). Maluku Dalam Angka. Badan Pusat Statistik Provinsi Maluku Ambon.
Far Far A Risyart, Saleh Amiruddin, Hubeis Musa,Djoko Susanto. (2020). The Influence Factors of Participatory Communication in the Development of Entrepreneurship Behavior in Enbal Casava Processing. International Journal of Progressive Sciences and Technologies (IJPSAT). Vol 21(2):75-87.
[FAO] Food and Agriculture Organization. (2009). Issues in the global tobacco economy: Selected case studies. Food and Agricultural Organization of the United Nations. Rome.
Hardinsyah. (2007). Review Faktor Determinan Keragaman Konsumsi Pangan. Jurnal Gizi Pangan. Vol 2(2): 55-74.
Khomsan, M. A. (1998). Potensi Pengembangan Makanan Tradisional dalam Rangka Mendukung Aku Cinta Makanan Indonesia (ACMI). Pusat Studi Kebijakan Pangan dan Gizi. Institut Pertanian Bogor. Bogor.
Mosher AT. (1987). Menggerakkan dan Membangun Pertanian. Yogyakarta (ID): CV. Yasaguna.
Nainggolan, Kaman. (2008). "Ketahanan dan Stabilitas Pasokan, Permintaan dan Harga Komoditas Pangan". Analisis Kebijakan Pertanian. Volume 6 (2): 114–139.
Peraturan Presiden RI No. 22 tahun (2009) tentang Kebijakan Percepatan Penganekaragaman Konsumsi Pangan Berbasis Sumberdaya Lokal. Republik Indonesia. Jakarta.
Pemerintah Republik Indonesia. (2012). Undang-Undang Republik Indonesia Nomor 18 Tahun 2012 tentang Pangan. Jakarta (ID): Sekretariat Negara.
Rakhmat, J. (2002). Psikologi Komunikasi. Edisi Revisi. Jakarta (ID): Remaja Rosdakarya.
Rachmat M. (2010). Pengembangan Ekonomi Tembakau Nasional: Kebijakan Negara Maju dan Pembelajaran Bagi Indonesia. Analisis Kebijakan Pertanian. Vol 8 (1): 67-83.
Riry J, Lawalata VN, Tapotubun EJ, Far Far R. (2013). Mutu Organoleptik Produki Enbal Fortifikasi Ditinjaudari Daya Terima Konsumen. JPHPI. 16(3):159-267.
Rogers EM. (2003). Diffusion of innovations. Fifth Edition. New York (US): The Free Press.
Setiana L. (2005). Teknik Penyuluhan dan Pemberdayaan Masyarakat. Bogor (ID): Ghalia Indonesia.
Suharto E. (2010). Membangun Masyarakat Memberdayakan Rakyat. Kajian Strategis Pembangunan Kesejahteraan Sosial dan Pekerjaan Sosial. Bandung (ID): Refika Aditama.
Sumardjo. (2008). Penyuluhan Pembangunan Pilar Pendukung Kemajuan dan Kemandirian Masyarakat. Dalam Ida Yustina I dan Adjat Sudrajat. Pemberdayaan Manusia Pembangunan Yang Bermartabat. Bogor (ID): Sydex Plus.
Sumodiningrat G. (1999). Pembangunan Daerah dan Pemberdayaan Masyarakat (Kumpulan Esei Tentang Penanggulangan Kemiskinan). Jakarta (ID): Bina Rena Pariwara.
Suradisastra K. (2008). Strategi Pemberdayaan Kelembagaan Petani. Forum Peneliti Agro Ekonomi. Vol 26(2) Hal:82-91.
Syah, M. (2009). Psikologi Pendidikan dengan Pendekatan Baru. Bandung (ID): Remaja Rosdakarya.
[UU] Undang Undang Nomor 22 Tahun (1999) Tentang Pemerintah Daerah. 1999.
[UU] Undang-Undang Nomor 32 Tahun (2004) Tentang Pemerintah Daerah. 2004.
[UU]Undang-Undang Republik Indonesia Nomor 6 Tahun (2014) tentang Desa.
Undang Undang No. 19 Tahun (2013) tentang Perlindungan dan Pemberdayaan Petani. Jakarta: Sekertariat Negara.
Undang-Undang Republik Indonesia Nomor 16 Tahun (2006) Tentang Sistem Penyuluhan Pertanian. Perikanan dan Kehutanan, Jakarta.
Uphoff N. (2000). Social capital; A multifaced prespectiv. Parta Dagusta dan Ismail Serageldin [editor]. Washington DC; World Bank.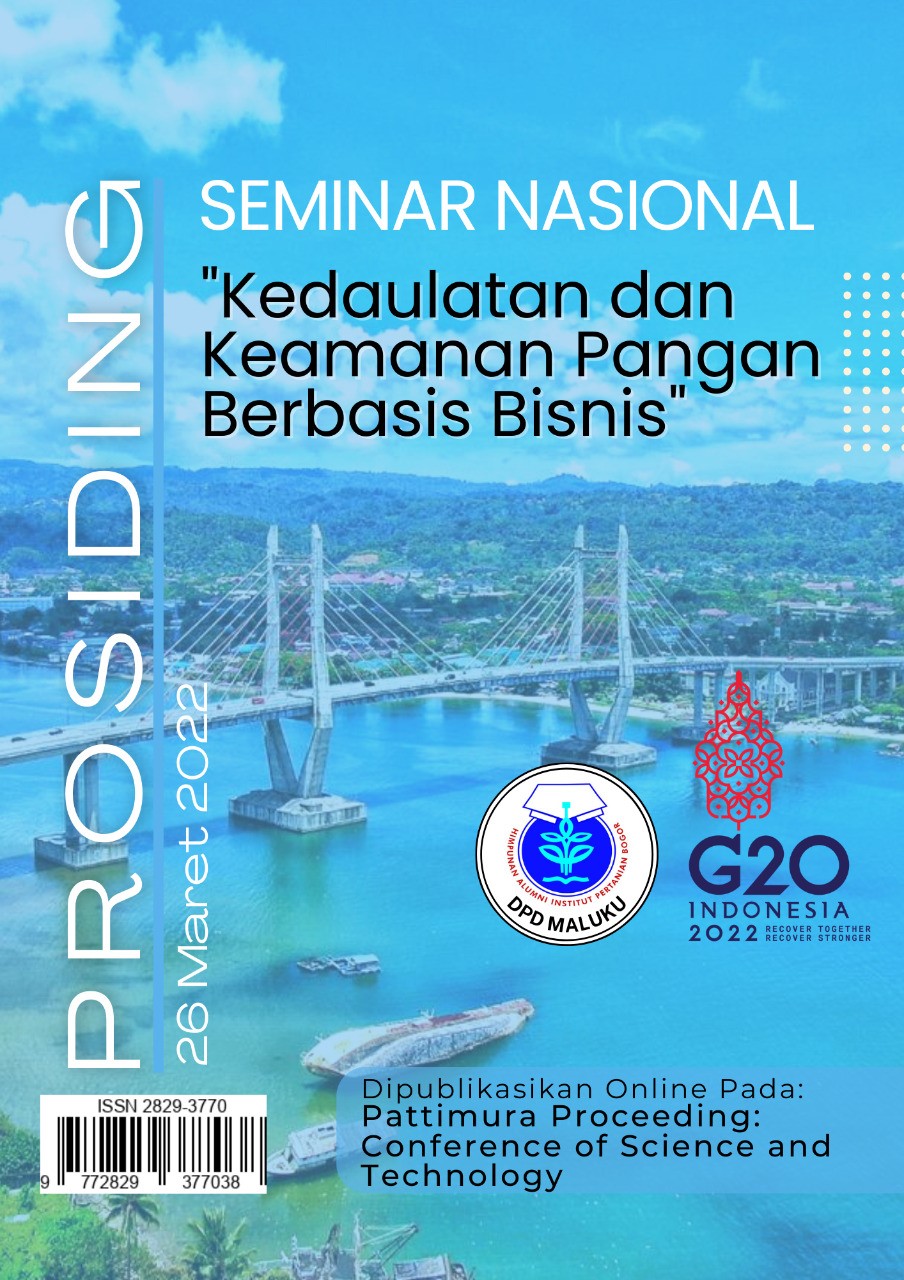 How to Cite
Far Far, R., Ivakdalam, L., & Tomatala, G. (2022). SISTEM KOMUNIKASI PENGEMBANGAN PANGAN LOKAL DI PROVINSI MALUKU (KASUS PANGAN LOKAL ENBAL DI KABUPATEN MALUKU TENGGARA). Pattimura Proceeding: Conference of Science and Technology, 2(2), 63-74. https://doi.org/10.30598/PattimuraSci.2022.HAIPBMAL.63-74
Copyright (c) 2022 Pattimura Proceeding: Conference of Science and Technology
This work is licensed under a Creative Commons Attribution-NonCommercial-ShareAlike 4.0 International License.