Image Processing and Optical-Electricity Property of Traditional Medicine Products from Kian Sand Worm (Siphonosoma ur - pulau )
Amrosius Masrikat

Faculty of Mathematics and Natural Sciences, Pattimura University

Yohansli Noya

Physics Department, Pattimura University

Hendry Izaac Elim

Physics Department, Pattimura University
Keywords:
Kian sandworm (Siphonosoma ur-pulau), Traditional medicine products (TMPs), Optical-electricity (OE), Image processin
Abstract
Kian sandworm (Siphonosoma ur-pulau), a kind of sandworm originally found in Ur-pulau island of Tual region, southeast part of Maluku province, Indonesia is one of the longest sand worm with the length of 27.5 cm exhibited unique physical and chemical properties [1]. This work presents image processing and optical-electricity property of traditional medicine products (TMPs) from Kian sandworm. Based on the image processing with fast Fourier transform (FFT) technique, the
density of two different types of TMPs can be identified exactly. Furthermore, optical-electricity (OE) properties of the products tested in a standard toxic medicine, Betadine normally used to heal outer wounds of human body in Indonesia has been studied briefly under the influence of room temperature up to ~65 0C. The significant findings in this paper show that at the same concentration of two TMPs, the smooth grain size exhibits large absorbance (Abs) and pH higher than that of the rough grain size due to its high density. Moreover, it was observed that such smooth grain size TMPs shown a very sensitive voltage dependence on temperature with the peak of voltage obtained at ~50 0C.
Downloads
Download data is not yet available.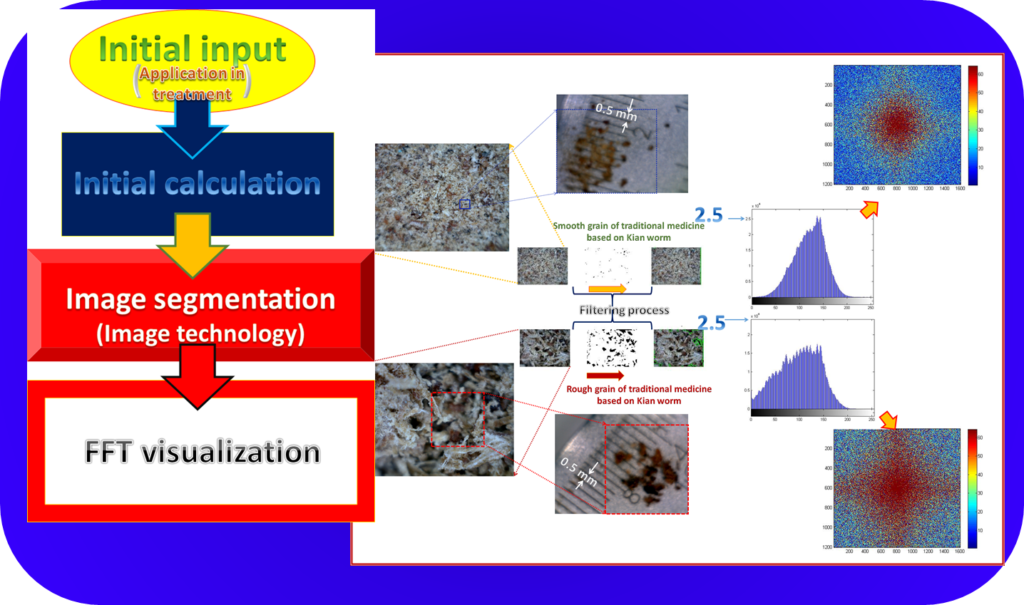 How to Cite
Masrikat, A., Noya, Y., & Elim, H. (2019). Image Processing and Optical-Electricity Property of Traditional Medicine Products from Kian Sand Worm (Siphonosoma ur - pulau ). SCIENCE NATURE, 2(3), 148-156. https://doi.org/10.30598/SNvol2iss3pp148-156year2019