Grouping of Tectonic Earthquakes in the Province of Nusa Tenggara Barat Indonesia with K-Means Cluster Method Approach and Determination of Distribution Type
Henry Junus Wattimanela

Statistics Study Program, Faculty of Mathematics and Natural Sciences, Pattimura University
Keywords:
Cluster, earthquake, Nusa Tenggara Barat (NTB), tectonic plate, Kolmogorov-Smirnov test, distribution
Abstract
The earthquake is one of the natural disasters that is destructive and claimed lives at a certain magnitude and depth. Indonesia is an earthquake-prone area because it is in the area of major tectonic plates. Province of Nusa Tenggara Barat is one of the 34 provinces in Indonesia which is earthquake prone. In this research, earthquake grouping will be carried out in the Province of Nusa Tenggara Barat using the K-Means cluster approach. Furthermore, using the Kolmogorov-Smirnov test the type of distribution is determined for each group variable resulting from the cluster process. The data used was the 2018 earthquake data in West Nusa Tenggara Province, sourced from the USGS earthquake catalog. The software used in this research process is SPSS, GMT, and Matlab, respectively. The results of this study are expected to be used as a reference for the Government of Nusa Tenggara Barat Province and surrounding areas related to earthquake disaster mitigation, especially evaluation of spatial and regional.
Downloads
Download data is not yet available.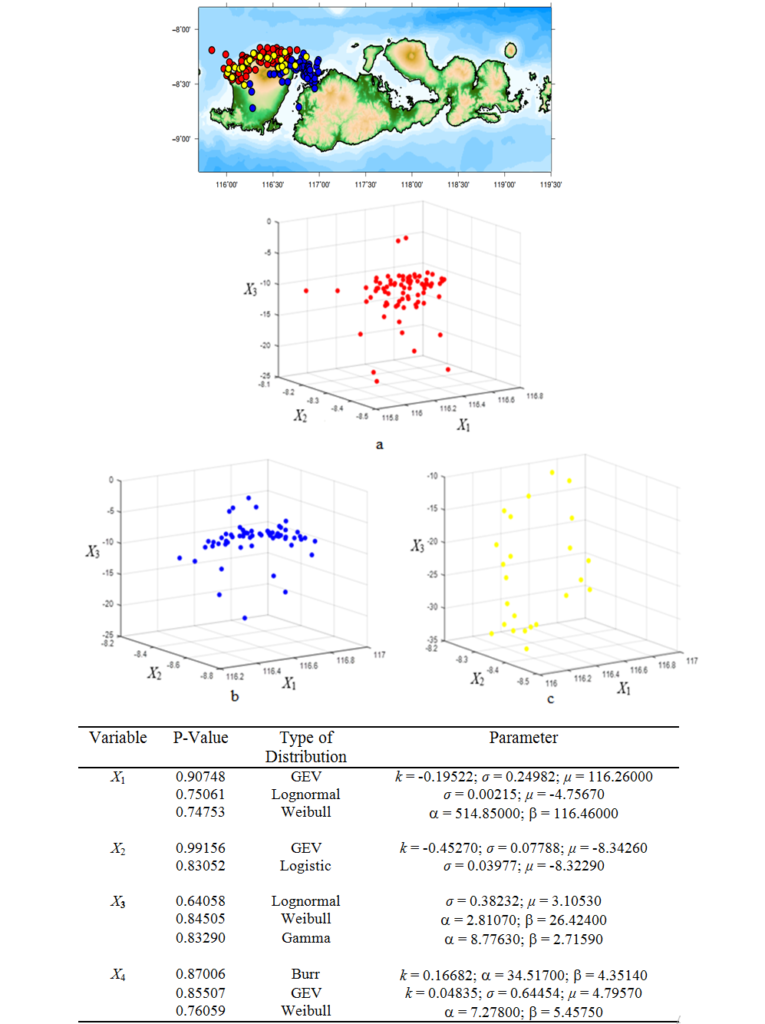 How to Cite
Wattimanela, H. (2019). Grouping of Tectonic Earthquakes in the Province of Nusa Tenggara Barat Indonesia with K-Means Cluster Method Approach and Determination of Distribution Type. SCIENCE NATURE, 2(3), 177-191. https://doi.org/10.30598/SNvol2iss3pp177-191year2019