Isolation and Identification of Essential Oil Made From Kisar Sweet Orange Peels
Gelora Helena Augustyn

Department of Agricultural Product Technology, Faculty of Agriculture, Pattimura University, Indonesia

Anthonia Matjora

Department of Agricultural Product Technology, Faculty of Agriculture, Pattimura University, Indonesia

Vita N Lawalata

Department of Agricultural Product Technology, Faculty of Agriculture, Pattimura University, Indonesia

Sophia G Sipahelut

Department of Agricultural Product Technology, Faculty of Agriculture, Pattimura University, Indonesia
Keywords:
Chemical component, Essential oil, Kisar sweet orange peels, Quality
Abstract
Kisar sweet orange is an endemic fruit and primary commodity from Kisar Island, Southwest Maluku Regency - Maluku Province. Currently, Kisar sweet orangeswere only consumed as fresh fruit during this time, partially processed into juice and the peels were discarded as wastes. Kisar sweet orange peels can be processed into essential oil to increase their economic value. The essential oil made from orange peels is highly preferable, especially for the middle to upper-class consumers, for health and air-freshening purposes.  This essential oil has a higher selling value. This research aims at isolating and identifying the chemical components and quality of essential oil made from Kisar sweet orange peels. This essential oil was isolated using a steam distillation method, and its chemical components were identified using GC-MS instruments.. The research results showed that the essential oil made from Kisar sweet orange peels dried with a cabinet dryer for two days utilizing the steam distillation method provides a yield of 0.53%, with its properties of specific gravity of 0.8457, refractive index of 1.4651 (20°C), acid number of 1.92, ester number of 8.05, and solubility in alcohol of 1:9. The main chemical component of the essential oil made from Kisar sweet orange peels detected by GC-MS is limonene (70.80%).
Downloads
Download data is not yet available.
References
Cahyati, S., Kurniasih, Y., & Khery, Y. (2016). Efisiensi Isolasi Minyak Atsiri dari Kulit Jeruk dengan Metode Distilasi Air-Uap Ditinjau dari Perbandingan Bahan Baku dan Pelarut yang Digunakan. Jurnal Ilmiah Pendidikan Kimia Hydrogen, 4(2), 103–110.
Daryono, E. D., Pursitta, A. T., & Isnaini, A. (2014). Ekstraksi Minyak Atsiri pada Tanaman Kemangi dengan Pelarut n-heksana. Jurnal Teknik Kimia, 9(1), 1–7. Retrieved from http://ejournal.upnjatim.ac.id/index.php/tekkim/article/view/720
Dosoky, N.S and Setzer, W.N., 2018. Biological Activities andSafety of Citrus spp. Esential Oils. International Journal of Molecular Sciences. 2018, 19, 1966.
Harimurti, N., Soerawidjaja, H, T., Djajeng, S., & Risfaheri. (2012). Ekstraksi Minyak Nilam (Pogostemon Cablin Benth) Dengan Teknik Hidrodifusi Pada Tekanan 1 – 3 Bar. Pascapanen, 9(1), 1–10.
Hidayati. (2012). Distilasi Minyak Atsiri Dari Kulit Jeruk Pontianak Dan Pemanfaatannya Dalam Pembuatan Sabun Aromaterapi. Biopropal Industri, 3(2), 39–49.
Hidayati, N., & Khaerunisa, D. (2018). Daun Kelor Dengan Metode Ultrasonic Assisted Extraction. In A. Rochman & A. B. Listyawan (Eds.), Simposium Nasional Rekayasa Aplikasi Perancangan Dan Industri (pp. 119–123). Surakarta: Fakultas Teknik Universitas Muhammadiyah Surakarta.
Kartika Fitri, A. C., & Proborini, W. D. (2018). Analisa Komposisi Minyak Atsiri Kulit Jeruk Manis Hasil Ekstraksi Metode Microwave Hydrodiffusion and Gravity Dengan Gc-Ms. Reka Buana : Jurnal Ilmiah Teknik Sipil Dan Teknik Kimia, 3(1), 53–58. https://doi.org/10.33366/rekabuana.v3i1.918
Khasanah, L. U., Kawiji, R. U., & Aji, Y. M. (2015). Pengaruh Perlakuan Pendahuluan terhadap Karakteristik Mutu Minyak Atsiri Daun Jeruk Purut (Citrus hystrix DC). Jurnal Aplikasi Teknologi Pangan, 4(2), 48–55. https://doi.org/10.17728/jatp.2015.10
Liu, K., Chen, Q., Liu, Y., Zhou, X., & Wang, X. (2012). Isolation andbiological activities of decanal, linalool, valencene, and octanal fromsweet orange oil.Journal of Food Science,77, C1156–C1161.doi:10.1111/j.1750-3841.2012.02924.x
Megawati, & Kurniawan, R. D. (2015). Ekstraksi Minyak Atsiri Kulit Jeruk Manis Dengan Metode Vacuum Microwave Asissted Hydrodistillation. Jurnal Bahan Alam Terbarukan, 4(2), 61–67. https://doi.org/10.15294/jbat.v4i2.4143
Mitropoulou, G.; Fitsiou, E.; Spyridopoulou, K.; Tiptiri-Kourpeti, A.; Bardouki, H.; Vamvakias, M.; Panas, P.;Chlichlia, K.; Pappa, A.; Kourkoutas, Y. 2017. Citrus Medica Essential Oil Exhibits Significant Antimicrobial and Antiproliferative Activity. LWT Food Sci. Technol,84, 344–352
Musta, R., & Nurliana, L. (2019). Studi Kinetika Efektifitas Minyak Daun Cengkeh (Syzigium aromaticum) Sebagai Antifungi Candida albicans. Indo. J. Chem. Res., 6(2), 107–114. https://doi.org/10.30598//ijcr.2019.6-rus
Nugraheni, K. S., Khasanah, L. U., Utami, R., & Ananditho, B. K. (2016). Pengaruh Perlakuan Pendahuluan Dan Variasi Metode Destilasi Terhadap Karakteristik Mutu Minyak Atsiri Daun Kayu Manis (C. Burmanii). Jurnal Teknologi Hasil Pertanian, IX(2), 51–64. Retrieved from javascript:void(0)
Rialita, T., Rahayu, W. P., Nuraida, L., & Nurtama, B. (2015). Aktivitas Antimikroba Minyak Esensial Jahe Merah (Zingiber ofï¬cinale var. Rubrum) dan Lengkuas Merah (Alpinia purpurata K. Schum) Terhadap Bakteri Patogen dan perusak Pangan. Jurnal Agritech, 35(01), 43–52. https://doi.org/10.22146/agritech.9418
Settanni, L., Palazzolo, E., Guarrasi, V., Aleo, A., Mammina, C., Moschetti,G., & Germanà , M.A. (2012). Inhibition of foodborne pathogen bac-teria by essential oils extracted from citrus fruits cultivated in Sicily.Food Control,26, 326–330. doi:10.1016/j.foodcont.2012.01.050
Sipahelut, Sophia G, & Telussa, I. (2011). Karakteristik Minyak Atsiri Dari Daging Buah Pala Melalui Beberapa Teknologi Proses Characteristic of the Essential Oil of Fruit Nutmeg By Some Process Technology. Jurnal Teknologi Hasil Pertanian, 4(2), 126–134.
Sipahelut, Sophia Grace. (2012). Proporsi Persenyawaan Teroksigenasi Minyak Atsiri Dari Daging Buah Pala. Ekosains, Jurnal Ekologi Dan Sains, 01(01), 41–46. Retrieved from https://ejournal.unpatti.ac.id/ppr_paperinfo_lnk.php?id=412
Sipahelut, Sophia Grace, Kastanja, A. Y., & Patty, Z. (2020). Antioxidant activity of nutmeg fruit flesh-derived essential oil obtained through multiple drying methods. EurAsian Journal of BioSciences, 14(1), 21–26.
Sipahelut, Sophia Grace, Patty, J. A., Patty, Z., Kastanja, A. Y., & Lekahena, V. N. J. (2019). The antibacterial and antifungal activity of essential oil derived from the flesh of nutmeg fruit. EurAsian Journal of BioSciences, 13(1), 93–98.
Slamet, S., Ulyarti, U., & Rahmi, S. . (2019). Pengaruh Lama Fermentasi Terhadap Rendemen dan Mutu Fisik Minyak Nilam Pogostemon cablin Benth). Jurnal Teknologi Dan Industri Pertanian Indonesia, 11(1), 19–25. https://doi.org/10.17969/jtipi.v11i1.11671
Torres-Alfarez, C., Gonzales, A.N., Rodriguez, J., Castillo, S., Leos-Rivas, C., Baez-Gonzalez, J.G. 2017. Chemical Composition, Antimicrobial, and Antioxidant Activities of Orange Essential Oil and Its Concentrated Oils. CyTA-Journal of Food. Vol. 15, No. 1, 129–135. Http://dx.doi.org/10.1080/19476337.2016.1220021
Wirasutisna, K. R., Sukrasno, S., Nawawi, A., & Marliani, L. (2016). Pengaruh Pengolahan Bahan Terhadap Kadar Dan Komponen Minyak Atsiri Rimpang Zingiber Cassumunar Roxb. Acta Pharmaceutica Indonesia, 37(2), 64–69.
Zulnely, Z., Gusmailina, & Evi, K. (2015). Prospek Eucaliptus citriodora sebagai minyak atsiri potensial. In Masyarakat Biodiversitas Indonesia (Vol. 1, pp. 120–126). Surakarta: Masyarakat Biodiversitas Indonesia. https://doi.org/10.13057/psnmbi/m010120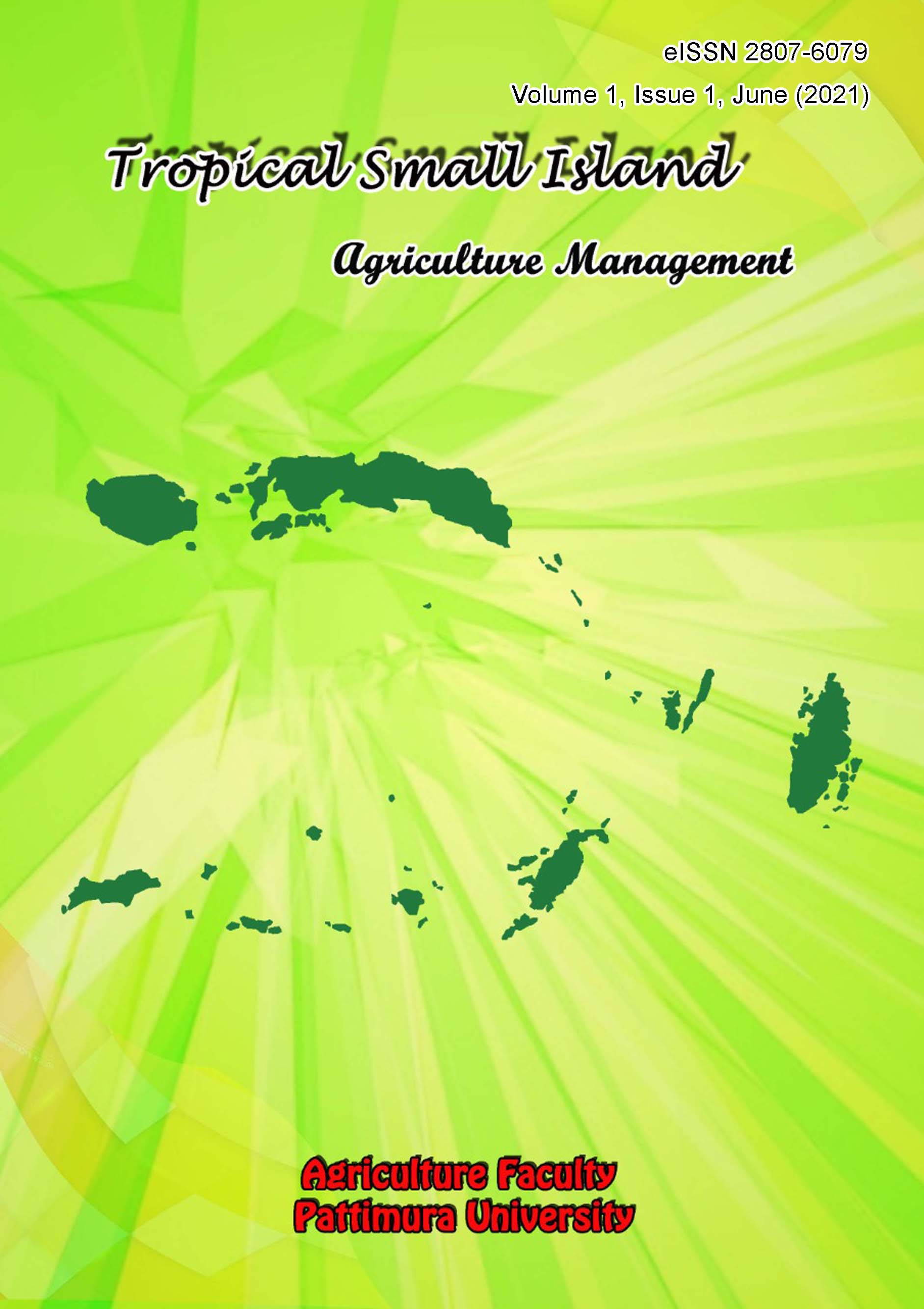 How to Cite
Augustyn, G., Matjora, A., Lawalata, V., & Sipahelut, S. (2021). Isolation and Identification of Essential Oil Made From Kisar Sweet Orange Peels. Tropical Small Island Agriculture Management, 1(1), 1-11. https://doi.org/10.30598/tsiam.2021.1.1.1
Copyright (c) 2021 Gelora Helena Augustyn, Anthonia Matjora, Vita N Lawalata, Sophia G Sipahelut
This work is licensed under a Creative Commons Attribution-ShareAlike 4.0 International License.
Authors who publish with this journal agree to the following terms:
Authors retain copyright and grant the journal right of first publication with the work simultaneously licensed under a Creative Commons Attribution License that allows others to share the work with an acknowledgment of the work's authorship and initial publication in this journal.
Authors are able to enter into separate, additional contractual arrangements for the non-exclusive distribution of the journal's published version of the work (e.g., post it to an institutional repository or publish it in a book), with an acknowledgment of its initial publication in this journal.
Authors are permitted and encouraged to post their work online (e.g., in institutional repositories or on their website) prior to and during the submission process, as it can lead to productive exchanges, as well as earlier and greater citation of published work (See The Effect of Open Access).