STRATEGY TO IMPROVE THE CLASS OF AMBON ARCHIPELAGO FISHERIES PORT INTO AN OCEAN FISHERY PORT USING SWOT ANALYSIS
Ruth Phetrosina Soumokil

Universitas Pattimura
Keywords:
Archipelago Fisheries Port; Existing Condition; SWOT Analysis; Ocean Fishery Port
Abstract
An essential factor for the development of fisheries business, especially fishing activities, is the availability of infrastructure for berths or shelter for fishing vessels and landing their catch fish. The infrastructure is in the form of a Fishing Port or Fish Landing Base as a place or base for fishing vessels. This research aimed to examine the condition of Archipelago Fisheries Port (AFP) on the criteria of an Ocean Fishery Port (OFP), and formulated a strategy for developing Ambon AFP in order to increase its class to an Ocean Fishery Port. The method used in this research was descriptive. Data collection techniques carried out by distributing questionnaires, interviews, and secondary data collection. Sampling was done by using purposive sampling as many as 20 key respondents. The analytical tool used was descriptive analysis and SWOT analysis. The results of this study indicate that: Existing operations in Ambon AFP show increasing development from year to year, both in fish landing, fishing boat visits, supply distribution, non-tax state revenue, and the number of fishers and labour. From the Ambon AFP Development Strategy's research results in the context of improving the class of being an Ocean Fishery Port, ten strategies were produced.
Downloads
Download data is not yet available.
References
Bahasoan, H., Hakim, D. B., Nurmalina, R., & Putri, E. I. K. (2020). JOURNAL OF TRADING , ECONOMICS AND Analysis of Growth Center and Hinterland Areas in Maluku Province Indonesia. 2(2009), 8–13. https://gnomepublications.org/ArticlePDFs/Trading/JTEB-002.2-0001.pdf
Hutapea, R. Y. ., Solihin, I., & Nurani, T. W. (2018). PERAN PELABUHAN PERIKANAN SAMUDERA NIZAM ZACHMAN DALAM MENDUKUNG INDUSTRI TUNA (The Role of Nizam Zachman Oceanic Fishing Port to Support Tuna Industries). Marine Fisheries : Journal of Marine Fisheries Technology and Management, 8(2), 187. https://doi.org/10.29244/jmf.8.2.187-198
Kementerian Kelautan dan Perikanan. (2012). Peraturan Menteri Kelautan dan Perikanan RI Nomor PER.08/MEN/2012 Tentang Kepelabuhanan Perikanan. 1–20. http://jdih.kkp.go.id/peraturan/per-08-men-2012.pdf
Kim, D. J., & Yeo, D. J. (2020). Estimation of drafts and metacentric heights of small fishing vessels according to loading conditions. International Journal of Naval Architecture and Ocean Engineering, 12, 199–212. https://doi.org/10.1016/j.ijnaoe.2019.11.001
Putri, A. S., Solihin, I., & Wiyono, E. S. (2018). Strategi Optimalisasi Fungsi Pelabuhan Perikanan Dalam Pemasaran Hasil Tangkapan Di Ppp Lempasing. ALBACORE Jurnal Penelitian Perikanan Laut, 1(2), 171–183. https://doi.org/10.29244/core.1.2.171-183
Raissa, D. R., Setiawan, R. P., & Rahmawati, D. (2014). Identification of Indicators Influencing Sustainability of Minapolitan Area in Lamongan Regency. Procedia - Social and Behavioral Sciences, 135, 167–171. https://doi.org/10.1016/j.sbspro.2014.07.342
Salaria, N. (2003). Process oriented information management in construction. International Journal of Transformation in Business Management, 1(6), 1–7. http://www.ijtbm.com/
Septiono, M. A., Roosmini, D., Salami, I. R. S., Ariesyadi, H. D., & Lufiandi. (2016). Industrial Activities and Its Effects To River Water Quality (Case Study Citarum, Bengawan Solo and Brantas), an Evaluation for Java Island As an Economic Corridor in Master Plan of Acceleration and Expansion of Indonesia Economic Development (Mp3Ei) 2011. The 12th International Symposium on Southeast Asian Water Environment (SEAWE2016), November.
Soemarmi, A., & Diamantina, A. (2019). Konsep Negara Kepulauan Dalam Upaya Perlindungan Wilayah Pengelolaan Perikanan Indonesia. Masalah-Masalah Hukum, 48(3), 241. https://doi.org/10.14710/mmh.48.3.2019.241-248
Yeni, E., Naufal, A., Studi, P., Sumberdaya, P., & Perikanan, F. (2017). Identifikasi aktivitas pengembangan fasilitas pelabuhan perikanan pantai lampulo banda aceh. November, 355–363.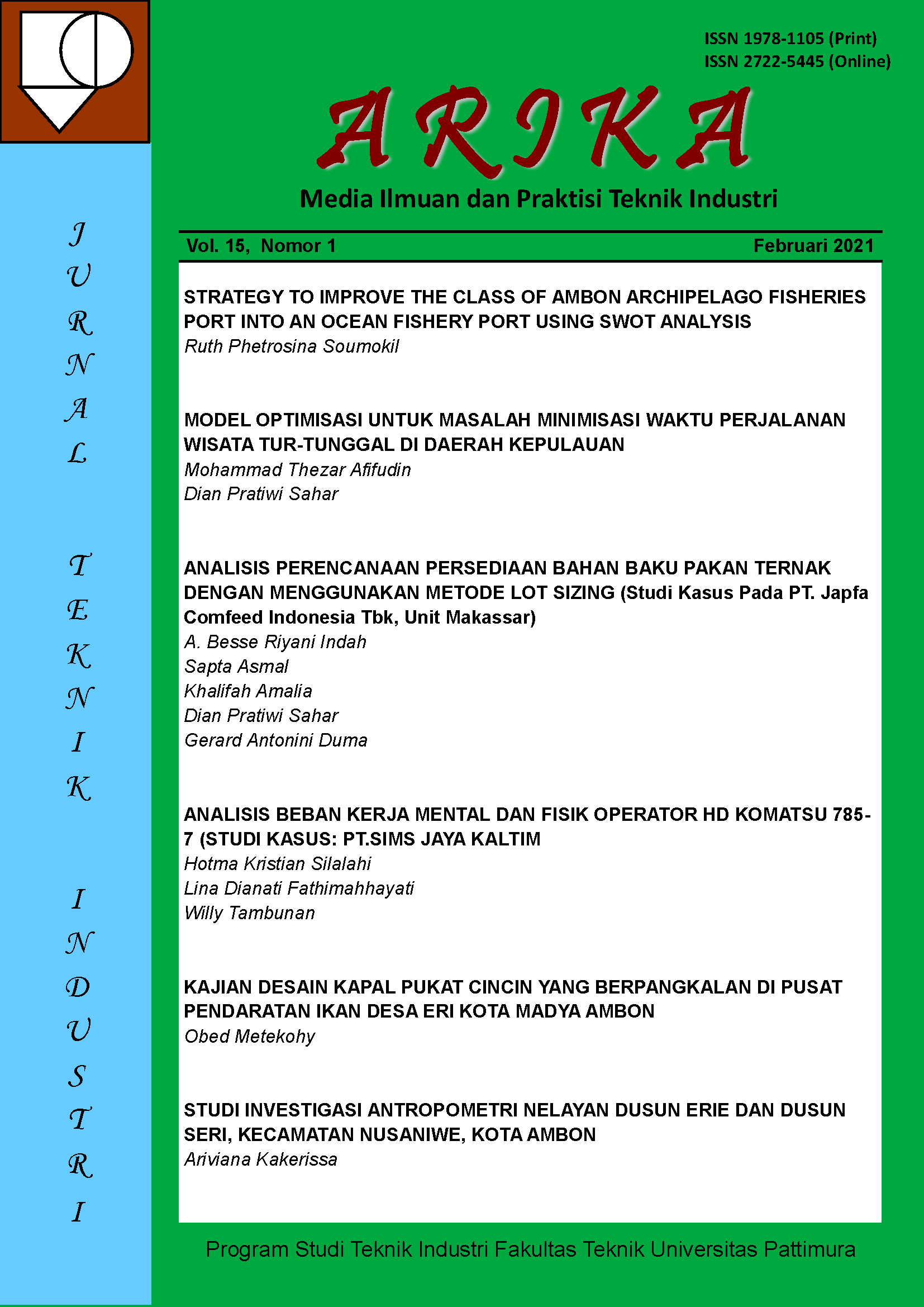 How to Cite
SoumokilR. (2021). STRATEGY TO IMPROVE THE CLASS OF AMBON ARCHIPELAGO FISHERIES PORT INTO AN OCEAN FISHERY PORT USING SWOT ANALYSIS. ARIKA, 15(1), 1-14. https://doi.org/10.30598/arika.2021.15.1.1

This work is licensed under a Creative Commons Attribution-ShareAlike 4.0 International License
An author who publishes in the ARIKA Jurnal agrees to the following terms:
The author retains the copyright and grants ARIKA journal the right of first publication of the work simultaneously licensed under the Creative Commons Attribution-ShareAlike 4.0 License that allows others to share the work with an acknowledgment of the work's authorship and initial publication in this journal.
The author is able to enter into separate, additional contractual arrangements for the non-exclusive distribution of the journal's published version of the work (e.g., post it to an institutional repository or publish it in a book) with the acknowledgment of its initial publication in this journal.
The author is permitted and encouraged to post his/her work online (e.g., in institutional repositories or on their website) prior to and during the submission process, as it can lead to productive exchanges, as well as earlier and greater citation of the published work (See The Effect of Open Access).