IDENTIFIKASI POTENSI KLASTER INDUSTRI PEMBEKUAN IKAN DI PULAU AMBON
Ariviana L. Kakerissa

Hendri Dony Hahury
Keywords:
Klaster Industri, Pembekuan Ikan
Abstract
Sekalipun Kota Ambon sebagai ibu kota propinsi memiliki peran penting dan strategis yang ditunjang oleh letak geografis yang dikeliling oleh potensi sumber daya perairan yang besar, akan tetapi sampai saat ini Kota Ambon bahkan pulau Ambon belum ada pengelompokkan klaster industri perikanan. Penelitian ini bertujuan untuk menganalisis potensi kluster industri pembekuan ikan di pulau Ambon. Pengelompokkan industri atau aglomerasi dapat diidentifikasi dengan memetakan sebaran 42 industri pembekuan ikan di pulau Ambon dan menilai rasio tetangga terdekatnya. Hasil penelitian menunjukkan bahwa terbentuk 3 kelompok industri atau aglomerasi. Hasil analisis Average Nearest Neighbor menggunakan ArcGis 10.5, diperoleh bahwa sebaran industri pengolahan perikanan di pulau Ambon memiliki rasio sebesar 0, 313368 dengan Z-score -6,435180 dan signifikansi 0,000. Rasio tersebut berada dalam parameter yang menunjukkan pola spatial clustered. Ini berarti sebaran industri pengolahan perikanan di pulau ambon teridentifikasi berpotensi untuk berkembang menjadi klaster.
Downloads
Download data is not yet available.
References
Abdin M D. Joynal, 2019. Cluster Approach for Efficient Industrialization. https://papers.ssrn.com/sol3/papers.cfm?abstract_id=3454345
Andersson, T. Serger, S.S, Sorvik J, & Hansson, E.W. (2004). The Cluster Policies Whitebook. Sweden: IKED (2004), Andriyanto Irsad, Nurjanah, 2015. Strategi Klaster Industri Menghadapi Pasar Global, Jurnal Bisnis dan Manajemen Islam, IAIN Kudus, Jawa Tengah.
Badan Pusat Statistik, 2020. Statistik Kota Ambon.
Bergman Edward M., 2020 Industrial and Regional Clusters: Concepts and Comparative Applications, 2nd ed. West Virginia University.
Bianchi, P., Miller, L.M., & Bertini, S. (1997). The Italian SME Experience and Possible Lessons for Emerging Countries. Bologna: Nomisma.
Belussi. Fiorenza. 2006. In search of a Useful Theory of Spatial Clustering. dalam Asheim, dkk. Cluster and Regional Development: Critical Reflection and Exploration. New York: Taylor and Francis e-Library
Departemen Perindustrian. 2009. Peta Panduan (Road Map) Pengembangan Klaster Industri Prioritas Industri Berbasis Agro Tahun 2010-2014. Lampiran Peraturan Menteri Perindustrian Republik Indonesia No.119/M-IND/PER/10/2009. Jakarta: Departemen Perindustrian Republik Indonesia
Menzel, M. dan Fornahl,D. 2007. Cluster Life Cycles-Dimensions and Rationales of Cluster Development. Jena Economic Research Papers 2007- 076 Peraturan Menteri Perindustrian No. 64/M-IND/7/2011 tentang Jenis-Jenis Industri dalam Pembinaan Direktorat Jenderal dan Badan di Lingkungan Kementerian Perindustrian
Peters, 2004. Revisiting Industri Cluster Theory and Method For Use in Public Policy:An Example Identifying Supplier-Based Clusters in Missiouri. University of Missouri, ColombiaPorter, M.E. 1990. The competitive advantage of nations. New York. Free Press.
Rizal, Fahmi dan Kastaman, Roni. 2015. Pengembangan Industri Kecil Menengah (IKM) melalui Pendekatan Klaster: Critical Review Kebijakan Klaster Industri Pengolahan Buah Di Jawa Barat. dalam Prosiding Seminar Nasional Peningkatan Kapabilitas UMKM dalam Mewujudkan UMKM Naik Kelas. Surakarta: PSP-KUMKM LPPM UNS
Roelandt, Th.J.A, dkk. 2000. New Policies for the New Economy, Cluster-based Innovation Policy: International Experiences. Netherlands: Dutch Ministry of Economic Affairs/OCFEB
Syafari, Hasan Yudie Sastra, Mahidin, 2018. Pembangunan Cluster Industri Dalam Rangka Meningkatkan Pertumbuhan Investasi Di Aceh. Jurnal Reaksi (Journal of Science and Technology) Jurusan Teknik Kimia Politeknik Negeri Lhokseumawe Vol. 16 No.01, Juni 2018 ISSN (CETAK) 1693-248X ISSN (ONLINE) 2549-1202.
Vitaliy M. Smolentsev, Sergey S. Demin, Larisa V. Mezentseva, Inna L. Litvinenko, Vitaly A. Tupchienko, 2018. Industrial clusters development in the regional economic system. Espacios Vol 39 (no 31), year 2028. ISSN 07981015. http://es.revistaespacios.com/a18v39n31/a18v39n31p05.pdf
Vladimir Kolmakov & Aleksandra Polyakova & Svetlana Karpova & Alla Golovina, 2019. Cluster Development Based on Competitive Specialization of Regions, Economy of region, Centre for Economic Security, Institute of Economics of Ural Branch of Russian Academy of Sciences, vol. 1(1), pages 270-284.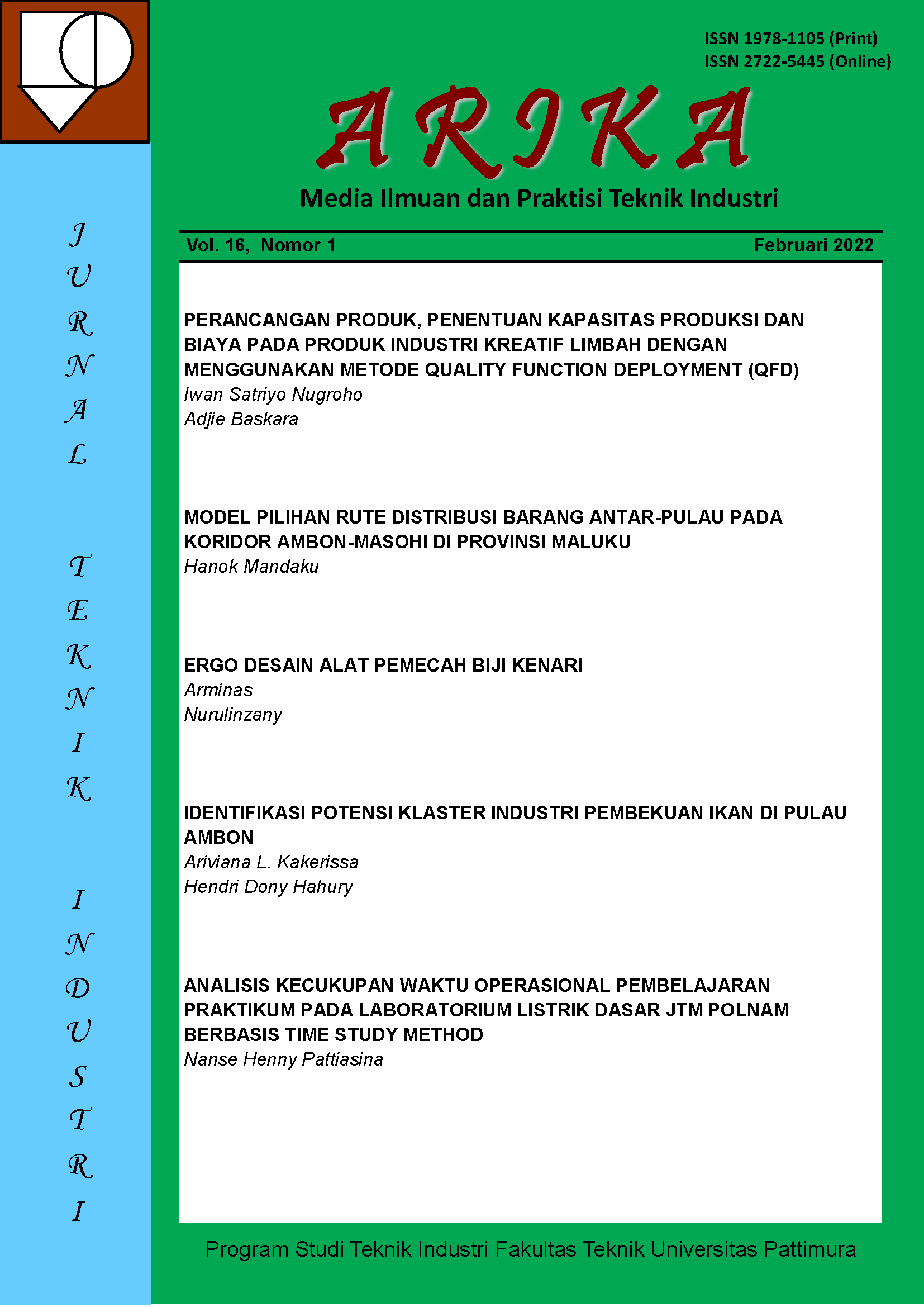 How to Cite
Kakerissa, A., & Hahury, H. (2022). IDENTIFIKASI POTENSI KLASTER INDUSTRI PEMBEKUAN IKAN DI PULAU AMBON. ARIKA, 16(1), 27-35. https://doi.org/10.30598/arika.2022.16.1.27
Copyright (c) 2022 Ariviana Kakerissa, Hendri Dony Hahury
This work is licensed under a Creative Commons Attribution-ShareAlike 4.0 International License.

This work is licensed under a Creative Commons Attribution-ShareAlike 4.0 International License
An author who publishes in the ARIKA Jurnal agrees to the following terms:
The author retains the copyright and grants ARIKA journal the right of first publication of the work simultaneously licensed under the Creative Commons Attribution-ShareAlike 4.0 License that allows others to share the work with an acknowledgment of the work's authorship and initial publication in this journal.
The author is able to enter into separate, additional contractual arrangements for the non-exclusive distribution of the journal's published version of the work (e.g., post it to an institutional repository or publish it in a book) with the acknowledgment of its initial publication in this journal.
The author is permitted and encouraged to post his/her work online (e.g., in institutional repositories or on their website) prior to and during the submission process, as it can lead to productive exchanges, as well as earlier and greater citation of the published work (See The Effect of Open Access).