UJI DAYA HAMBAT EKSTRAK ETANOL SURUHAN (Piperumia pellucida L.H.B Kunth) TERHADAP PERTUMBUHAN BAKTERI Staphylococcus aureus SECARA IN-VITRO
Eldo Dandirwalu

Theopilus W Watuguly
Keywords:
Test Resistivity, Extract Etanol Plant Suruhan (Piperumia pelludica L.H.B Kunth), Bacterium Staphylococcus aureus
Abstract
Background: Staphyloccocus aureus represent normal mikroflora of human being. This bacterium usually there are at bronchi to the and husk. Existence of Staphyloccocus aurues at bronchi to the and husk at individual seldom cause disease, healthy individual usually only personating career. One of the original plant that is plant of suruhan (Piperumia pellucida L.H.B. Kunth) biggest and wide of in some area in Indonesia (Molluca) and also have potency to be developed as traditional drug, empirically have been used in medication of abscess (abses) by society.
Methods: This Research use eksperimental in Laboratory with research device is Complete Random Device (Factorial RAL) Pattern from two factor and 3 restating, which in doing/conducting in Elementary Laboratory of Biology Faculty Teachership and Science Education of Pattimura University.
Resulth: Result research of to extract etanol plant suruhan (Piperumia pelludica L.H.B Kunth) to growth of bacterium of Staphylococcus aureus with various concentration that is 25%, 50% and 75% and there is influence contact to growth of bacterium where at concentration 25% is equal to 5 mm donot give respon pursue, 50% is equal to 10 mm with weak resistance respon and 75% is equal to 16 with resistance respon.
Conclusion: Extract concentration excelsior of etanol plant of suruhan (Piperumia pelludica L.H.B Kunth) and old progressively of contact with bacterium of Staphylococcus aureus hence resistivity progressively goodness
Downloads
Download data is not yet available.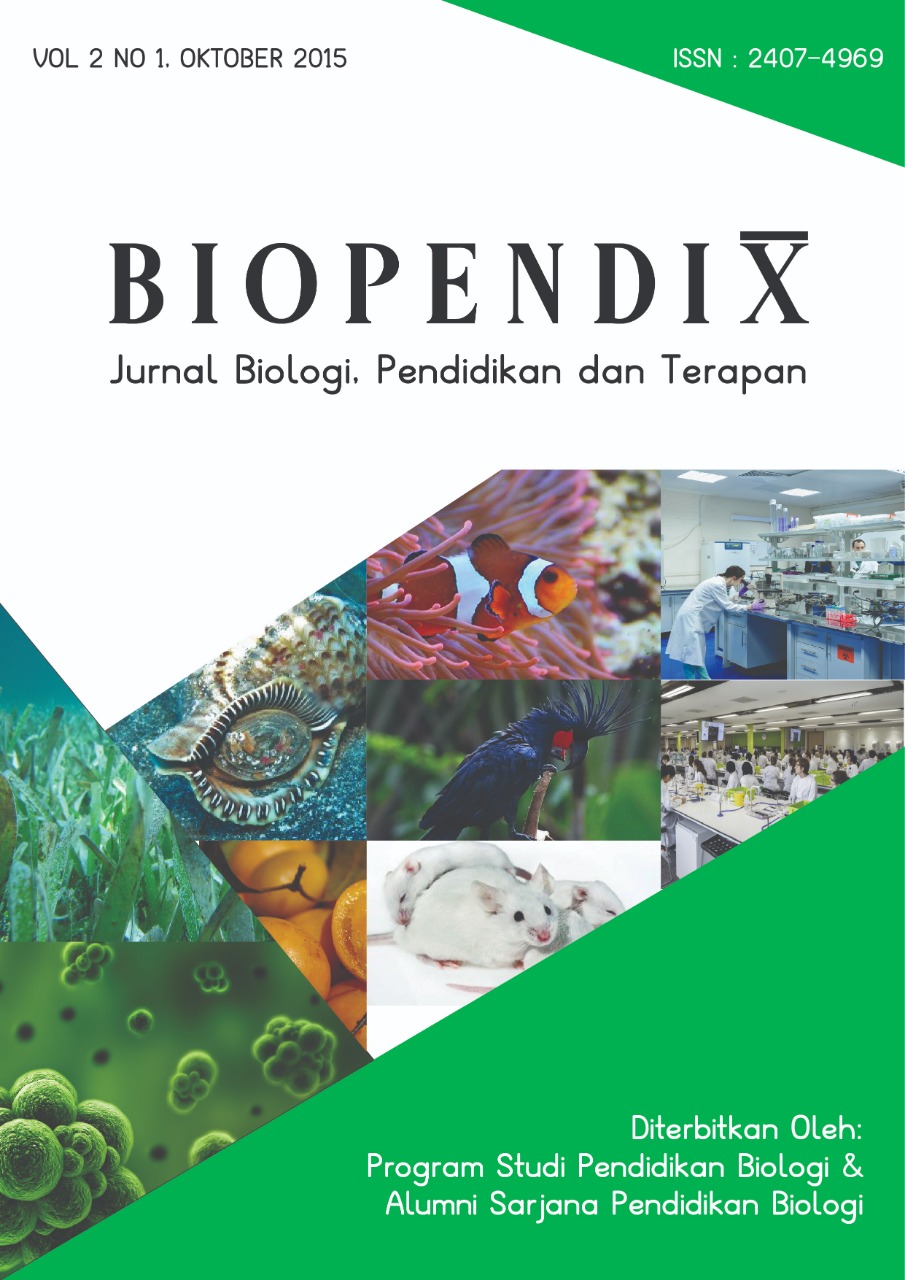 How to Cite
Dandirwalu, E., & Watuguly, T. (2015). UJI DAYA HAMBAT EKSTRAK ETANOL SURUHAN (Piperumia pellucida L.H.B Kunth) TERHADAP PERTUMBUHAN BAKTERI Staphylococcus aureus SECARA IN-VITRO. BIOPENDIX: Jurnal Biologi, Pendidikan Dan Terapan, 2(1), 8-14. https://doi.org/10.30598/biopendixvol2issue1page8-14
Copyright (c) 2015 Biopendix : Jurnal Biologi, Pendidikan dan Terapan
This work is licensed under a Creative Commons Attribution-ShareAlike 4.0 International License.