ANALISIS KADAR VITAMIN C PADA MINUMAN PROBIOTIK BUAH BLIGO (Benincasa hispida)
Rezza Julian Patty

Theopilus W Watuguly

Prelly M Tuapattinaya
Keywords:
Bligo (Benincasa hispida), Probiotic Drink, Vitamin C
Abstract
Background: Bligo (Benincasa hispida) is a Creeper plant, wooden trunk, soft, hairy and green. Bligo (Benincasa
hispida) contains water, protein, vegetable fats, carbohydrates, fiber, minerals and vitamins. Probiotic drinks are lactic
acid fermented drinks that contain lactic acid bacteria and can provide health effects when consumed. Vitamin C is
known as ascorbic acid (C6H8O6), it is one of the vitamins needed by the body and its functions to increase the body's
immune system. The Measurement of vitamin C in probiotic drinks used spectrophotometric tool.
Methods: This study used a qualitative descriptive research and the aim to determine the amount of vitamin C levels
in a probiotic drink made from Bligo (Benincasa hispida).
Results: Based on the results of conducting this research, probiotic drinks containing Vitamin C in sample 1 with a
vitamin C in the level of 0.00790 and samples 2 and 3 with a vitamin C in the level of 0.00869%.
Conclusion : Probiotic drink contains vitamin C in samples 2 and 3 with a Vitamin C level of 0.00869%. So Bligo
(Benincasa hispida) can be used as a probiotic drink because it contains vitamin C.
Downloads
Download data is not yet available.
References
Almatsier, Sunita. 2009. Prinsip Dasar Ilmi
Gizi. Cetakan Ketujuh. PT Gramedia
Pustaka Utama: Jakarta.
Alsuhendra, Ridawati, dan Intan
Mardianty, 2013. Pengaruh Proses
Ekstrasi Terhadap Nilai Ph,
Kandungan Kalium, dan Daya Terima
Sari Buah Bligo (Benincasa hispida).
PS Tata Boga Jurusan Ilmu
Kesejahteraan Keluarga Fakultas
Teknik Universitas Negeri Jakarta.
Ausman L. M. 1999. Criteria and
Recommendation for Vitamin C
Intake. Nutr Rev. 57: 222-224
Carr A.C., dan Frei B. (1999) Toward a
new recommended dietary allowance
Biopendix, Volume 7, Nomor 2, Maret 2021, 160-166
Rezza Patty, Th. Watuguly, P.M.J.Tuapattinaya. ANALSIS KADAR VITAMIN C....165
for vitamin C based on antioxidant
and health effect in humans. Am. J.
Clin. Nutr. 69, 1086-1107
Farnwort, E.D.R.2005.Handbook of
FermentedFunctional Foods. CRC
Press LLC. Florida
Ghosh. K and Baghel. S. M. 2011. A
Pharmacognostical and Physiochemi
cal study og Benincasa hispida with
ayurvedic review. University
Jamnagar, India. IJRAP 2011, 2 (6)
1664-1668. ISSN 2229- 3566.
Gibson, G.R. 2006. From probiotics to
prebiotics and a healthy digestive
system. Journal of Food Science 69
(5): 141-143 DOI: 10. 1111/j. 1365.
2621. 2004. tb 10724.x
Gill, H.S., Guarner, F. 2004. Probiotics and
human health: a clinical perspective.
Post graduate Medical Journal 80
(947): 516-526. DOI: 10.
1136/pgmj.2003.008664
Grubben, G.J.H. 2004. Plant Resources of
Tropical Africa 2 Vegetables.
Belanda: PROTA Foundation.
Hafidzah, Fara. 2013.Antioxidant Activity
and Total Phenolic Content of
Benincasa Hispida Fruit Extracts
From Various Extraction Solvents. A
Thesis submitted in fulfillment of the
requirement for the award of the
degree of Bachelor of Chemical
Engineering (Biotchnology). Faculty
of Chemical & Natural Engineering.
University Malaysia Pahang.
Hendro, 2011. Dasar-dasar
Kewirausahaan Panduan bagi
Mahasiswa untuk Mengenal,
Memahami, dan Memasuki Dunia
Bisnis. Penerbit Erlangga, Jakarta.
Himesh, Soni, Singhai A. K., Sharma
Sarvesh. 2012. Quantifitication of
Ascorbic Acid in Leaves Of Annona
Squamosa. Available on International
Journal of Pharmacy and
Pharmaceutical Sciences 4 (3): 0975-
1491
Hutton. W. 2004. Handy Pocket Guide:
Asian Vegetables. Singapore :
Periplus Publications.
Iqbal K, Khan A., Khattak M. M. A. K. 2004.
Biological Significance of Ascorbic
Acid in Human Health: a review.
Pakistan Journal of Politeknik Negeri
Jember.
Karinda, Monalisa, Fatimawati, Gayatri,
Citraningtyas. 2013. Perbandingan
Hasil Penetapan Kadar Vitamin C
Mangga Dodol Dengan
Menggunakan Metode Spektofotmetri
UV-Vis dan Lodimetri. Pharmacon
Jurnal Ilmiah Farmasi Universitas
Samratulangi. 2 (1): 2302-2493.
Kusnandar, Feri. 2010. Kimia Pangan:
Komponen Makro. Cetakan Pertama.
PT Dian Rakyat: Jakarta.
Kirtikar, K.R. and Basu, B.D. In: Indian
Medicinal Plants, Vol I, 2nd ed,
International Book Distributors,
Dehradun, India, 1995; pp. 790-791.
Marteu, P., Seksik, P., Jian, R. 2002.
Probiotics and intestinal health effect:
a clinical perspective. British journal of
Nutrition 88(1):51-57.
DOI:10.1079/BJN2002629
Nasution, Rozaini. 2003. Teknik Sampling.
Fakultas Kesehatan Masyarakat
Universitas Sumatera Utara: Medan.
Padayatty, S. J., Katz A., Wang Y., Eck P.,
Kwon O., Lee, J. H., Chen S., Dutta
A., Dutta, S. K., Levine M. 2003.
Vitamin C As an Antioxidant:
Evaluation of Its Role in Disease
Prevention. I am Coll Nutr. 22 (1): 18-
35.
Parves, S. Malik, K.A. Kong, S.A. Kim H.Y.
2006. Probiotics and their fermented
food products are beneficial for
health. Journal of Applied
Microbiology
100(6):11711185. DOI:10.1111/j.136
5 2672.2006.02963.
Perricone, M.Bevilacqua, A. Altieri, C.
Sinigaglia, M. Corbo, M.R. 2015.
Challenges for the productionof
probiotic fruit juices. Beverages 1:95-
103.
DOI:10.3390/beverages1020095.
Rahayu, S.E. 2000. Bakteri Asam Laktat
dalam Fermentasi dan pengawetan
makanan. Seminar Nasional Industri
pangan. 200. Vol I:299-308
Biopendix, Volume 7, Nomor 2, Maret 2021, 160-166
Rezza Patty, Th. Watuguly, P.M.J.Tuapattinaya. ANALSIS KADAR VITAMIN C....166
Sahavedan. N. 1987. Green Fingers.
Kuala Lumpur: Shavedan
Publications.
Sofhi, S.D. 2012. Pegaruh suhu dan pH
dalam pembuatan minuman probiotik
sari buah nanas (Ananas comosus)
dengan stater Lactobacillus
bulgaricus menggunakan alat
fermentor. Skripsi. Universitas
Diponegoro, Semarang.
Taylor A. (1993) Relationships between
nutriol and oxidation. J. Am. Coll.
Nutr. 12, 138-146
Wijaya, C. H. 1982. Sifat Kimia dan Disik
Buah Bligo dan Pepaya dan
Aplikasinya dalam Pembuatan
Produk Sejenis Jam. FATETA IPB,
Bogor.
Widiastuti, Harti. Standarisasi Vitamin C
Pada Buah BEngkuang (Pachyrhizus
erosus) Secara Spektofotometri Uv-
Vis. FAkultas Farmasi, Universitas
Muslim Indonesia Jurnal Fitofarmaka
Indonesia, Vol 2 No.1.
Winarno, F. G. 2008. Kimia Pangan dan
Gizi. PT Gramedia Pustaka Utama:
Jakarta.
WHO. 1992. Validation of Analitical
Procedures Used in Examination of
Pharmaceutical Materials. WHO
Technical Report Series.
Yang, Z. 2000. Antimicrobial Compounds
and Extracellular Polysaccarides
Produced by Lactid Acid Bacteria:
Structure and Properties. Departmen
of Food Tecnology University of
Helsinki.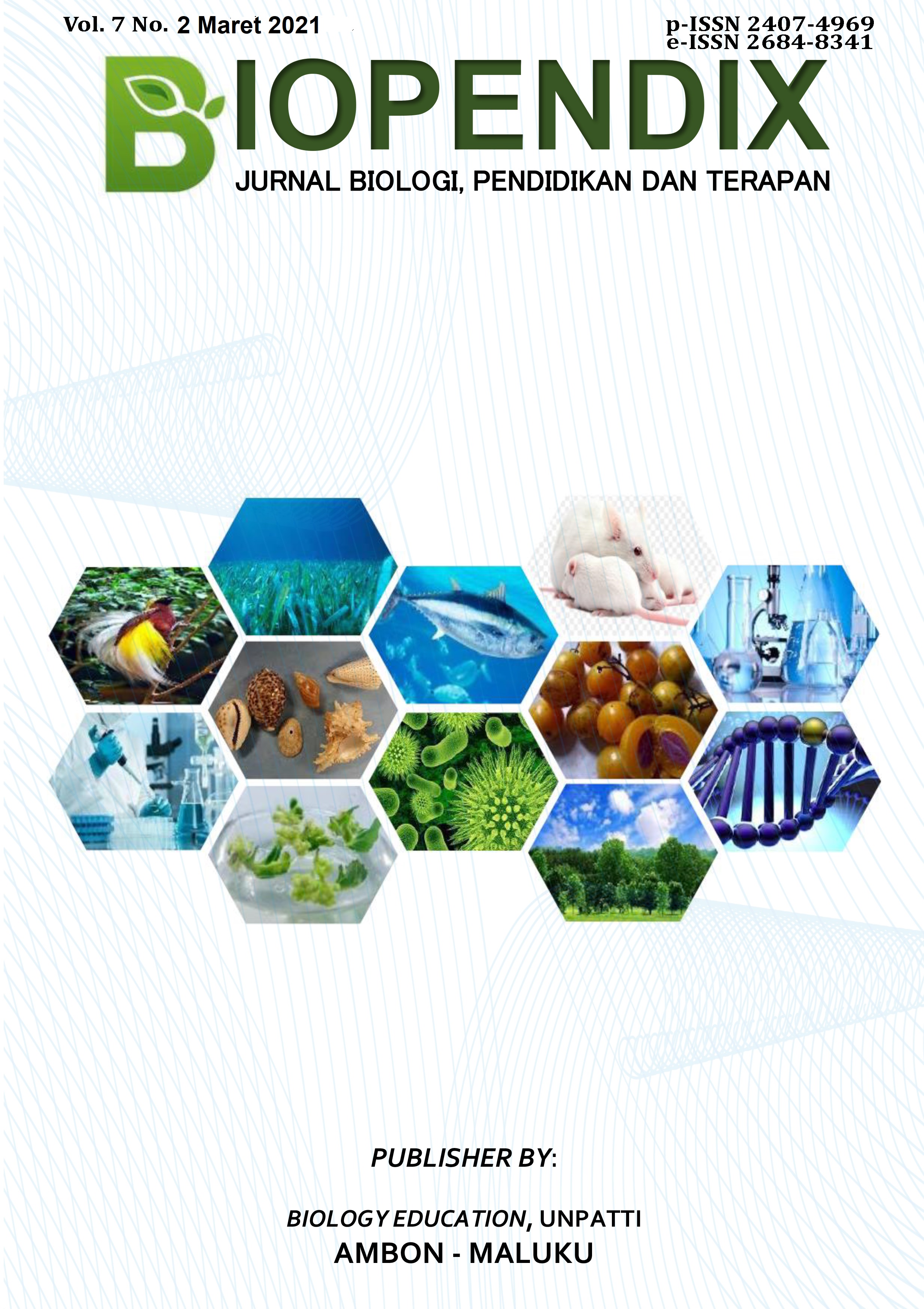 How to Cite
PattyR., WatugulyT., & TuapattinayaP. (2021). ANALISIS KADAR VITAMIN C PADA MINUMAN PROBIOTIK BUAH BLIGO (Benincasa hispida). BIOPENDIX: Jurnal Biologi, Pendidikan Dan Terapan, 7(2), 160-166. https://doi.org/10.30598/biopendixvol7issue2page160-166
Copyright (c) 2021 BIOPENDIX: Jurnal Biologi, Pendidikan dan Terapan
This work is licensed under a Creative Commons Attribution-ShareAlike 4.0 International License.