ANALISIS KADAR LEMAK BIJI HOTONG (Sertica italica (L.) Beauv) DENGAN LAMA WAKTU PENYIMPANAN DI KABUPATEN BURU SELATAN
Christina Namarubessy

Ali Awan
Keywords:
Fat Content, Hot Seeds, Old Storage
Abstract
Background: Hotong seeds are a growing and fertile plant on Buru Island and have been exploited by local people as an alternative source of carbohydrates. However, its utilization is still very simple as a result of not knowing the pattern of utilization in other form. Hotong seeds are the smallest cereal seeds weighing 15.2 kg each. Hotong seeds have the highest nutrient content, diameter hot seeds at the base of the larger than the tip and center. The color of seeds are varied hot yellow, brownish and red.
Method: This study was an experimental study using Completely Randomized Design (RAL) with long storage treatment (0, 6, 8, and 12 months). Each treatment was repeated three times. The parameters observed were fat content in hotong seeds. Analysis of fat content using descriptive analysis method.
Results: The results showed that the fat content of Hotong seeds of Waelo Village differed in control and on each treatment of storage duration. In the control of low fat content of 3.3591%, fat content increased in storage of 6 months and 8 months that is 3.5491% and 3.7242% and then decreased at 12 months ie 3.9322%, where from each treatment fat content the highest was obtained at 12 months storage treatment.
Conclusion: There are different amounts of fat content in Hotong seeds of Waelo Village on the controls as well as on any storage treatment duration.
Downloads
Download data is not yet available.
References
Almatsier, S. 2001. Prinsip Dasar Ilmu Gizi. Jakarta: Gramedia Pustaka Utama.
Desrosier, N. W., 1988. Teknologi Pengawetan Pangan. Penerjemah M. Muljohardjo. UI-Press, Jakarta.
Prasetyo, R. 2008 Evaluasi Mutu Gizi dan Indeks Glikemik Produk Olahan Hotong (Setaria italica).
Seleky Hana. 2014. Analisis Kadar Protein Biji Buru Hotong (Setaria Italica (L.) Beauv) Kabupaten Buru Selatan Kecamatan Leksula Desa Wailo dengan Lama Penyimpanan Yang Berbeda. Proposal Prodi Biologi FKIP Universitas Pattimura Ambon.
Tim Pengembangan Buru Hotong. 2006. Pengembangan Buru Hotong Untuk Menunjang Ketahanan Pangan Nasional. Fakultas Teknologi Pertanian (IPB) Bogor.
Vaclavik, V.A. dan Christian, E.W. 2008. Essentials of Food Science Third Edition. Springer Science+Business Media, LLC. New York.
Winarno, F.G. 2004. Kimia Pangan dan Gizi. Gramedia Pustaka Utama Jakarta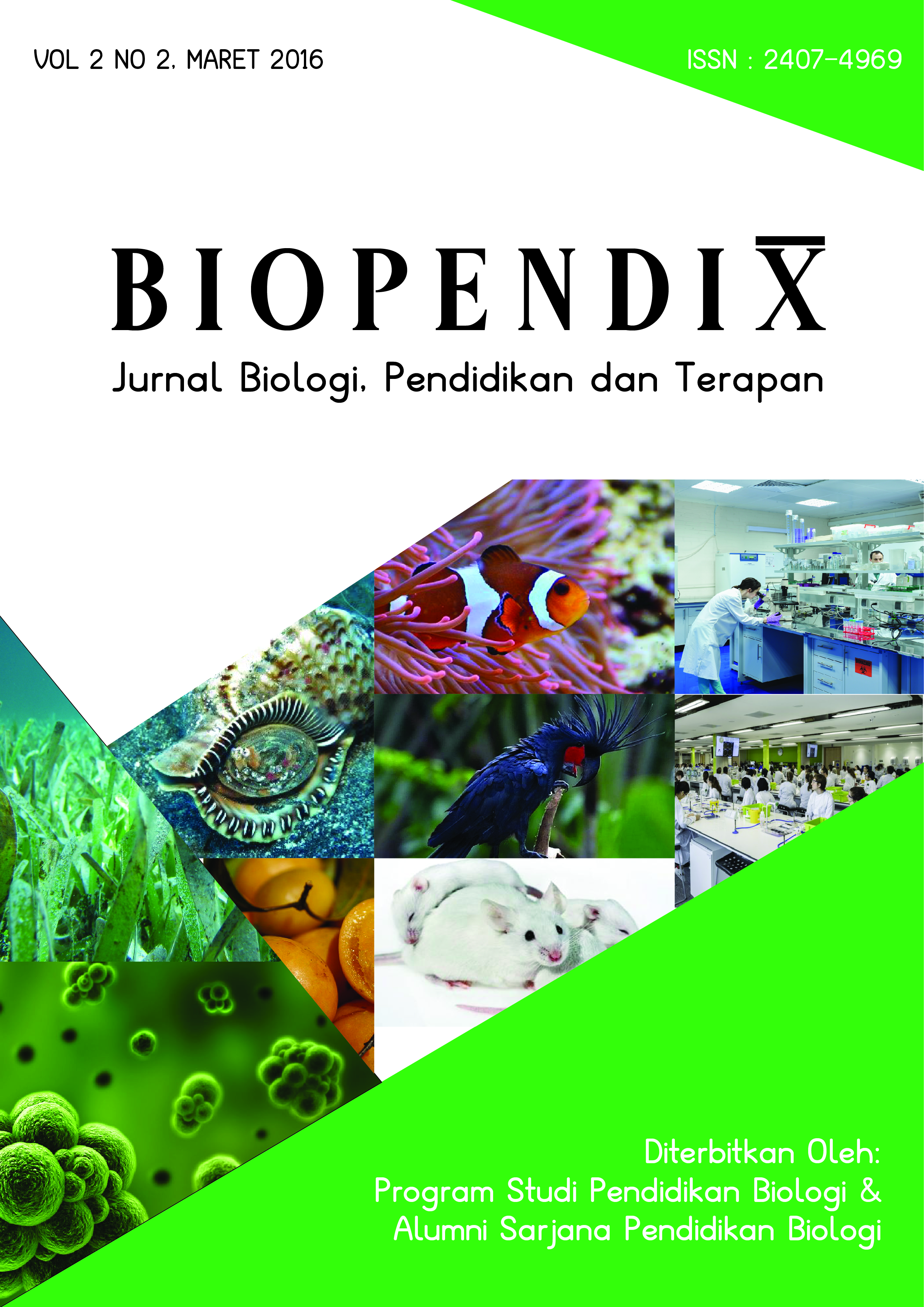 How to Cite
Namarubessy, C., & Awan, A. (2016). ANALISIS KADAR LEMAK BIJI HOTONG (Sertica italica (L.) Beauv) DENGAN LAMA WAKTU PENYIMPANAN DI KABUPATEN BURU SELATAN. BIOPENDIX: Jurnal Biologi, Pendidikan Dan Terapan, 2(2), 101-105. https://doi.org/10.30598/biopendixvol2issue2page101-105
Copyright (c) 2016 Biopendix : Jurnal Biologi, Pendidikan dan Terapan
This work is licensed under a Creative Commons Attribution-ShareAlike 4.0 International License.