PENGARUH JARAK TANAM PADA PENGGUNAAN METODE BUDIDAYA RAKIT TALI TERHADAP BERAT RUMPUT LAUT (Eucheuma cottonii) DI DUSUN TOISAPU KECAMATAN LEITIMUR SELATAN
Etnah Garpenassy

H Tuaputty
Keywords:
Planting Distance, Raft Raft Cultivation Method, Weight Seaweed (Eucheuma cottonii).
Abstract
Background: Toisapu village is one of village in Ambon Island which have potential to develop seaweed. Prospects Seaweed cultivation is very beneficial if growth and quality can be developed as a base for the production of various purposes in the industrial world. However, cultivation techniques undertaken by the local community have not fully had good planting quality.
Method: The study includes the preparation phase, the implementation stage, and the observation stage. The parameters measured were the growth rate of Eucheuma cottonii seaweed is weight in the form of gram, using Completely Randomized Design (RAL) with 4 treatment levels and 6 replications.
Results: The results of this study show that at a distance of 30 cm seaweed growth experienced a better growth rate when compared with other growth spacing, with wet weight for 45 days was 218 grams.
Conclusion: Plant spacing affects the weight of seaweed, a good planting distance for seaweed growth is 30 cm at sea ebb and sea level with average wet weight for 45 days (6 weeks) is 218 grams.
Downloads
Download data is not yet available.
References
Bengen, DG. 2001. Pengelolaan wilayah pesisir secara terpadu berkelanjutan dan berbasis masyarakat (Makalah) di dalam: Pelatihan penyuluhan wilayah pesisir secara terpadu.Makasar, 4-9 Maret 2001.
Hanafiah, A.K. 2002. Rancangan percobaan dan teori Aplikasi edisi ke tiga. Jakarta: PT. Raja Grafindo Persada.
Nikijuluw, V. Abrahams. James.1997. Perikanan dan kelautan Maluku. Ambon: Dinas Perikanan dan Kelautan Propinsi Maluku.
Ruslaini, 2013. Pengaruh jarak tanam terhadap pertumbuhan dan kandungan keragenan Rumput Laut (eucheuma spinosum) menggunakan Metode Long line. Jurnal Mina laut Indonesia Vol 03.No, 12. 113-123.
Wa Surni. 2012. Pertumbuhan Rumput Laut (Eucheuma cottonii) pada kedalaman Air Laut yang berbeda di Dusun Kotanian Desa Eti Kecamatan Seram Bagian Barat. Skripsi Tidak dipublikasikan. FKIP Biologi. Universitas Pattimura Ambon. 64 Hal.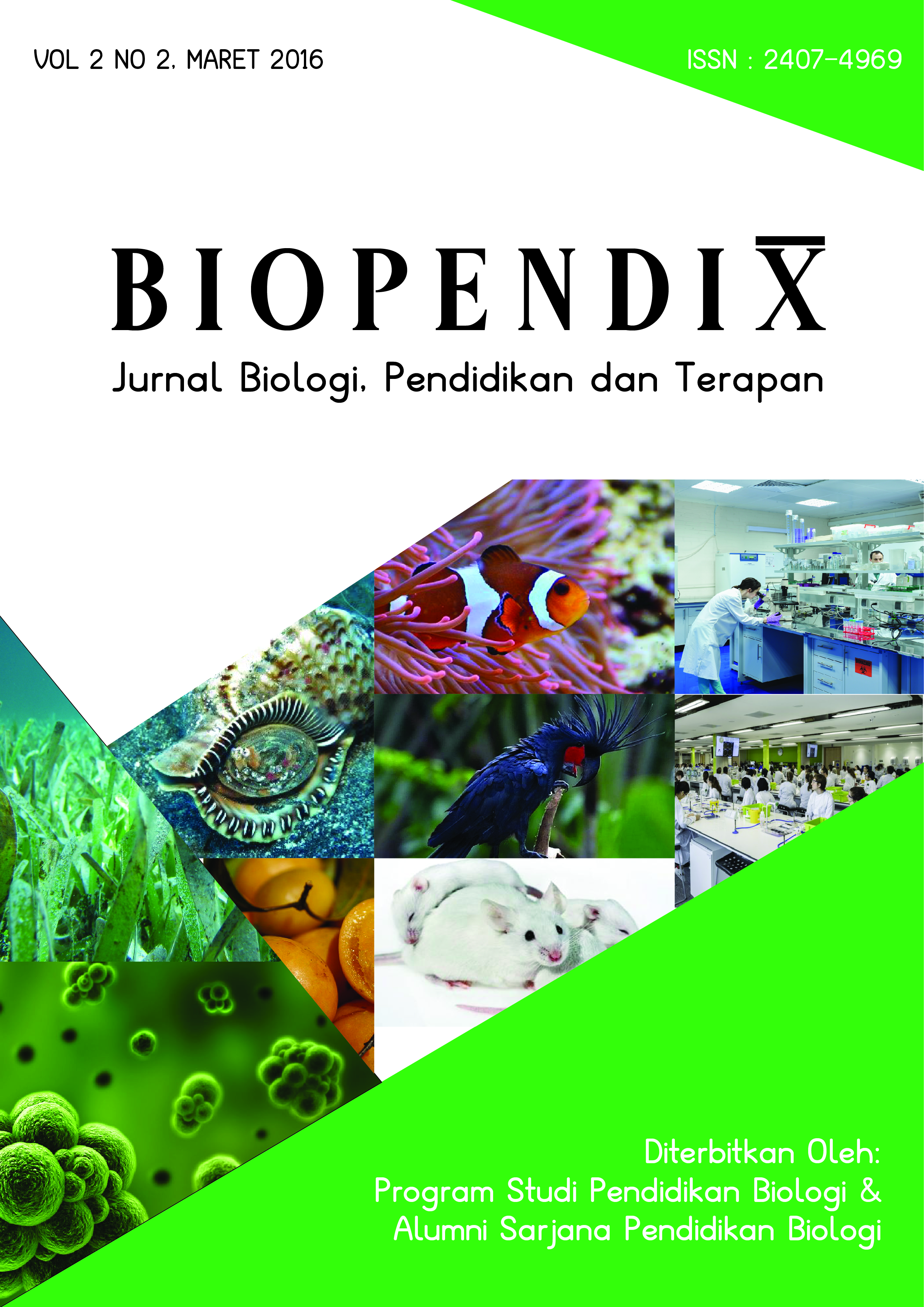 How to Cite
Garpenassy, E., & Tuaputty, H. (2016). PENGARUH JARAK TANAM PADA PENGGUNAAN METODE BUDIDAYA RAKIT TALI TERHADAP BERAT RUMPUT LAUT (Eucheuma cottonii) DI DUSUN TOISAPU KECAMATAN LEITIMUR SELATAN. BIOPENDIX: Jurnal Biologi, Pendidikan Dan Terapan, 2(2), 106-111. https://doi.org/10.30598/biopendixvol2issue2page106-111
Copyright (c) 2016 Biopendix : Jurnal Biologi, Pendidikan dan Terapan
This work is licensed under a Creative Commons Attribution-ShareAlike 4.0 International License.